India braces for Kashmir backlash as 'most wanted' militant shot dead by security forces
Zakir Musa was leader of an al-Qaeda affiliate in disputed region between India and Pakistan
Adam Withnall
Delhi Comments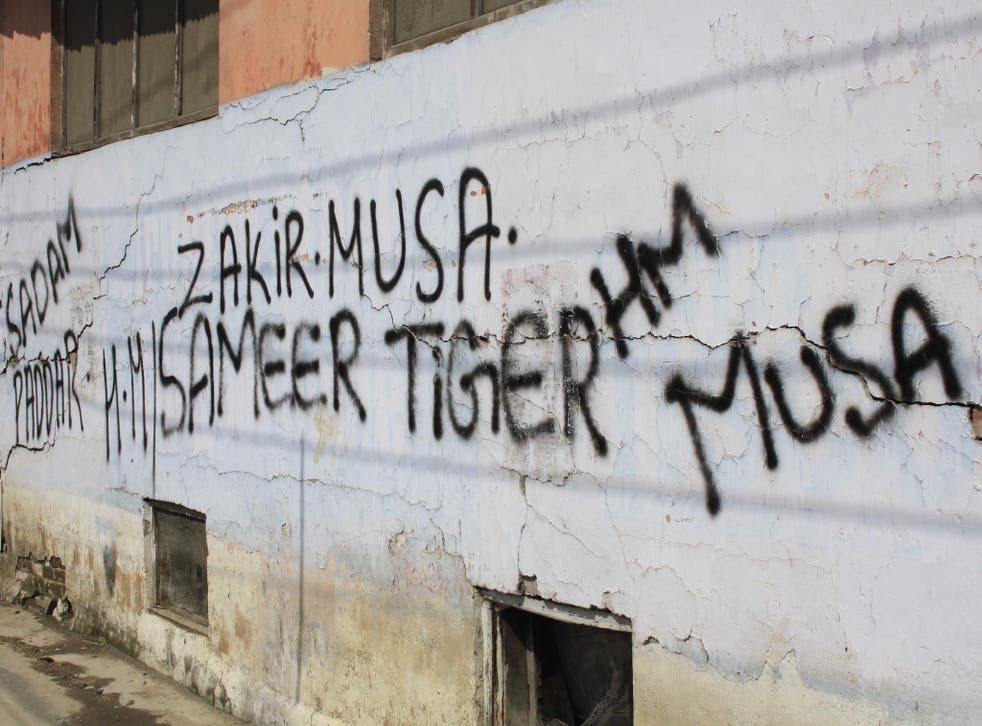 India says it has killed the separatist leader Zakir Musa, a man widely referred to as the country's "most wanted terrorist", during an operation in southern Kashmir.
Musa was the head of an al-Qaeda-linked group in Indian administered Kashmir, and the most prominent armed militant working to oppose Delhi's rule over the restive region.
Colonel Rajesh Kalia, an Indian army spokesperson, said security forces tracked Musa to a village in the southern Tral area of the valley and encircled the civilian home where he was hiding, in what is known as a "cordon and search" operation.
Police said Musa refused to surrender and a gunfight ensued in which the militant allegedly threw grenades at Indian armed police and soldiers. A single-line army statement followed saying: "One terrorist killed. Terrorist identified as Zakir Musa. Weapons and war-like stores recovered. Operation over."
Indian officials now fear Musa's death will be met with unrest among ordinary Kashmiris, many of whom are sympathetic to the separatist cause or, at the least, would like to see a referendum to decide once and for all the fate of region. Both India and Pakistan control a portion of Muslim-majority Kashmir but claim it in its entirety.
Fire on the streets as Indians react to the Pulwama bombing attack

Show all 13
A curfew was imposed after the killing on Thursday night and mobile internet services were shut off. Nonetheless, clashes between protesters and police were already taking place on Friday morning as the news trickled out, the Associated Press reported.
Musa was a divisive figure in the separatist movement of Kashmir. Until 2016 he was a close aide to Burhan Wani, a charismatic rebel leader whose killing dramatically accelerated open objections to Indian rule and still rankles many Kashmiris to this day.
In mid-2017, an al-Qaeda propaganda outlet declared Musa had formed an affiliate militant group in the region called Ansar Ghawzat-ul-Hind. It was the first time a global jihadi group had claimed a foothold in the Kashmiri struggle and it led to Musa being denounced by many more mainstream separatist figures.
Nonetheless, he remained a popular and prominent figure, both as a sensation in the Indian media and as an inspiration for extremist elements within the separatist movement. The Independent saw Musa's name daubed alongside that of other prominent "martyred" militants in fresh graffiti in Srinagar, in the aftermath of February's Pulwama bombing.
That attack, in which 40 Indian paramilitary officers were killed, led to the worst confrontation between India and Pakistan in decades. The Delhi government accuses Pakistan of supporting and directing separatist militancy on India's side of the Kashmir "line of control" – the de facto border.
It saw Kashmir – and national security in general – become the ruling BJP's top talking point in campaigning for India's general election which, with the results released earlier on Thursday, handed Narendra Modi an emphatic victory and second five-year term as prime minister.
Register for free to continue reading
Registration is a free and easy way to support our truly independent journalism
By registering, you will also enjoy limited access to Premium articles, exclusive newsletters, commenting, and virtual events with our leading journalists
Already have an account? sign in
Join our new commenting forum
Join thought-provoking conversations, follow other Independent readers and see their replies