Tiger found lying on bed inside house while sheltering from India floods
Millions displaced and 97 dead in Bihar and Assam as monsoon continues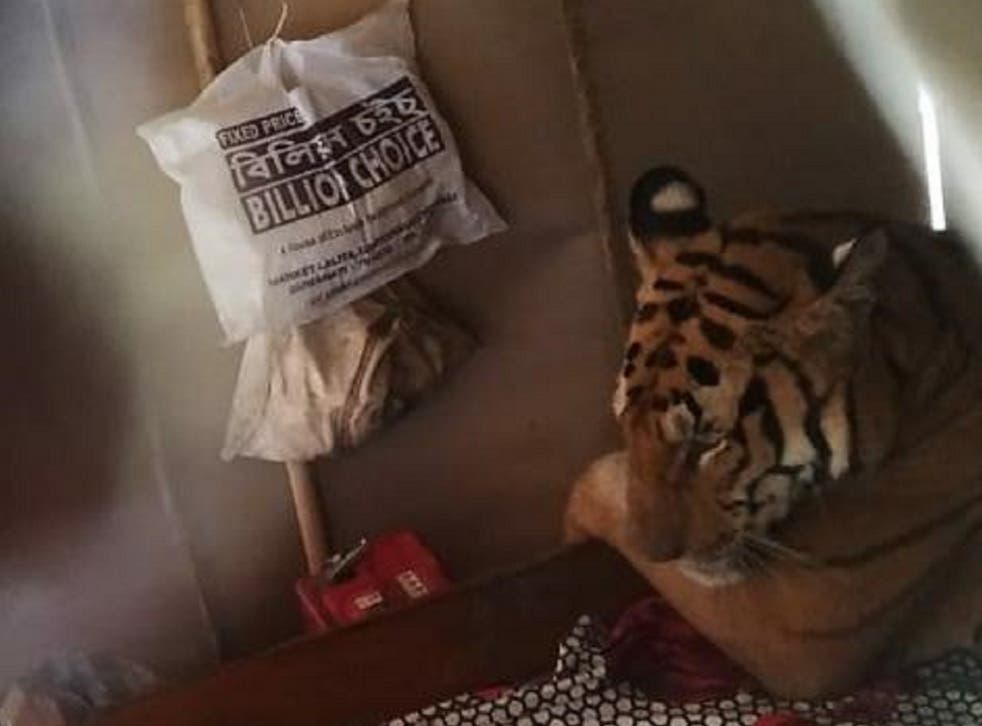 A tiger was found lying on a bed inside a house as it sheltered from a deadly monsoon in India.
The adult Royal Bengal tiger is thought to have strayed into a village near Kaziranga National Park, in Assam, as 95 per cent of the protected area was submerged by severe flooding.
The Wildlife Trust of India tweeted an image of the animal, which could be seen resting its head on its leg as it laid on the bed.
The owner of the house was reportedly alerted to his guest when neighbours began screaming as they saw it entering his home.
Park director Shiv Kumar said: "It appears the tiger strayed into a human settlement area to escape the floods and now appears very tired. We are preparing to tranquillise the tiger."
The Wildlife Trust said the tiger was spotted walking across the national highway as it headed towards nearby hills for refuge at about 8.30am on Thursday.
It tweeted: "Probably disturbed, he jumped across the wall of a scrap garage & took refuge in the dark room [of the house]."
Park and trust officials tranquilised the animal and waited until dark before they blocked off the highway and helped it to return to the safety of the forest.
The monsoon season, which lasts from June to September, has brought heavy rainfall, flooding and landslides to Nepal, India, and Bangladesh.
At least 43 animals have been killed, as well as 97 people, including children, in the Indian states of Bihar and northeastern Assam, officials said.
Unicef estimates that more than 12 million people, including about five million children, have been affected, with many forced out of their homes and into camps and makeshift settlements.
While many areas remain inaccessible because of damaged roads, bridges and railways, the most urgent needs for children are clean water, hygiene supplies to prevent the spread of disease, food supplies and safe places in evacuation centres for children to play, the charity said.
Jean Gough, Unicef regional director for South Asia, said: "Across the region, we are seeing the devastating impact of extreme weather events on children and families.
"As weather events become more extreme, unpredictable and erratic, it is children who are paying the heaviest price.
"Unicef is responding urgently, working with local authorities and partners to ensure children are kept safe, and provided the support needed."
Additional reporting by Reuters
Join our new commenting forum
Join thought-provoking conversations, follow other Independent readers and see their replies