India's space agency cancels mission to moon just one hour before launch
Officials say 'technical snag' observed in launch system with countdown already well under way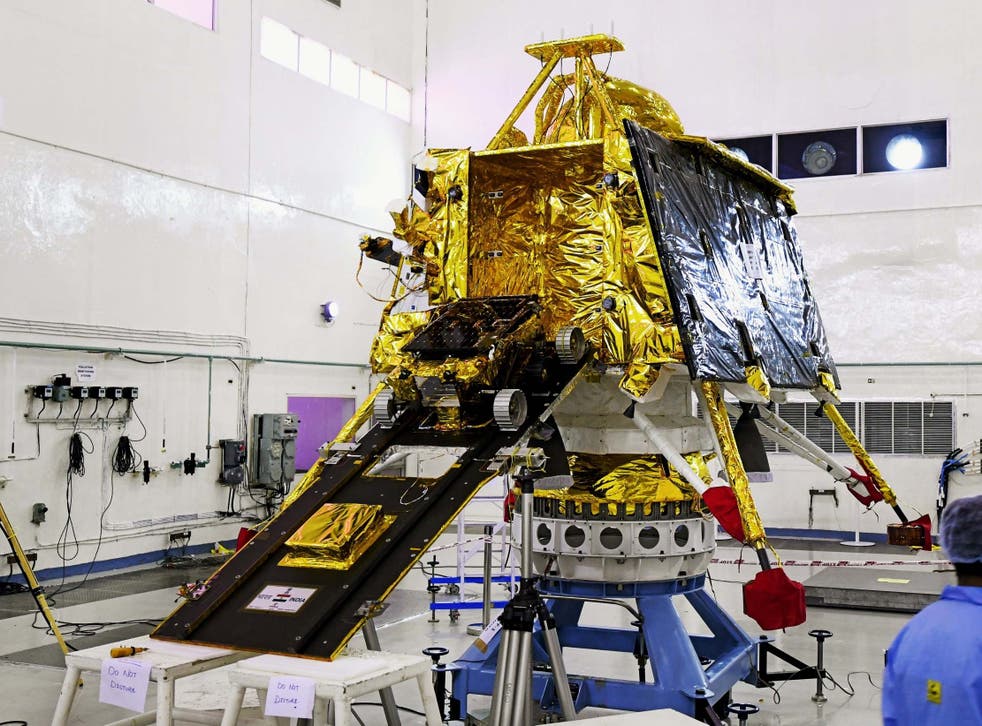 India has aborted its planned mission to the moon with less than an hour to go before lift-off, with officials citing a last-minute "technical snag".
The Chandrayaan-2 spacecraft was due to launch at 2.51am on Monday, but the countdown at the control room of the Indian Space Research Organisation (ISRO) abruptly stopped.
ISRO said in a tweet that a problem was observed in the spacecraft's 640-tonne, 14-storey rocket launcher, and that "as a measure of abundant precaution, Chandrayaan-2 launch has been called off for today". A spokesperson said the agency would announce a revised launch date soon.
If successful, the mission would have made India only the fourth country to achieve a "soft", or controlled, landing on the moon, after the US, Russia and China.
Chandrayaan-2 is India's second lunar exploration mission, after Chandrayaan-1 orbited the moon in 2008 and helped confirm the existence of a basin containing ice water.
Jeff Bezos' plan for future space colonies

Show all 11
As well as the launch system, the spacecraft carries two key payloads – an orbiter with a mission life of up to a year, and a rover which is designed to land near the lunar south pole and explore the surface for water and take other readings.
The £110m mission has already been beset by delays, meaning India missed out on the landmark of becoming the first country to make a soft landing on the far side of the moon.
China's Chang'e 4 mission succeeded in putting a lander and rover there last January, while a similar mission by Israel's Beresheet spacecraft failed and crashed on to the moon in April.
Since its inception in 1962, India's space programme has been criticised as an unnecessary expenditure for a developing country with a vast population and high rate of poverty.
But decades of space research have allowed India to develop satellite, communications and remote sensing technologies that are helping solve everyday problems at home, from forecasting fish migration to predicting storms and floods.
The space programme is also seen as a source of nationalistic pride, and one that prime minister Narendra Modi has repeatedly drawn upon for big set piece public announcements. Mr Modi has set a deadline of 2022 for India's first manned space flight.
With the 50th anniversary of the Apollo 11 mission this month, the world's biggest space agencies are returning their gaze to the moon, seen as ideal testing grounds for technologies required for deep space exploration, and, with the confirmed discovery of water, as a possible pit stop along the way.
"The moon is sort of our backyard for training to go to Mars," said Adam Steltzner, Nasa's chief engineer responsible for its 2020 mission to Mars.
The US is working to send a manned spacecraft to the moon's south pole by 2024.
Additional reporting by agencies
Register for free to continue reading
Registration is a free and easy way to support our truly independent journalism
By registering, you will also enjoy limited access to Premium articles, exclusive newsletters, commenting, and virtual events with our leading journalists
Already have an account? sign in
Register for free to continue reading
Registration is a free and easy way to support our truly independent journalism
By registering, you will also enjoy limited access to Premium articles, exclusive newsletters, commenting, and virtual events with our leading journalists
Already have an account? sign in
Join our new commenting forum
Join thought-provoking conversations, follow other Independent readers and see their replies