India moves to curb anti-rape protests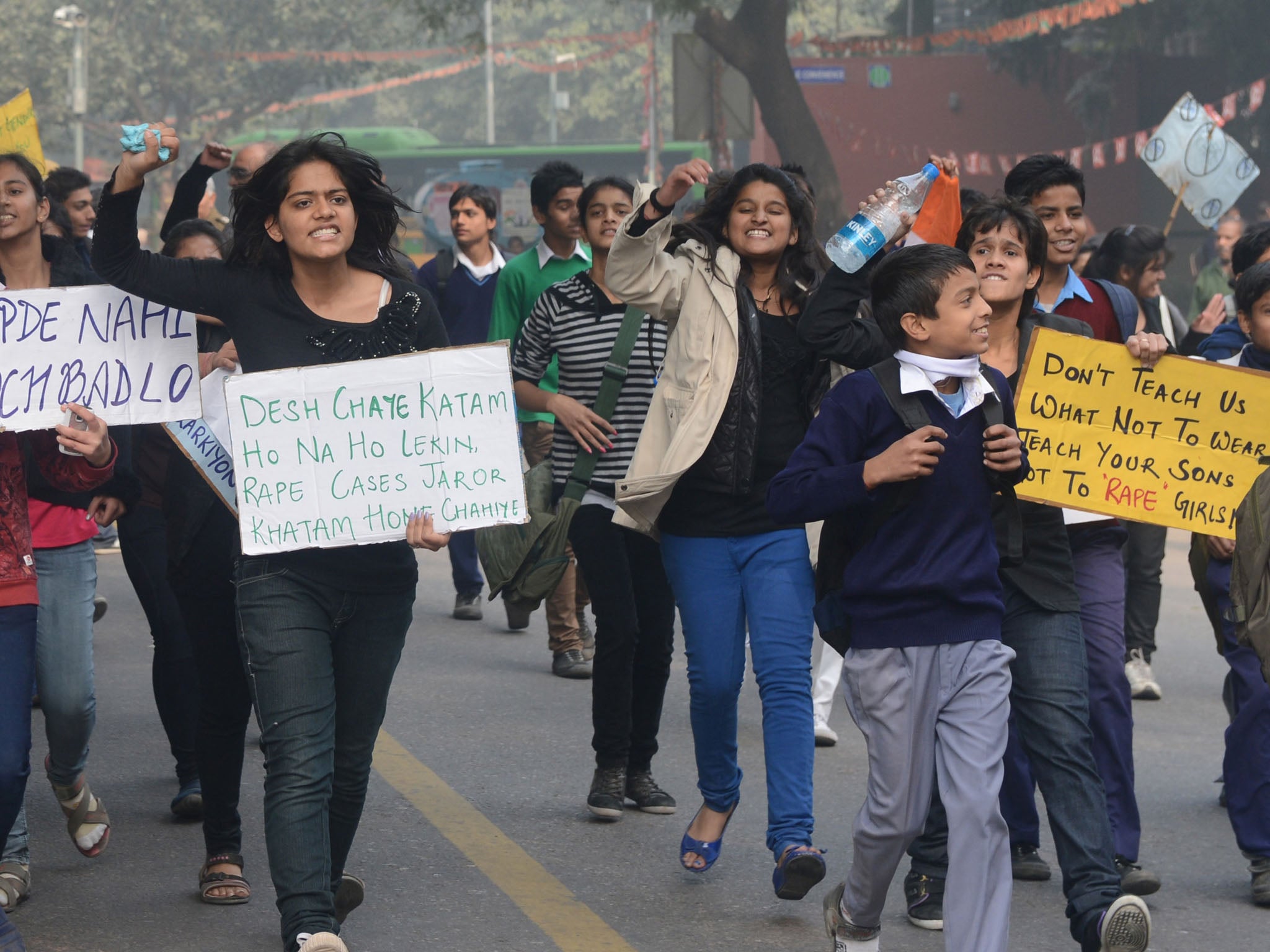 The Indian government sought to douse protests against rape by simultaneously clamping down and announcing a slew of measures to assuage demonstrators, including a new help line for women's complaints and gender-appropriate training for the capital's police officers.
After two days of violent clashes between demonstrators and police over the gruesome gang rape Dec. 16 of a young medical student, protests were muted Monday as authorities imposed a heavy security presence on the streets and shut down nine Metro stations to curb protesters' movements. A little more than 300 people demonstrated, sitting on a street and shouting, "We want justice" and "Hang them."
The government and the Delhi High Court said a trial in the gang-rape case would begin Jan. 3, a speed almost unheard of in India's painfully slow justice system.
But even as the authorities moved to quell the unrest, many were caught off-guard by the massive outburst of anger over the weekend, especially in a country where sexual harassment and assault are frequent and routinely blamed on women.
The brutal rape shook Indians out of their usual apathy, analysts said, and the response to it was galvanized by a complex confluence of factors, including the rise of a vocal, urban middle class, the use of social media and changing lifestyles. Similar factors triggered the massive anti-corruption movement that swept Indian cities last year.
"This is a very, very urban phenomenon and is like the coming of age of women in the cities, their rediscovery of their right to demand safety," said Nilanjana Roy, an author and columnist who writes on gender issues. Roy said many demonstrators told her that this was their first protest and that "this time was too much."
"They did not want to be blamed anymore for the violence," Roy said. "Some were demanding death penalty and violent mob justice for the rapists, others demanded safer roads and public transport, and there were those who expressed a diffused rage at the system, at the old ways of doing things, and their anger bounced around between the police, the government the state."
The young medical student was raped by four men on a moving bus that she and her male friend had boarded after watching a movie. The two were brutally beaten with an iron rod, thrown out of the bus and left to die on the street. The police have arrested all of the accused, and the woman is fighting for her life in a city hospital, breathing with the aid of a ventilator.
On Saturday and Sunday, police used canes, tear gas and water cannons to battle protesters, several of whom were injured.
Prime Minister Manmohan Singh said in a rare two-minute address to the nation on Monday: "As a father of three daughters myself, I feel as strongly about this as each one of you. . . . Anger at this crime is justified, but violence will serve no purpose."
New Delhi has recorded the highest number of rapes in India in recent years, compared with other large cities such as Mumbai and Bangalore. This year, more than 600 cases have been reported in the capital so far, up from 568 last year. In the past, the city police chief and politicians have advised women to dress conservatively and not to go out alone after sundown. In rural areas outside New Delhi, community elders have blamed women's Western clothing and use of cellphones for rising rape cases.
"It was an accumulated anger of young people who have experienced such attitudes on a daily basis but had no occasion to express it," said Ranjana Kumari, director of the Center for Social Research, an advocacy group that resists violence against women. "It is like the moment when the water has risen above your nose, and you realize you are starting to drown."
Kumari said the tipping point came a day after the gang rape, when college students and some women's rights activists picketed outside a police station, demanding action. But the police pushed them around, she said.
"Everybody had a phone in their hand, and I saw the students [texting] and tweeting immediately," recalled Kumari, who participated in the protest. "One student typed, 'If it takes numbers for them to listen to us, let's be there in large numbers.' "
The lieutenant governor of Delhi, Tejendra Khanna, told reporters Monday that the police department will have monthly meetings with women's groups from now on.
"Police will be trained to not speak in a rough language with the women who walk in to complain," Khanna said. "A strong message should go out that there is zero tolerance for misbehavior with women."
But protesters said similar measures have been tried before without much success.
"I have tried an older help-line number a few times; nobody picks up the phone," said Parul Chadha, 21, a college student who held up a placard asking, "What is Delhi doing?" She added: "We have heard of gender training of the police earlier, too. Their mind-set doesn't change."
Chadha said the gang rape moved her because the woman was just like somebody she would know.
"She was a normal student, who had gone out with a friend for a movie and [was] returning home at 9:30 p.m., which is not too late," Chadha said. "This was too close to my life. It could have been me."
Join our commenting forum
Join thought-provoking conversations, follow other Independent readers and see their replies