How India is 'prioritising cow welfare' over women's health with ban on lifesaving drug for new mothers
Government argues new measures are needed to prevent misuse of oxytocin in cattle, but doctors and patients groups warn it could cost human lives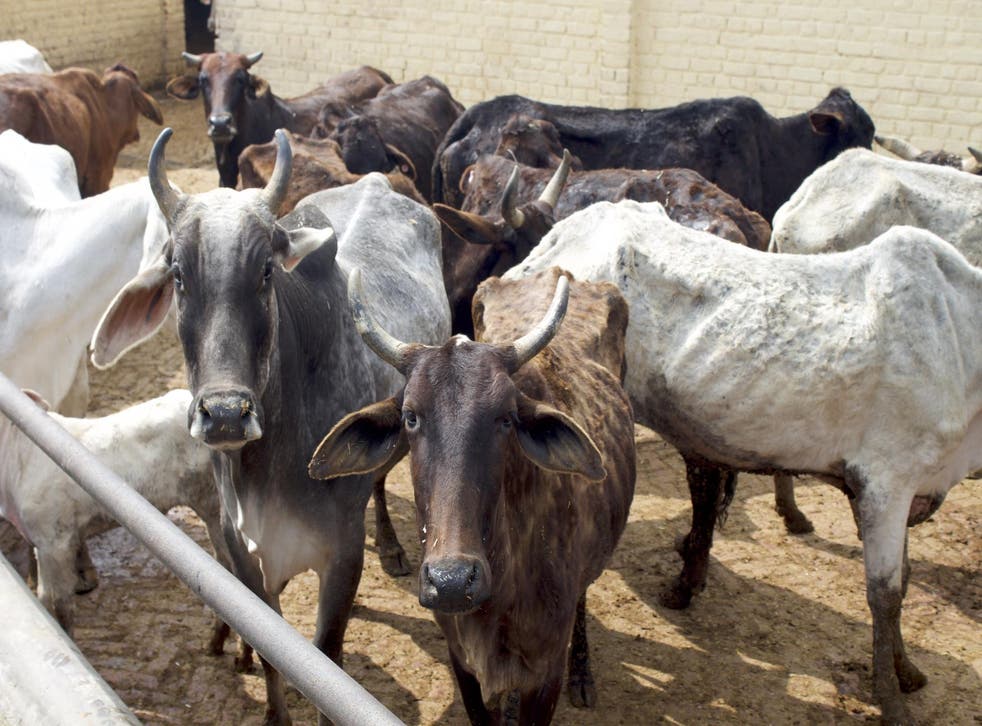 The Indian government has been accused of prioritising cow protection over the health of women, as it attempts to force through a ban on private production of a lifesaving drug for mothers in labour.
Prime minister Narendra Modi's administration is asking the Supreme Court to uphold its crackdown on oxytocin, a drug that helps prevent postpartum haemorrhaging as well as regulating contractions in the late stages of pregnancy.
The drug has sparked controversy in India after media reports claimed it was being abused by dairy farms to control cows' lactation. Some reports have also variously alleged, without scientific evidence, that oxytocin treatment leads to cows becoming infertile and producing milk that is then harmful to humans.
With cows considered sacred by India's Hindu majority and the country going to the polls in just a couple of weeks for a general election, the Hindu nationalist-led government has seized on the issue as a potential vote winner.
But doctors' and patients' groups say the ban on private production goes too far and that the government has not paid due consideration to the impact it would have on women's lives.
Inside the cow shelters of Delhi

Show all 10
Despite progress in recent years, India still has one of the worst maternal mortality rates among the world's major economies. Around 26 million live births take place across the country in a single year, and according to government figures 130 in every 100,000 mothers die during childbirth.
The Indian Medical Association (IMA), the country's largest group representing doctors, said that oxytocin's ability to prevent bleeding after birth meant it was "not a drug that doctors can compromise on".
In a submission to the Supreme Court, the IMA said banning private production of the drug could lead to a shortage of supplies and thereby "impair the lives of thousands of innocent young mothers".
"Oxytocin should be available for every childbirth – you can't predict which women are going to suffer postpartum haemorrhaging," said Malini Aisola, co-convenor of patients' activist group the All India Drug Action Network (Aidan), which is one of the parties fighting the government in court.
"You can't afford to take any chances with its availability," she told The Independent. "Yet the government seems to have made this decision entirely arbitrarily, without considering the very important use of this medicine, which is lifesaving in pregnant women."
The government first ordered a ban on private production of oxytocin in April 2018, saying that in order to control the supply chain it needed to give sole responsibility to a single, public manufacturer based in Karnataka state.
Doctors raised concerns over the ability of the company, Karnataka Antibiotics and Pharmaceuticals Limited (Kapl), to meet all new mothers' needs, in part because at that point Kapl had never produced oxytocin before.
A court-ordered stay was issued before the ban could come into force – yet so effective had the government been in trumpeting its measures that even the threat of restrictions led to reports of some shortages.
In December, the Delhi High Court ruled that the ban should not stand, and in its ruling criticised the government for failing to support its case with "scientific data or objective justification". The judges noted that "there is no scientific data or reliable material to show that oxytocin has a deleterious effect on cattle".
The court also noted the role played in lobbying for a ban on oxytocin by the prominent animal rights activist Maneka Gandhi, a senior figure in the government of Mr Modi's Bharatiya Janata Party (BJP).
It produced a timeline showing that Ms Gandhi first brought up the matter at a meeting of the main statutory body on drugs, the Drugs Technical Advisory Board (DTAB), in 1999. She proposed a ban on private production in 2014 "despite the expert group finding that there was no data to support [her] allegation of misuse", the court said.
In recent years Ms Maneka has continued to play a part in proceedings regarding the oxytocin ban that have reached as high as the Prime Minister's Office – the highest executive authority in the land, despite it not falling under her official remit as minister for women and child development.
During Supreme Court proceedings this week, Ms Maneka has been represented by a close aide, Gauri Maulekhi, a trustee of her charity People for Animals.
In calling for the Supreme Court to overturn the Delhi High Court's decision, the government has argued that it is acting not out of its own impulse, but to address concerns raised for many years about oxytocin by statutory bodies such as the DTAB.
In dramatic scenes in court, the government – which is being represented in court by the Solictor-General Tushar Mehta – has produced empty vials of oxytocin, apparently seized in raids on dairy farms.
The hearings will continue next week, during which respondents like Aidan and the IMA will argue that even if oxytocin is being misused on cattle, the situation will not be solved by targeting licensed private manufacturers, and thereby threatening the supply chain.
In its ruling, the Delhi High Court observed that all the materials seized in police raids of dairy farms had come from unlicensed producers, often seemingly imported from China and cut with other substances.
"There is not a single instance established of such misuse by any licensed manufacturer," the judges said.
Support free-thinking journalism and attend Independent events
"Adequate laws to prevent misuse of this drug already exist," said the IMA's honorary secretary general RV Asokan. In its statement to the Supreme Court, the doctors' association said the issue was with enforcement at the point of sale and end use, not with production.
It would be a "tragedy" if the government banned oxytocin production and bowed to "certain ministerial whims at the risk of jeopardising safe childbirth for women", said S Srinivasan, the co-founder of Low Cost Standard Therapeutics (Locost), a non-profit pharmaceutical firm set up to increase availability of cheap essential medicines.
Writing in the Indian Medical Journal of Ethics, he said that: "For those concerned with the vulnerability of the lives of women in childbirth, it will be sad if the government privileges, misguidedly, animal wellbeing over maternal health and safety."
"They aren't really doing anything to target the smuggling or the clandestine trade of the drug," said Ms Aisola of Aidan. "They want to do something that looks like they are protecting cows, it's all about the messaging. I don't think they are deliberately trying to target women, but that is what it ends up doing."
Register for free to continue reading
Registration is a free and easy way to support our truly independent journalism
By registering, you will also enjoy limited access to Premium articles, exclusive newsletters, commenting, and virtual events with our leading journalists
Already have an account? sign in
Register for free to continue reading
Registration is a free and easy way to support our truly independent journalism
By registering, you will also enjoy limited access to Premium articles, exclusive newsletters, commenting, and virtual events with our leading journalists
Already have an account? sign in
Join our new commenting forum
Join thought-provoking conversations, follow other Independent readers and see their replies