'World only remembers Kashmir when India and Pakistan are on brink of war,' say politicians in contested territory
Local parties say international pressure is needed for a lasting solution – or the world risks another flare-up of tensions between nuclear powers
Sunday 10 March 2019 11:44 Comments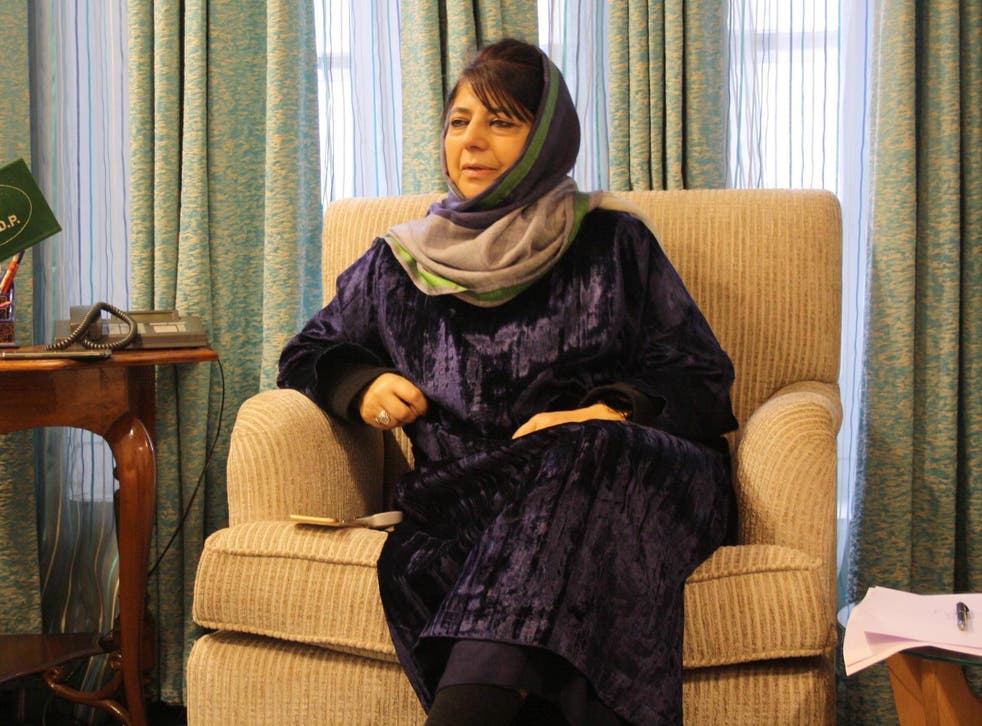 A week after tensions over Kashmir led nuclear-armed India and Pakistan close to the brink of war, the region's former chief minister has urged the world not to look away even if the immediate threat of conflict dies down.
Speaking in an exclusive interview with The Independent, People's Democratic Party leader Mehbooba Mufti said Kashmir would continue to suffer cycles of violence until India and Pakistan could be persuaded to improve ties and overcome their differences.
The situation here in Kashmir has improved since a nadir last week when an Indian fighter pilot was shot down over the Pakistan-administered region, but tensions remain high with Pakistan's airspace closed to most commercial flights.
The dramatic escalation since the Pulwama bombing on 14 February, Ms Mufti said, was bound to happen when all sides "take it for granted when there is a little surface calm that everything is fine".
"For the last 10 to 15 years we have seen brief periods of peace, and then something happening each time," she said. "Unfortunately, it is the people of Kashmir who get caught in the middle.
"The international community talks about Kashmir only when there is tension between India and Pakistan. The rest of the time they forget about it."
Ms Mufti was the last elected leader of the state government of Jammu and Kashmir, which includes Indian-administered Kashmir, until her coalition with Narendra Modi's BJP fell apart in June last year.
Since then, the state has been led through unelected governor's rule, and Mr Modi's iron-fisted approach to the region's separatist insurgency has seen scores of militants killed but also scenes of violent protest from civilians.
Grenade attack injures at least 18 in Kashmir: in pictures

Show all 10
Ms Mufti will be seeking election again when the state goes to the polls soon, possibly as early as April and May when a general election is also due to be held.
Her PDP is one of the major mainstream pro-India parties in the state. It advocates for a future in which a united Kashmir has its own free trade area and elected officials, but where its two halves remain under the respective sovereignties of India and Pakistan.
It is a proposal that needs good relations between India and Pakistan to work and – as Ms Mufti points out – a move in the opposite direction could have devastating consequences for both Kashmir and the world.
"I don't think a confrontation between the two countries is going to be beneficial for anyone, and it is certainly going to be worse for the people of our state," she said. "Because we are the ones who get sandwiched between the two sides."
Since the Pulwama bombing, the Indian government has launched a new crackdown on even moderate separatist leaders, reacting in part to calls for action and revenge from the broader Indian public.
In the past week, the Indian government has repeatedly stated that Kashmir is an inalienable part of the nation and that anyone attempting to undermine that – whether it be Pakistan or Kashmiri-based groups – is a threat.
The crackdown has included the banning of the Islamist political party Jamaat-e-Islami (JeI), which runs a number of schools across Kashmir, and the detention of high-ranking officials from the Hurriyat Conference, a separatist political alliance which advocates non-violence.
Speaking to The Independent in his home less than 24 hours after his house arrest was lifted, Hurriyat leader Mirwaiz Umar Farooq said he feared Kashmir was "at a crossroads" as increasingly authoritarian police measures drove people to ever more desperate measures.
"It is only when two countries are at war that people pay any notice," he said. "But we have been in a warlike situation for 30 years."
Mr Farooq said his and other political groups that believe in striving peacefully for the creation of an independent Kashmir were being squeezed hard by the security forces.
"We are not being allowed to hold rallies, or even meet. The fate of Kashmir is up for dispute – that's just a reality. But you're not even allowed to talk about this."
Incidents like the Pulwama bombing, and the subsequent crisis with Pakistan, are what happen as a result, Mr Farooq said. "Hurriyat used to go to rural areas to tell people we have to keep to peaceful acts. If we are not able to do that, then what do you get?
"No one could have imagined a Kashmiri boy becoming a suicide bomber. It shows that the meaning of resistance is starting to change."
Tanvir Sadiq, a senior politician with the National Conference, Kashmir's largest and oldest opposition party, agreed that Pulwama seems to be a turning point in the region's complicated history – and hopefully a wake-up call to the world.
Military convoy in the streets of Srinagar, Kashmir
"Things went beyond control so quickly, it was evident things might get out of hand. Rumours went into overdrive, about the movement of top generals, special hospital orders, food supply shortages – people were really scared on the streets.
"Everyone was talking about the prospect of imminent war. And in any hostile situation, it is the Kashmiris who suffer."
Mr Sadiq, who also serves as political adviser to the former chief minister Omar Abdullah, said "international pressures" could only help get India and Pakistan to talk.
But he said the "process of reconciliation" must include disaffected young Kashmiri men as well as the local political parties that have been shut out by governor's rule.
"Pakistan has always fished in troubled waters," he said. "Right now what we need is a semblance of normality, and we need elections as soon as possible."
Register for free to continue reading
Registration is a free and easy way to support our truly independent journalism
By registering, you will also enjoy limited access to Premium articles, exclusive newsletters, commenting, and virtual events with our leading journalists
Already have an account? sign in
Register for free to continue reading
Registration is a free and easy way to support our truly independent journalism
By registering, you will also enjoy limited access to Premium articles, exclusive newsletters, commenting, and virtual events with our leading journalists
Already have an account? sign in
Join our new commenting forum
Join thought-provoking conversations, follow other Independent readers and see their replies