Police suspend three officers over image of 'cow mob' lynching
Officials say widely shared picture is 'misleading' but an inquiry has been opened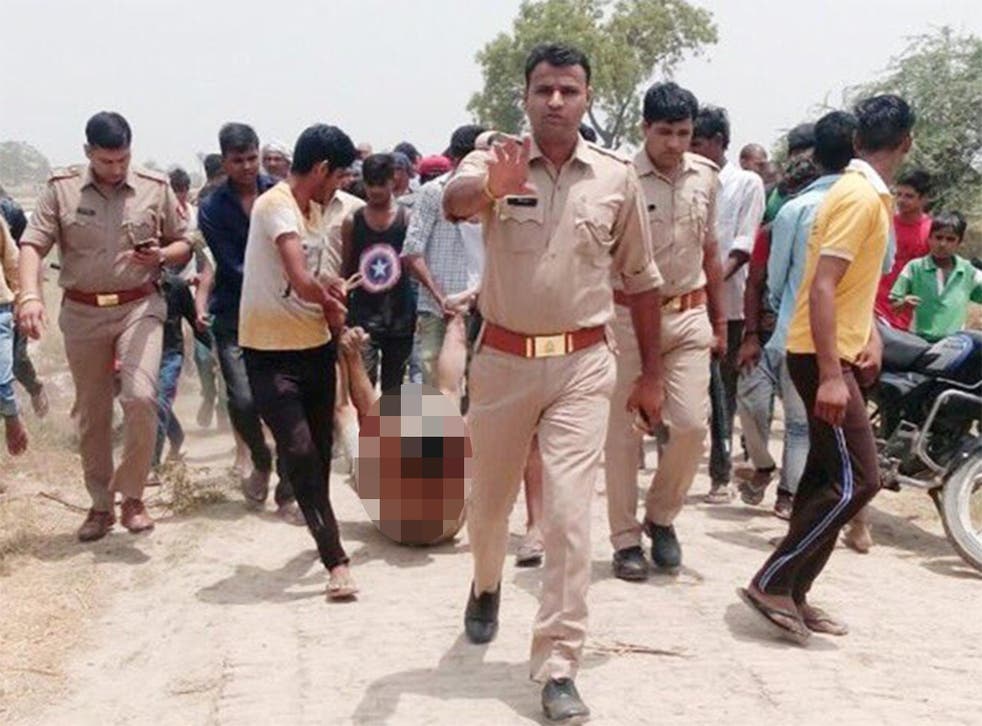 Three police officers have been suspended in India after an image was widely shared on social media showing them at the scene of an apparent lynching by a vigilante cow protection mob.
The image showed a group of men dragging the victim along the ground while flanked by the three police officers. The man, Qasim, identified as a Muslim resident of Madhpura Mustafabad village in Uttar Pradesh, later died of his injuries.
Those sharing the image online said the police had been involved in the lynching themselves, but a spokesman for the police said they had separated the victim from the mob and ordered he be carried to their police car.
Nonetheless, the local police superintendent said the officers had shown "insensitivity towards the injured man". A tweet from UP Police said: "We apologise for the insensitive manner in which the victim was handled.
"The picture seems to have been taken when the police had reached the spot to shift the injured to a police vehicle - there was no ambulance available."
The chief spokesperson for the state police, Rahul Srivastava, said the police "did not support lynching" and described the images shared on social media as "misleading".
"The picture shows that man is being dragged and the policemen are doing nothing about it, but that's not true - the mob just wanted to continue attacking the man and our men were trying desperately to keep them away," he said.
Indian media reported that Qasim and another Muslim villager were severely beaten and dragged to a temple on suspicion of cow slaughter. Hindus in India see cows as sacred, and there are regularly reports from across the country of non-Hindus being attacked for keeping, trading or eating cattle.
According to the Hindustan Times, other images and videos shot by villagers showed members of the mob asking the two victims about cows.
Qasim was rushed to hospital by the police but died. A postmortem found his liver had been ruptured during the beating and he sustained at least 10 distinct injuries, police said. The other man, Shamiuddin, remains in critical condition in hospital.
Police denied the men were attacked over suspected cow slaughter, telling the BBC instead that the cause was a "minor tiff" over a road rage instead involving a motorcycle.
Register for free to continue reading
Registration is a free and easy way to support our truly independent journalism
By registering, you will also enjoy limited access to Premium articles, exclusive newsletters, commenting, and virtual events with our leading journalists
Already have an account? sign in
Register for free to continue reading
Registration is a free and easy way to support our truly independent journalism
By registering, you will also enjoy limited access to Premium articles, exclusive newsletters, commenting, and virtual events with our leading journalists
Already have an account? sign in
Join our new commenting forum
Join thought-provoking conversations, follow other Independent readers and see their replies