India moves to end primary teaching in English as Modi unveils major education reforms
PM says new national policies will promote Indian languages first, but the opposition says it could jeopardise its 'edge over other countries in employability'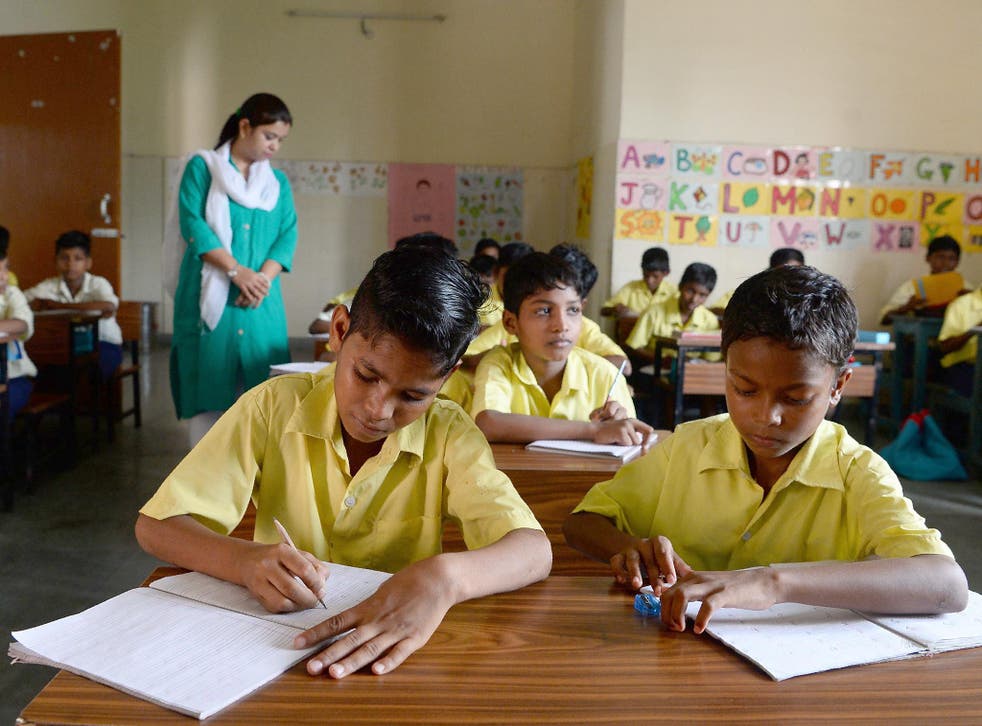 India will for the first time since independence stop offering primary schools where the main language for teaching is English, the government announced, part of the first major overhaul of national education policy in the country for 34 years.
Prime minister Narendra Modi's cabinet approved the new National Education Policy on Wednesday afternoon, and the government said it would pave the way for "transformational reforms" in schools and higher education.
Parents and teachers speaking to The Independent largely hailed the measures, which include a commitment to increase spending on education to 6 per cent of GDP and reforms designed to reduce the pressure on children around all-important board exams at 16 and 18.
But the most controversial announcement is that primary schools, both private and government-run, will "where possible" be required to conduct lessons in either the children's "mother tongue" or "regional language" - in other words, not English.
English-medium schools are traditionally favoured by the more wealthy and middle class Indian families, with proficiency in the language seen as opening up gateways to greater international opportunities for higher education and beyond.
By contrast, Mr Modi said the new policy would "promote Indian languages", a move which is likely to be welcomed by the prime minister's nationalist base. Indian media reported that the RSS, the far-right youth wing of the ruling BJP party, was heavily involved in drafting the policy and that many of its suggestions were adopted.
But the plan stops short of naming Hindi as a recommended language for schools to teach in, something that had featured in a draft version published in June last year. While Hindi is spoken by an estimated 43 per cent of Indians, only a little over half of those identify it as their "mother tongue" and many southern states are vociferously resistant to what they see as the imposition of the language by the north.
Dr Shama Mohamed, a spokesperson for the opposition Congress party, said on Thursday that India "has an edge over other countries in employability due to our better English".
"The decision to enforce mother tongue as the medium of instruction till class 5 (age 11) in the new education policy may undo this advantage and might hurt the poor who can't afford private tutors for English," she said.
Shivani Gandhi, a Bangalore-based teacher and expert in curriculum design, agreed that the new policy would effectively amount to a "ban" on English-medium primary schools and that "the government wants to highlight [this] for the people who are more right wing". "[They] are going to say 'Hey, they're going to promote [Hindi]!' And there are more than enough people who care about that."
But she questioned how much practical impact this would have on standards of English in the country, saying such schools would probably rebrand as "multi-language" while maintaining the levels of English tuition demanded by parents.
"From my experience, the one language that school leaders take most seriously and want to improve is English," Ms Gandhi told The Independent. "From the perspective of a teacher and a parent, they would still want their child to learn English and therefore I don't think the school is going to risk being ostracised because they aren't keeping up to date. I don't think English is going anywhere."
Delhi-based parents Balaji and Roshni said they were "cautiously optimistic" about the new education policy, and welcomed the move on languages having already chosen a Hindi-medium school for their son Tavish when he enters the first grade in September.
"The evidence is that children at ages three to eight can process as many as six languages simultaneously, and this ability is lost as we age," said Balaji. "So there will be no loss of proficiency in any language as long as all are taught. English must certainly be taught. It just need not be the medium of instruction."
"Our view on this is an unpopular one in our peer group," said Roshni. "Indians are obsessed with English and I know that most parents prefer sending their kids to schools that have English as a medium of instruction.
"[But] we consciously chose [a Hindi-medium school] because we wanted Tavish to be proficient in Indian languages and not grow up speaking like Peppa Pig."
Other policies announced under the education plan include the promise of a new national curriculum drafted by a single central body, and new national commissions to oversee university standards and research.
There will also be a greater focus on vocational training and life skills, both at a school and higher education level, with universities encouraged to establish new multi-disciplinary degrees with a "creative combinations of subjects" closer to the US system of graduating with majors and minors.
Ms Gandhi said that while she had concerns about some elements of the plan, overall she would "rate it at a 7.5/10 for intent". "Even if only 10 per cent of it is implemented successfully, if we have a more robust early childhood curriculum, if we have an integration of 20 per cent new skills, and if there is more flexibility in higher education formats, I think that would be a radical change for India," she said.
Register for free to continue reading
Registration is a free and easy way to support our truly independent journalism
By registering, you will also enjoy limited access to Premium articles, exclusive newsletters, commenting, and virtual events with our leading journalists
Already have an account? sign in
Register for free to continue reading
Registration is a free and easy way to support our truly independent journalism
By registering, you will also enjoy limited access to Premium articles, exclusive newsletters, commenting, and virtual events with our leading journalists
Already have an account? sign in
Join our new commenting forum
Join thought-provoking conversations, follow other Independent readers and see their replies