Indian Prime Minister Narendra Modi accused of spying on citizens using official smartphone app
The Prime Minister's party says the 5m users' data was only used for 'analytics' 
Mythili Sampathkumar
New York
Monday 26 March 2018 21:19 Comments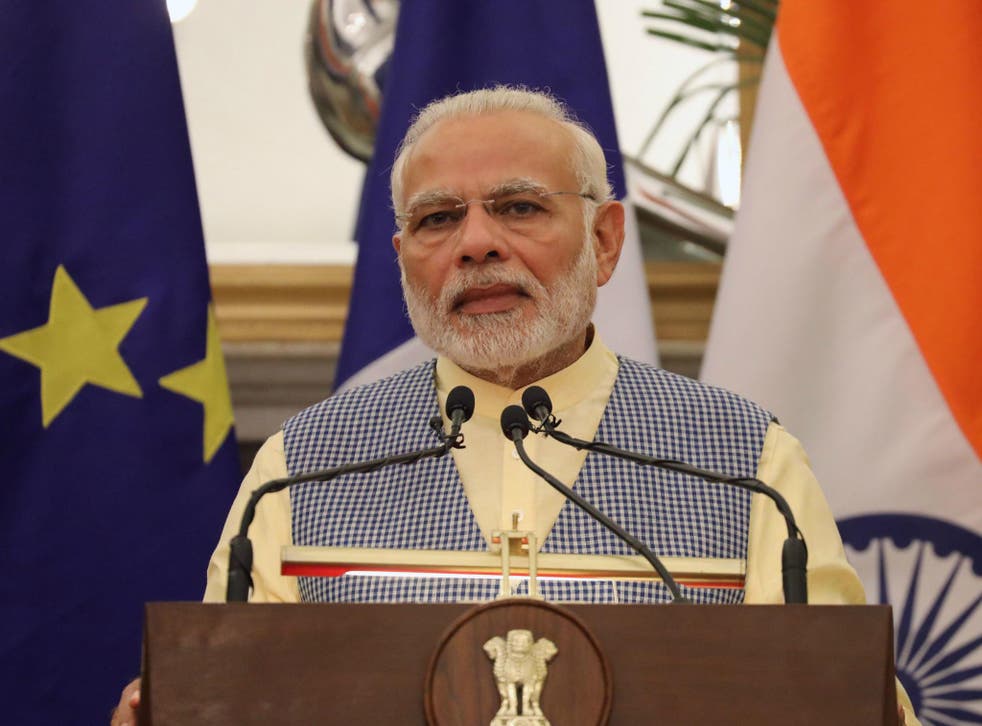 Indian Prime Minister Narendra Modi has been accused of spying on his citizens through his office's official smartphone app.
A security researcher, tweeting under the pseudonym Eliott Alderson, has said Indians' personal data was sent to a third party's server in the US without prior permission and the claim has drawn the ire of the main opposition Congress Party. Mr Modi's ruling Bharatiya Janata Party has denied the allegations and said in a tweet that the data was merely being used to provide users with "the most contextual content".
Mr Alderson, whose name is an homage to the television drama Mr Robot, posted a series of tweets over the weekend with screenshots of code that supposedly detail the data privacy breach of the app, which has been downloaded by at least 5m Android users.
Rahul Gandhi, leader of the Congress Party, mocked Mr Modi in a tweet, writing: "Hi! My name is Narendra Modi. I am India's Prime Minister. When you sign up for my official App, I give all your data to my friends in American companies".
The BJP has denied any of the data sharing allegations and defended the app, saying the harvested data is being used "only for analytics". It also accused the Congress party of using Cambridge Analytica in India in the wake of the recent Facebook scandal. Essentially, Facebook had exposed the data of 50 million users to the political consulting firm, which had at one point worked for the campaign of President Donald Trump.
Mr Alderson also tweeted later that the app's creators had "quietly" updated its privacy terms. "Your personal information and contact details shall remain confidential," it read initially. Now the policy states that "certain information may be processed by third-party services".
World news in pictures

Show all 50
"India does not have any legal position on data mining...India does not have a dedicated law on data protection. India does not also have a law on privacy, nor do we have a dedicated law on cybersecurity," digital law expert Pavan Duggal told the Associated Press.
Mr Alderson had also spent weeks needling Indian officials over security vulnerabilities in the country's national biometric database, often drawing defensive responses from authorities.
Register for free to continue reading
Registration is a free and easy way to support our truly independent journalism
By registering, you will also enjoy limited access to Premium articles, exclusive newsletters, commenting, and virtual events with our leading journalists
Already have an account? sign in
Join our new commenting forum
Join thought-provoking conversations, follow other Independent readers and see their replies