Teenager raped and set on fire in India days after another girl burnt to death
Victim fighting for life in hospital after being doused in kerosene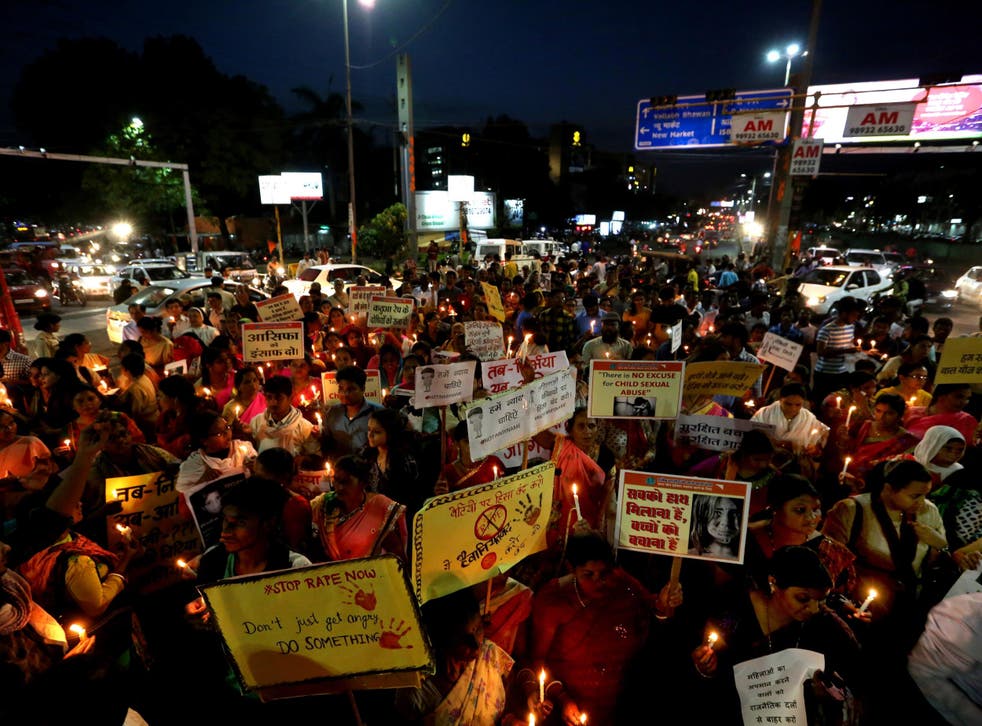 A 17-year-old girl is fighting for her life after being raped and set on fire – just days after another teenager in the same Indian state died after being raped and burnt.
The victim is being treated in hospital for 95 per cent burn injuries, having been attacked and doused in kerosene, police say.
A local man, who had reportedly waited until she was alone at home before he pounced, has been arrested.
It is the latest case in India's rising tally of violent sexual crimes against women and girls this year, which includes the murder of an eight-year-old.
Last week police arrested 14 people over the alleged gang-rape and murder of a 16-year-old in the eastern state of Jharkhand.
Police have not indicated the two cases are linked.
But the string of rapes and murders have rocked India, prompting mass protests in the country and international condemnation.
Officers investigating the latest attack say the rapist waited until the 17-year-old was alone at a relative's house in Pakur district, then broke in and attacked her before setting her alight.
Neighbours reportedly rushed to the house when they heard her screams and took her to hospital. Jharkhand police took a statement from her in hospital.
"The accused told us that he wanted to marry the victim but she wasn't ready," police officer Shailendra Barnwal told the BBC.
Another officer, Shrawan Kumar, was quoted by local media as saying: "A team of police officers has been constituted and sent to Berhampur in West Bengal where the girl is undergoing treatment at a private hospital.
"On the basis of the complaint, the accused has been arrested and sent to jail."
In last week's case, the main suspect and 14 others have already been arrested.
The death penalty has been introduced for child rape as a result of the outrage over the spate of such crimes.
About 40,000 rape cases were reported in India in 2016.
Six other suspects were also recently arrested in a separate rape case in eastern India. A total of 22 people have now been arrested in connection with three separate rape cases involving teenage girls, officials say.
Reported rape cases in India have climbed steadily in recent years, despite tougher penalties. Many more cases are believed to go unreported. Child rape accounts for about four in 10 of reported cases.
Register for free to continue reading
Registration is a free and easy way to support our truly independent journalism
By registering, you will also enjoy limited access to Premium articles, exclusive newsletters, commenting, and virtual events with our leading journalists
Already have an account? sign in
Register for free to continue reading
Registration is a free and easy way to support our truly independent journalism
By registering, you will also enjoy limited access to Premium articles, exclusive newsletters, commenting, and virtual events with our leading journalists
Already have an account? sign in
Join our new commenting forum
Join thought-provoking conversations, follow other Independent readers and see their replies