India outraged after rape victim's body cremated 'without family's consent'
Dalit family 'barricaded in their home' as police perform hasty funeral rites, reports suggest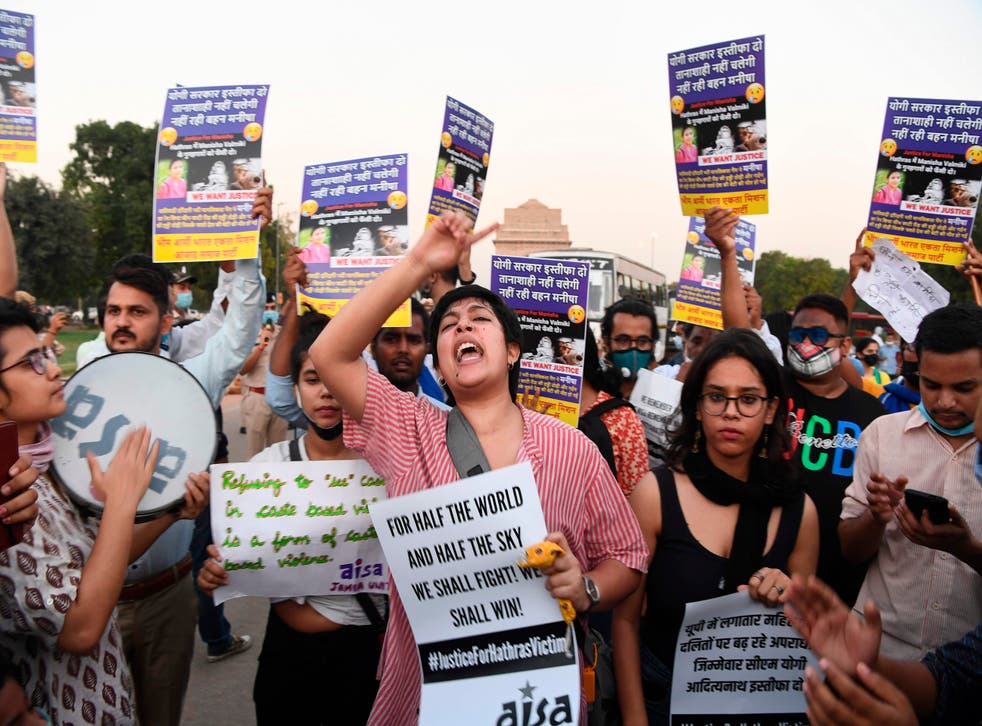 Outrage has erupted across India after a woman from the country's lowest caste was gang raped, left for dead, and allegedly cremated by police without her family's consent.
Protesters were detained as they took to the streets demanding justice and an end to rape culture and the subjugation of those at the bottom of the caste hierarchy, as politicians, activists and celebrities condemned the 19-year-old's brutal killing in the state of Uttar Pradesh.
The woman's family told local media that they found her naked, bleeding and paralysed, with a split tongue and a broken spine in a field outside their home in the Hathras district on 14 September. She died on Tuesday in a New Delhi hospital.
Four men from an upper caste have been arrested on charges of gang rape and murder.
The gruesome case is the latest in a long line of violent incidents against members of the Dalit community, formerly known as the "untouchables", who are at the lowest rung of India's Hindu caste system. Dalits are subjected to daily discrimination and thousands of attacks and sexual assaults each year, according to rights groups.
As tensions inflamed across India on Wednesday, the woman's grieving family alleged that police had forcibly cremated her body in the middle of the night on Tuesday without their permission.
The victim's brother said they only found out police were taking the body back to Hathras an hour after officers had left the hospital. "First, they said that she is in the mortuary. Then, they said she is no longer here," he told HuffPost India.
Her father and younger brother then followed the police, who drove them right to a cemetery ground in their home village of Boolgarhi, the 28-year-old said. Reporter footage showed an argument ensuing between police, the family, and a crowd of villagers, some of whom tried to block the ambulance and reportedly asked: "Are you under political pressure?"
The family attempted to rebuff police insistence that they attend her cremation in the middle of the night, according to the victim's brother, pleading with them to allow them to perform her last rites in the morning after rituals at home.
But a short time later, a pyre could be seen burning nearby. The India Today journalist who filmed it reported that police "barricaded the family inside their home and burnt the body without letting anybody know".
The victim's brother added: "We did not even get to see her face once. We don't even know if the person they cremated was my sister."
Police and other officials rejected these allegations, which prime minister Narendra Modi's ruling BJP party officials dismissed as "propaganda", one tweeting: "Instead of spreading fake rumours to build political narratives, let us concentrate on ensuring [justice for the victim]." 
But the alleged denial of the victim's last rites sparked further rage across the nation, and led to demands for the resignation of the state's chief minister Yogi Adityanath, a hardline Hindu priest belonging to Mr Modi's BJP party.
"Instead of protecting the victim and her family, your government became complicit in depriving her of every single human right, even in death. You have no moral right to continue as chief minister," tweeted general secretary of the Indian National Congress party, Priyanka Gandhi Vadra.
Samajwadi Party general secretary Ram Gopal Yadav claimed that the woman's body had not been given to the family so authorities could "manipulate the incident and later prove that she wasn't raped", adding: "Because the prime accused belongs to [chief minister] Yogi Adityanath's caste, he won't be punished."
Mr Adityanath has ordered a special investigation team to handle the case and said it will be tried in a fast-track court.
Figures across the spectrum of public life, including Bollywood actors and sports stars, also voiced their dismay at the crime, and called for swift justice.
After reports on Tuesday of women's rights activists being arrested for peaceful protests in New Delhi, where hundreds thronged the hospital after the Bhim Army - a party defending Dalits' rights - called for protesters to flood the streets, unrest again erupted in several parts of India on Wednesday.
In Hathras, witnesses said baton-wielding police charged at protesters, while demonstrations in New Delhi were also met with violence. Sixty activists were arrested while trying to stage a protest in Uttar Pradesh, police said.
In Kolkata, protesters were soon detained after burning a large image of the chief minister of Uttar Pradesh - which ranks as the most unsafe state for women in the country.
The "barbaric caste based rape" is "reflective of the utter lawlessness" in the northern state, the Communist Party of India said.
Sharing footage of the victim's distraught mother following the alleged cremation, West Bengal's women's minister, Dr Shashi Panja tweeted: "What is this absolute cold-heartedness, Narendra Modi? Is she not India's daughter because she is Dalit? Shameful!"
According to human rights organisations, Dalit women are particularly vulnerable to caste-based sexual violence, in a country where government figures suggest a woman is raped every 15 minutes, and sentencing is notoriously delayed by backlogged courts.
Last month, a 13-year-old Dalit girl was raped and killed in Uttar Pradesh. In December, a 23-year-old Dalit woman in the same state died after being set ablaze by a gang of men as she made her way to court to press rape charges. Both cases are pending in court.
As talk of the latest case dominated social media, some dubbed the victim - who cannot be named for legal reasons - "the forgotten Nirbhaya", in a reference to her Dalit status and the victim of a gang rape and murder in 2012 which prompted international alarm, and acted as a landmark moment for tougher action on sexual violence in India.
Additional reporting by agencies