Indian politician says rapists should be 'hung upside down and beaten'
An Indian minister claims she ordered the torture suspected rapists when she was chief minister of Madya Pradesh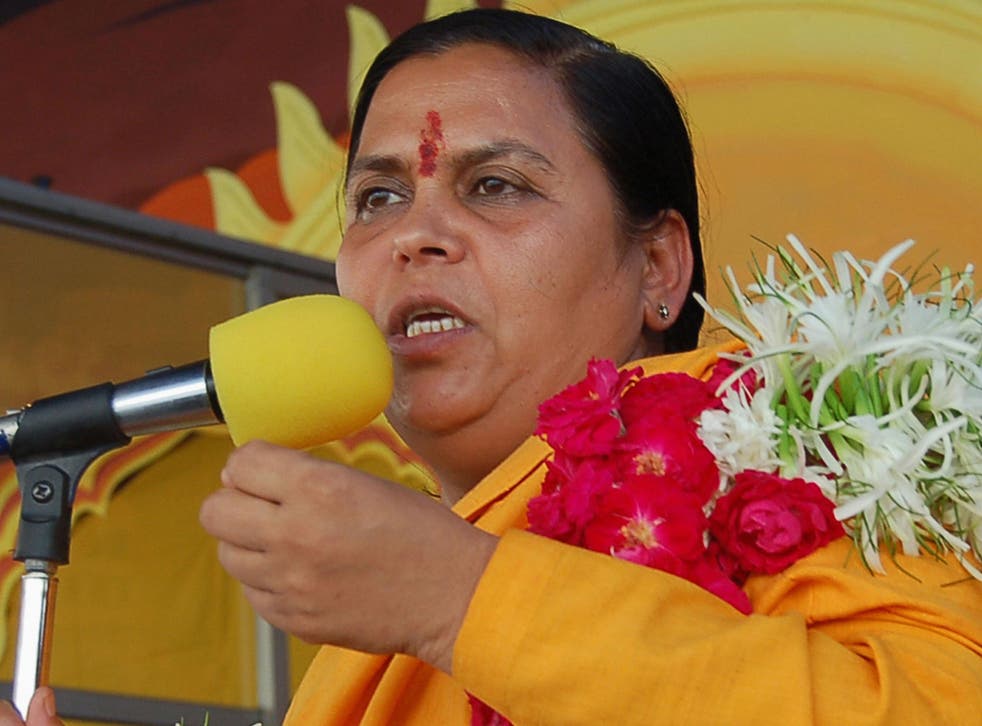 An Indian politician has claimed rapists should be hung upside down and tortured until their skin comes off – punishment she says she has previously ordered police to use similar methods.
Uma Bharti, the water resources minister, made the shocking statement to crowds at a political rally in Agra, in Uttar Pradesh state, where she was campaigning for a local politician.
She said: "Rapists should be tortured in front of victims until they beg for forgiveness.
"The rapists should be hung upside down and beaten till their skin comes off.
"Salt and chilli should be rubbed on their wounds until they scream.
"Mothers and sisters should watch so they can get closure," the BBC report.
She referenced a case from last July, where a mother and her daughter were gang-raped in Bulandshahr, Uttar Pradesh.
The minister criticised the state's government, saying they had failed to serve justice for the victims.
Contrasting with her own time in office, when she was the Chief Minister of Madya Pradesh state from 2003 to 2004, she claims to have ordered punishments for suspected rapists.
She claimed: "I would tell the cops to hang the rapists upside down and beat them so hard that they would cry out.
"I would tell women to watch through windows of the police station."
And recalling the objections of a policeman, she continued: "I told him people who behave like 'danav' (demons) cannot have Manavadhikar (human rights).
In pictures: India in shock after teenage girls 'gang raped and hanged'

Show all 13
"Their heads should be cut off like Ravana's".
Ravana is an evil demon king in Hindu mythology, one of the main religions in India.
Reports from the Hindustan Times, citing figures from the National Crime Records Bureau, show that in 2003 when Ms Bharti was Madya Pradesh reported the highest number of rapes in India, at 2,738.
And in the case of molestation the state also had the highest statistic, reporting 6,848.
Ms Bharti is a member of the ruling Bharatiya Janata Party (BJP) in India.
Sexual violence in India is increasing overall, according to figures from the Indian government, and several high profile cases have shocked the world.
The gang rape and murder of student on a school bus in Delhi hit the headlines world wide in 2012, and received international condemnation, forcing the issue into the spotlight.
In response tough new anti-rape laws was passed the following year, which introduced new crimes such as stalking and voyeurism.
Register for free to continue reading
Registration is a free and easy way to support our truly independent journalism
By registering, you will also enjoy limited access to Premium articles, exclusive newsletters, commenting, and virtual events with our leading journalists
Already have an account? sign in
Register for free to continue reading
Registration is a free and easy way to support our truly independent journalism
By registering, you will also enjoy limited access to Premium articles, exclusive newsletters, commenting, and virtual events with our leading journalists
Already have an account? sign in
Join our new commenting forum
Join thought-provoking conversations, follow other Independent readers and see their replies