India rolls out red carpet for its pariah friend Than Shwe
The world's largest democracy may have an eye on Burma's energy reserves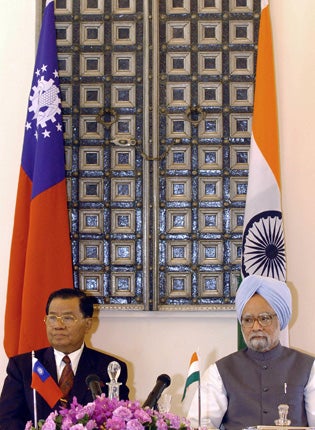 Burma's military ruler, Than Shwe, is set to receive the red-carpet treatment in India when he makes a rare overseas visit to further cement a controversial relationship that is increasingly vital to both countries.
The senior Burmese general, who has ruled the country with unceasing authoritarianism for the past two decades, will make the four-day official state visit next week to discuss military co-operation and a series of energy and business deals.
There was a time when the world's largest democracy might have thought twice about so enthusiastically playing host to a man whose regime holds more than 2,100 political prisoners behind bars. In the aftermath of a large democracy uprising in Burma in the late 1980s which the regime brutally crushed, India opened its arms to many activists and campaigners forced to flee. In 1993 it awarded the opposition leader, Aung San Suu Kyi, who had lived and studied in India, the country's highest civilian honour, the Jawaharlal Nehru Award.
But times have changed and Delhi has decided it needs to take a more "pragmatic" approach with its eastern neighbour. With its economy growing at 10 per cent and with an aspirational middle class hungrily buying everything from air conditioners to washing machines, India's energy needs means it believes it cannot afford to ignore a country like Burma, which has large reserves of untapped natural gas.
Earlier this year it was announced that India was to invest $1.35bn (£890m) in gas projects on Burma's coastline. Conscious of China's already considerable influence in the south-east Asian nation and having lost out to its rival for a previous gas deal, India is keen massively to boost its investment in the country. Earlier this summer it was revealed that Indian officials had visited Burma to try to kick-start hydroelectricity projects, while in the spring it emerged India's largest vehicle manufacturer, Tata Motors, had agreed a deal to establish a heavy truck plant in the country. The plant is to be funded with credit provided by the Indian government.
Dr Marie Lall, a South Asia expert at London's Chatham House, said the new approach by India was driven largely by its energy needs. But she said there were other factors as well; ongoing conflict with insurgents in north-east India, many of which had historically operated out of camps inside Burma, meant the need for increased military co-operation. Senior military officers from both countries now meet every three months.
India was also keen to counter China's general regional influence. "I think officials in Naypyidaw [Burma's remote jungle capital] are also wary of too much Chinese influence," she said.
But some activists argue that India – which, unlike China, has no permanent seat on the UN Security Council – will always be chasing Beijing. "India is trying to compete with China in terms of influence and natural resources but privately officials admit they are losing the battle. They are always going to play second fiddle," said Mark Farmaner of the Burma Campaign UK. "It would make far more sense for them to back the democracy movement. They are not going to beat China, and the generals are not going to be in Burma forever."
Mr Farmaner claimed Than Shwe's visit was part of a widespread diplomatic effort being undertaken by Burma ahead of elections scheduled to take place later this year. He said officials had been dispatched for meetings with governments across Asia to try to ensure the polls were endorsed and that they supported calls for EU and US sanctions to be lifted.
Many analysts have condemned the elections, in which Aung San Suu Kyi, who remains under house arrest, is to be prevented from taking part.
Last night, officials from India's foreign ministry were unavailable for comment. However, one official dismissed recent characterisations of Than Shwe, 77, as the "world's third worst dictator", telling the Business Standard newspaper: "If India can deal with Pakistan, which has just emerged from a military dictatorship but baulks at taking action against India-related terrorism, India can certainly talk to a dictator in the east [who] is willing to look at India's strategic and economic interests."
Join our commenting forum
Join thought-provoking conversations, follow other Independent readers and see their replies