Indian climber breaks new record after she tops Mount Everest twice in a week
Anshu Jamsenpa was blessed by spiritual leader the Dalai Lama before leaving for the expedition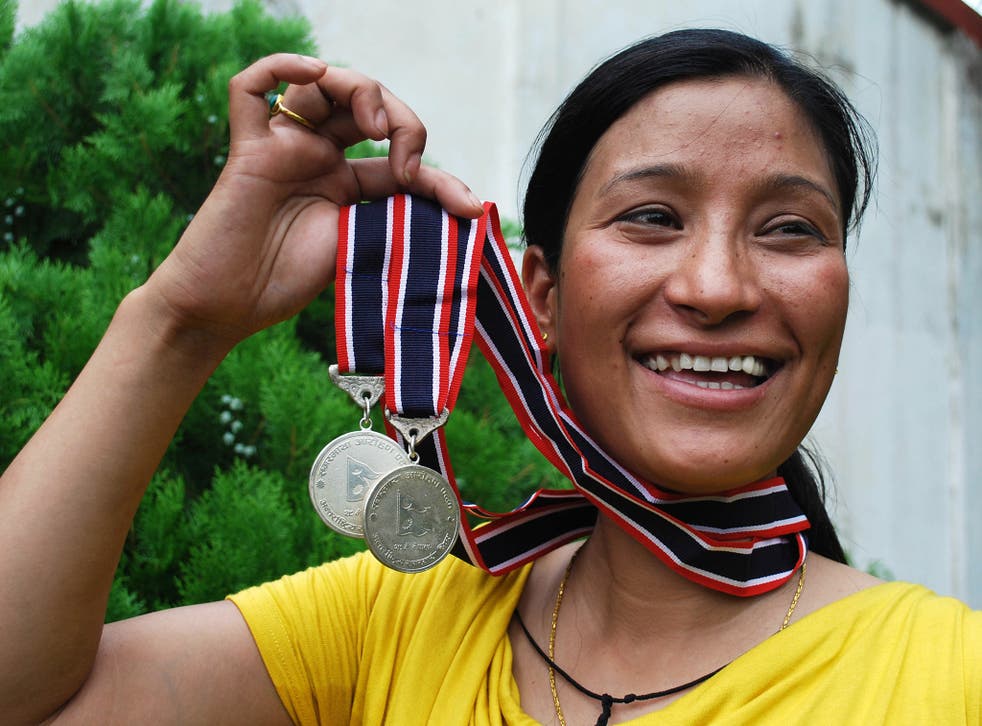 An Indian woman has set a new record after she climbed mount Everest twice in less than a week.
Anshu Jamsenpa has established a new women's record for a double ascent of the world's highest mountain in one season.
The 37-year-old returned from her first ascent of the 8,848-metre summit on 16 May but instead of enjoying a long, well-deserved rest, the climber turned back on herself and attempted the feat again.
On 21 May, Ms Jamsenpa reached the top of Mount Everest for the second time and stripped previous record-holder Chhurim Sherpa of the title. Ms Sherpa scaled the peak twice in a week in 2012 to claim the previous world record.
Ms Jamsenpa was reportedly blessed by the spiritual leader the Dalai Lama before leaving for the expedition.
Speaking to the Hindustan Times, her husband and president of All Arunachal Pradesh Mountaineering and Adventure Sports Association, Tsering Wange, said: "God has answered the prayers of her admirers in Arunachal Pradesh and elsewhere in India and beyond."
Before starting her second ascent, Ms Jamsenpa said in a statement: "My only aim now is to unfurl the national flag once again atop Mt Everest and pay homage to Lord Buddha. I seek blessings and support from my fellow countrymen."
This was not Ms Jamsenpa's first attempt at a double ascent. In May 2011, she conquered Mount Everest twice in 10 days.
In total, she has climbed the summit five times but in the last couple of years she has been prevented from making the ascent following an avalanche killed 16 Nepali guides in 2014 and the devastating 2015 earthquakes which triggered another avalanche, killing 18.
Sixty years since the first ascent, Everest is still on top of the world

Show all 3
More than 120 climbers have reached the summit this season despite being delayed by bad weather including high winds and fresh snowfall.
Two people have already died this year, including the leading Swiss climber Ueli Steck, who was killed during a preparatory climb before attempting the Himalayan peak. He was one of the most renowned mountaineers of his generation.
Every year, hundreds of people attempt to climb to the top of the world's highest mountain and, with a short window of favourable weather before the monsoon season starts in June, some warned there could be dangerous "traffic jams" on the mountain this year.
Additional reporting from AFP.
Register for free to continue reading
Registration is a free and easy way to support our truly independent journalism
By registering, you will also enjoy limited access to Premium articles, exclusive newsletters, commenting, and virtual events with our leading journalists
Already have an account? sign in
Register for free to continue reading
Registration is a free and easy way to support our truly independent journalism
By registering, you will also enjoy limited access to Premium articles, exclusive newsletters, commenting, and virtual events with our leading journalists
Already have an account? sign in
Join our new commenting forum
Join thought-provoking conversations, follow other Independent readers and see their replies