Thousands homeless after torrential flooding and landslides kill 13 in Indonesia
More than 40,000 people have been affected by landslides which killed at least two children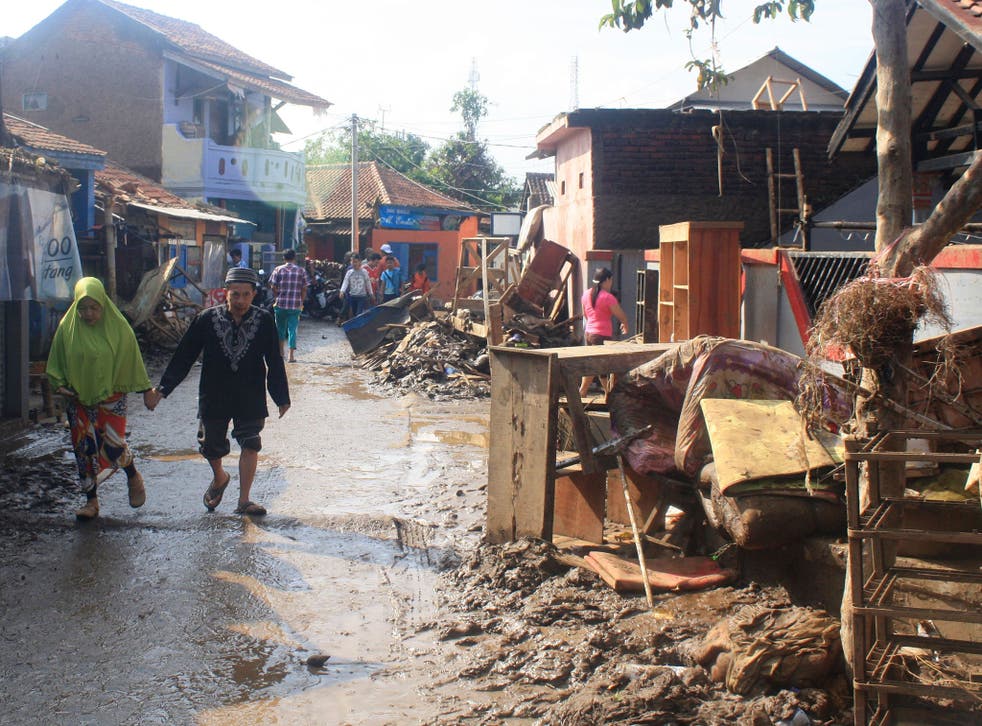 At least 13 people have been killed and thousands more made homeless after devastating floods swept across Indonesia.
The idyllic tourist hotspot of Bali was partially submerged after five days of torrential rain triggered deadly landslides.
Rivers on Sumbawa Island burst their banks following rainfall of 12 to 28 inches, flooding seven sub-districts.
The country's Disaster Mitigation Agency confirmed 12 people were killed, with young children among the dead.
The agency's spokesman, Sutopo Purwo Nugroho, said three villages had been hit in the mountainous region of Bangli.
Members from two families lost their lives in the Songan village, including a mother, her one-year-old son and her seven-year-old daughter.
In the neighbouring Awan village four people died, and one person was killed from the Sukwana village which saw five homes buried beneath the debris.
Some two people were rushed to hospital with severe injuries, and a further two suffered minor wounds in Sukwana.
A further landslide in the Subaya village on Friday killed one person, bringing the total to 13.
Thailand Flood

Show all 13
Mr Nugroho said in total 40,291 villagers had been affected by the flooding, with many taking refuge in mosques and government buildings.
He stressed survivors were in desperate need of clean water, food and medicine.
But he added some 8,000 were stranded in their villages in two sub-districts which are now only accessible by boat.
The agency warned more heavy rains could be on the way, bringing with it further flooding and landslides adding to the misery of remaining residents, many of whom live in stilt houses.
Millions of people live in mountainous areas or on flood plains, with heavy rainfall regularly causing landslides and floods on the archipelago.
Last year at least five people were killed and 100,000 were forced to flee their homes after floods swept through Bali's neighbouring island West Nusa Tenggara, and the Belitung region to the east of Bali and Sulawesi in the north.
And at the end of last month severe rainfall affected North Sulawesi and Bangka-Belitung Province, north of Bali, affecting around 7,000 people.
Register for free to continue reading
Registration is a free and easy way to support our truly independent journalism
By registering, you will also enjoy limited access to Premium articles, exclusive newsletters, commenting, and virtual events with our leading journalists
Already have an account? sign in
Register for free to continue reading
Registration is a free and easy way to support our truly independent journalism
By registering, you will also enjoy limited access to Premium articles, exclusive newsletters, commenting, and virtual events with our leading journalists
Already have an account? sign in
Join our new commenting forum
Join thought-provoking conversations, follow other Independent readers and see their replies