Indonesia bans Lady Gaga concert over fears she'll corrupt kids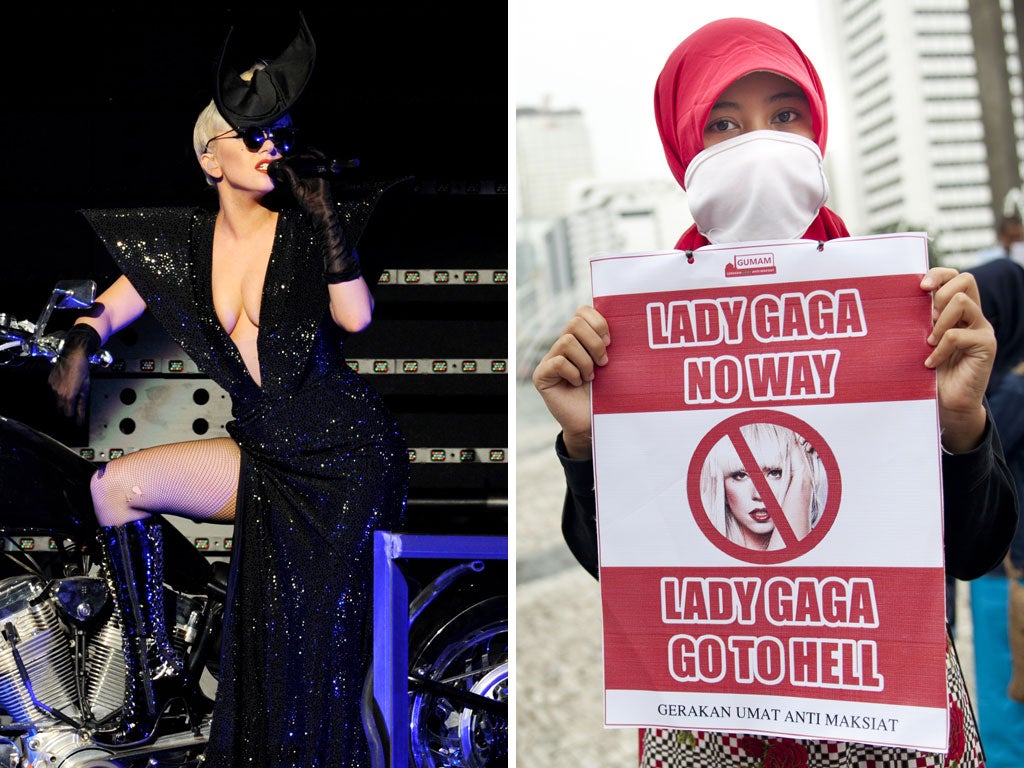 Lady Gaga will have to cancel her sold-out show in Indonesia following protests by Islamic hard-liners and conservative lawmakers, who said her sexy clothes and dance moves will corrupt young people.
National police spokesman Boy Rafli Amar, responding to the pressure, said today that the permit for her 3 June "Born This Way Ball" concert had been denied.
Indonesia, a nation of 240 million people, has more Muslims than any other. Although it is secular and has a long history of religious tolerance, a small extremist fringe has become more vocal in recent years.
Hard-liners have loudly criticized Lady Gaga, saying the suggestive nature of her show threatened to undermine the country's moral fiber. Some threatened to use physical force to prevent her from stepping off the plane.
Lawmakers and religious leaders, too, have spoken out against her.
Worried they could not guarantee security, local police recommended the permit for the show be denied, said Amar, adding that national police decided today to comply.
It was supposed to be the biggest show on Lady Gaga's Asian tour, with fans snapping up every seat in Jakarta's 52,000-seat Gelora Bung Karno stadium — half of them in the first two hours of sales.
Permits usually are issued about three weeks before a concert in Jakarta, so it is common to sell tickets well ahead of receiving a permit. It was not immediately clear if the ticket sales would be refunded. The local promoter, Michael Rusli, could not be reached for comment.
"I'm very disappointed," said Mariska Renata, who had tickets to the Jakarta show.
She said by bowing to the wishes of "troublemakers," authorities only give them more power. "We are mature enough to be able to separate our own moral values from arts and culture," Renata said.
Lady Gaga's Asian tour started late last month and many of the stops have sold out. The South Korean concerts were limited to fans 18 or older because conservatives there raised objections.
AP
Join our commenting forum
Join thought-provoking conversations, follow other Independent readers and see their replies