Dog vs wild boar fights in Indonesia prompt calls to end 'traditional' sport
'Not only is it extreme animal cruelty, but it debases us as humans to promote such barbarity as fun'
Samuel Osborne
Wednesday 18 October 2017 16:28 Comments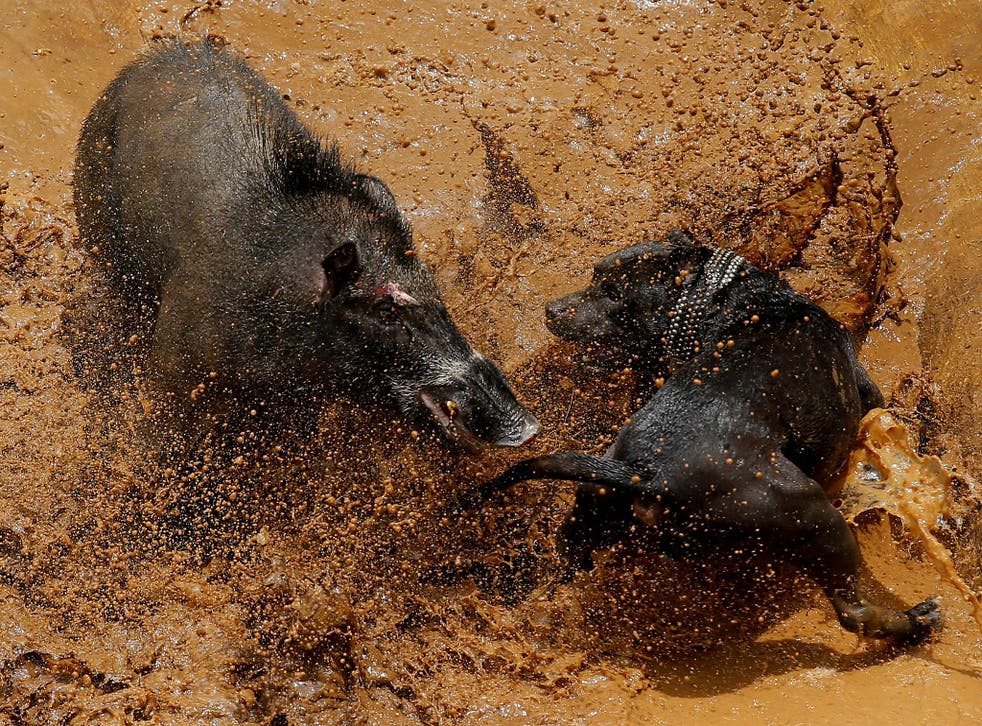 Animal rights activists have called for the end of staged fights between dogs and captured wild boars in rural Indonesia.
Locals gather around a bamboo-walled arena in a remote part of Java island to watch the blood-curdling contests, which are known locally as "abu bagong" (boar fighting).
"The vicious and exploitative fighting of dogs and wild boars in Indonesia is a disturbing spectacle that must be condemned," Wendy Higgins, a spokesperson for Humane Society International told The Independent.
"Watching animals savagely fight each other must never be considered entertainment, nor excused as culture."
She added: "Not only is it extreme animal cruelty, but it debases us as humans to promote such barbarity as fun. Any tradition that requires a sentient being to become a victim of violence should be consigned to the history books."
The fights take place within a 15-30 metre arena and end only when when one of the animals is injured.
Participants say the contests test the agility and hunting abilities of the dogs. There is also a cash prize of up to $2,000 (£1,500) for the winning dog.
If a boar survives the fight, it will return to the arena once healed. If not, it will be butchered and sold for meat.
Participants told Reuters the fights were a way to preserve a tradition of hunting in the area.
"It used to be very simple, not like now when the dogs are trained," said Nur Hadi, head of Hiparu, a group of hunting dog enthusiasts that takes part in the fights.
"From there it's been handed down and has even become part of tradition and culture," Mr Hadi said.
Where not to visit if you love animals

Show all 9
Dog breeder Agus Badud said the tradition also gives people a source of income.
"I take part in this contest to increase the selling price and economic value of my dogs, and it would be useless for me as a breeder if I did not participate in a contest like this," Mr Badud told Reuters.
The regular spectacle began in the 1960s, when wild pig numbers in West Java soared and they were hunted to protect crops.
Register for free to continue reading
Registration is a free and easy way to support our truly independent journalism
By registering, you will also enjoy limited access to Premium articles, exclusive newsletters, commenting, and virtual events with our leading journalists
Already have an account? sign in
Join our new commenting forum
Join thought-provoking conversations, follow other Independent readers and see their replies