Indonesia earthquake: French rescue team discover survivor underneath Palu city rubble
Relief workers prepare to launch mission on Friday in bid to save victim trapped under concrete in hotel ruins
Drone footage shows devastation following Indonesia tsunami
A French rescue team has detected a person believed to be alive trapped under rubble in an earthquake-hit Indonesian city.
Relief workers said they had located the individual in Palu, six days after the area was badly affected by a powerful 7.5-magnitude tremor and subsequent tsunami.
Philip Besson, a member of the French organisation Pompiers de l'urgence, said the team "detected the presence of a victim" in the wreckage of the city's Mercure Hotel.
However, he added rescuers had been unable to determine whether or not the person underneath the rubble is conscious.
Indonesian earthquake: rescue efforts continue

Show all 30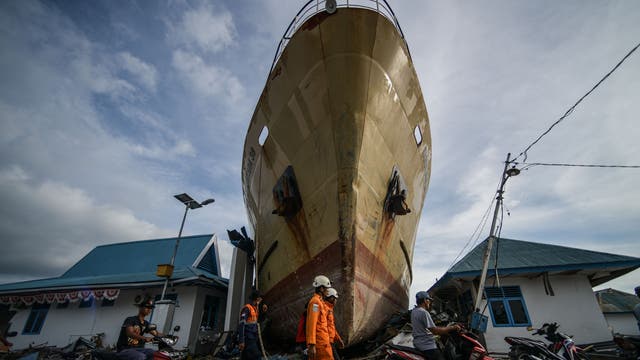 Mr Besson said the team could not yet reach the victim, who was trapped under thick concrete. The team only had a hand drill and stopped digging as night fell.
Rescuers will return to the scene with heavy equipment early Friday to make a fresh attempt to rescue the person.
Some 1,200 people, mainly from Palu, are confirmed dead after the quake hit the island of Sulawesi last week, while hundreds of others are still unaccounted for.
Thousands of buildings were reduced to rubble by the disaster, leaving authorities fearful the bodies of many more victims could lay beneath the debris.
British aid agencies have been among the international organisations to provide support as much-needed supplies slowly begin to reach the disaster zone.
The eruption of volcano Mount Soputan in North Sulawesi this week has hampered relief efforts by sending an ash cloud spewing nearly 20,000ft into the sky.
International development secretary Penny Mordaunt said that thousands of shelter kits, solar lanterns and water purifiers were sent from the UK to Indonesia on Thursday.
A team of six UK humanitarian experts left London for Sulawesi earlier this week, and are now helping to coordinate the humanitarian response on the ground.
However, aid workers have reported widespread food shortages in Palu, as well as fears difficulties transporting supplies to affected areas could result in more casualties.
Additional reporting by AP
Join our new commenting forum
Join thought-provoking conversations, follow other Independent readers and see their replies