Indonesia executions: Who is being killed, where are they from – and what did they do?
Andrew Chan and Myuran Sukumaran are among those due to be killed
Lizzie Dearden
Wednesday 29 April 2015 07:32 Comments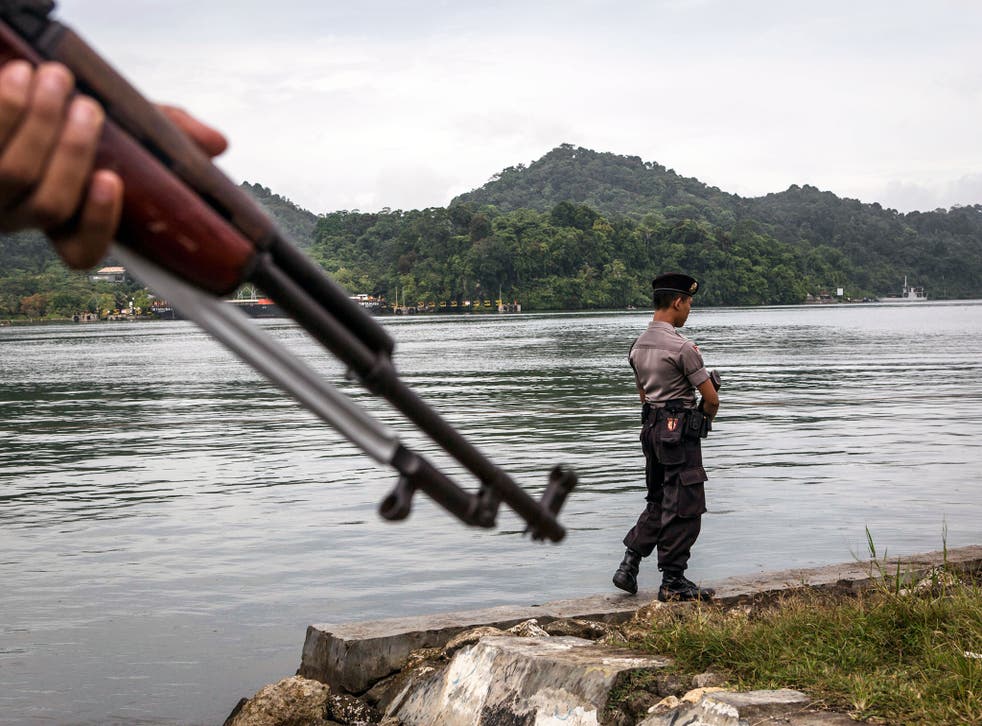 Hope is fading for the nine people due to be executed within hours as Indonesia defies international pressure and relatives' desperate pleas to save them.
Starting at midnight, the prisoners will be taken from their cells on Nusakambangan Island one by one, marched into the forest, blindfolded and shot dead by a 12-man firing squad.
Only three of the guns aimed at their hearts will be carrying live ammunition and if that volley does not kill them, a commander will shoot them point-blank in the head.
These are the names of those sentenced to death and their crimes.
Andrew Chan and Myuran Sukumaran, Australia
The pair were convicted in 2006 as part of the "Bali Nine" drug smuggling gang who were arrested on the island for trying to smuggle 8kg of heroin to Australia.
Their six Australian co-conspirators were jailed for between 18 years and life in Indonesia but Sukumaran, then 23, and Chan, 21, were given harsher sentences as the alleged ringleaders.
After being monitored by Indonesian police, who were handed information from the Australian Federal Police, all nine were arrested as the smuggling operation started.
Chan was removed from a plane bound for Australia at Bali's airport, and was believed to be the person who would collect the heroin in Australia.
Bali Nine pair executed

Show all 22
Tan Duc Thanh Nguyen, Sukumaran, Si Yi Chen and Matthew Norman were arrested in Kuta, Bali, in possession of heroin.
The rest were detained on another plane, where they were found with heroin strapped to their bodies.
Several appeals failed over their 10 years' imprisonment in Indonesia, despite lawyers' efforts to highlight the pair's contribution to prison life and education, as well as Chan's conversion to Christianity.
Judges ruled that President Joko Widodo was the only person who could grant them clemency, which he refused.
Rodrigo Gularte, Brazil
The 42-year-old was sentenced to death in 2005 for smuggling 6kg of cocaine inside surfboards.
He has since been diagnosed with acute paranoid schizophrenia but his lawyers' argument that he should have been taken off Nusakambangan for a fuller mental exam were dismissed.
Mr Gularte's execution is a violation of Indonesian and international law, according to his legal team, but his appeal for clemency was rejected by the President in January.
The Indonesian penal code states that a person is "not punishable" or liable if they commit a crime by reason of the "sickly disorder of his mental capacities", while the UN Commission on Human Rights urges all states "not to impose (the death penalty) on a person suffering from any form of mental disorder; not to execute any such person".
Mary Jane Veloso, Philippines
The case of 30-year-old Veloso, who has two children, has ignited protests around the world.
She was arrested with 2.6 kg of heroin at Adisucipto International airport in Yogyakarta in April 2010 and sentenced to death in October that year. She has since lost several appeals.
The woman who allegedly recruited her as a drugs mule by promising her a job as a domestic worker in Indonesia handed herself into police in the Philippines on Tuesday but it was not enough to stop her execution.
Maria Kristina Sergio was reportedly seeking protection after receiving death threats via her social media accounts and mobile phone.
Veloso's lawyers claimed she was duped into carrying the heroin, which was found hidden in the lining of her suitcase as she arrived in Indonesia.
"I'd say it's a changing alibi," Indonesia's attorney-general, H.M. Prasetyo, told reporters.
"If we're not firm, it means we're weak in the war against drugs."
Her two sons and her mother visited her in prison on Tuesday and her sister said she told the children she would die with a "pure heart" and go to heaven.
Martin Anderson, Nigeria/Ghana
Now 50, he was found to be in possession of 50g of heroin at his home in North Jakarta in 2003.
His death sentence was upheld by Indonesia's Supreme Court and a case review was dismissed by judges as he had already asked the President for clemency, effectively admitting guilt.
Conflicting reports have said he a national Nigeria and Ghana. Neither could be confirmed.
Raheem Agbaje Salami, Nigeria
The 42-year-old, who holds a Spanish passport, was arrested at Juanda International Airport in Surabaya, East Java, in 1998 after attempting to smuggle in 5.2 kg of heroin.
He is also known under the name Jamiu Owolabi Abashin.
Salami's original life sentence in 1999 was reduced to 20 years by the High Court after an appeal.
But state prosecutors challenged the lowered sentence at the Supreme Court, which in 2006 sentenced him to death. Appeals and a request for clemency failed.
Sylvester Obiekwe Nwolise, Nigeria
After being found guilty of trafficking 1.18kg of heroin into Sukarno-Hatta International Airport in Jakarta in 2003 and sentenced to death, Indonesia's narcotics agency has since accused the 27-year-old of dealing drugs in prison.
In 2012 he was found to have dealt on Nusakambangan Island and then again a year later at a separate jail on the same complex, resulting in him being put in isolation.
Okwudili Oyatanze, Nigeria
Oyatanze, 45, was sentenced to death for trafficking 1.15kg of heroin from Pakistan through Sukarno-Hatta airport in 2001.
A district court and the Supreme Court supported capital punishment in his case and an application for a judicial review was dismissed.
President Jokowi rejected his appeal for clemency after he admitted the crime in February this year.
Zainal Abidin bin Mgs Mahmud Badarudin, Indonesia
Zainal, 50, was arrested at his home in Palembang, South Sumatra, for the possession of 58.7kg of cannabis in 2000.
Despite being handed a 15 year prison term during his first sentencing, he was given the death penalty following an appeal by prosecutors, which was later upheld by the Supreme Court.
President Jokowi rejected his appeal for clemency and a judicial review also failed.
Register for free to continue reading
Registration is a free and easy way to support our truly independent journalism
By registering, you will also enjoy limited access to Premium articles, exclusive newsletters, commenting, and virtual events with our leading journalists
Already have an account? sign in
Register for free to continue reading
Registration is a free and easy way to support our truly independent journalism
By registering, you will also enjoy limited access to Premium articles, exclusive newsletters, commenting, and virtual events with our leading journalists
Already have an account? sign in
Join our new commenting forum
Join thought-provoking conversations, follow other Independent readers and see their replies