Christian in Indonesia publicly flogged for selling alcohol in Sharia law breach
Jono Simbolon was lashed 36 times before woman was also flogged for 'getting too close' to her fiancé
Rachel Roberts
Saturday 20 January 2018 16:21 Comments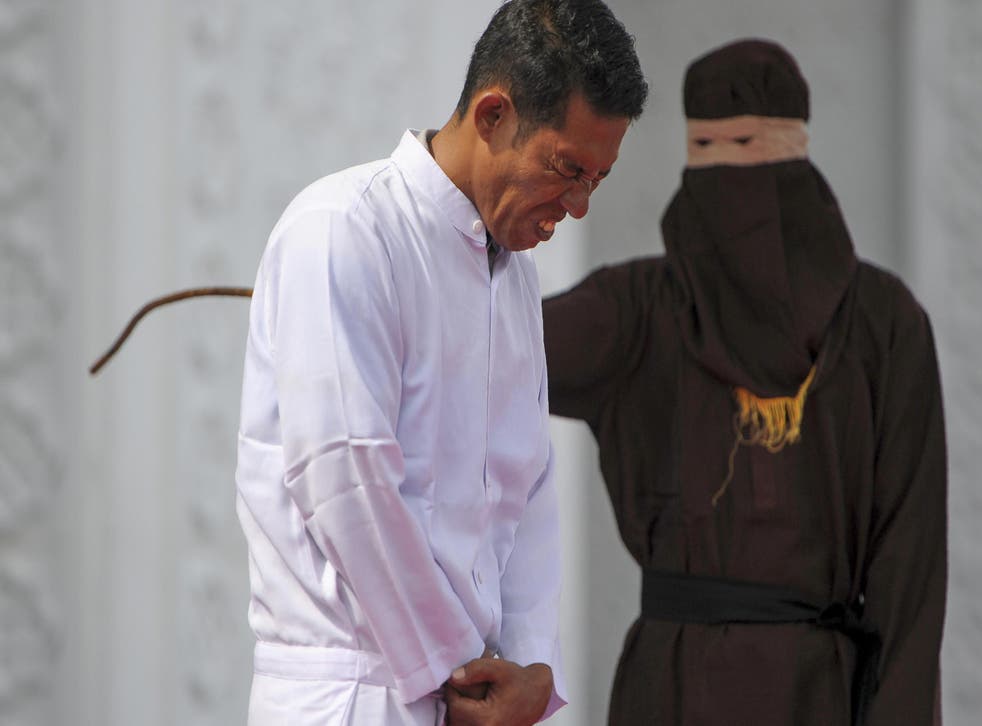 A Christian in Indonesia has been publicly flogged for selling alcohol, considered an offence under Islamic Sharia law.
Photographs show Jono Simbolon being whipped by a masked religious enforcer in front of a jeering crowd - which included children - as his face contorts with agony.
Mr Simbolon was sentenced to 36 lashes after he was found to have breached the strict law known locally as Qanun.
The whipping took place in the provincial capital of Banda Aceh outside a mosque in what is believed to be only the third instance of a non-Muslim being flogged since the city, on Sumatra island, began enforcing sharia law in 2001.
Around 98 per cent of Aceh's five million residents are Muslims and automatically subject to the Qanun religious law.
Non-Muslims who have committed an offence that violates both national law and the laws of a religion they do not follow – such as selling alcohol - can choose to be prosecuted under either system.
Chief Prosecutor Erwin Desman said that as a Christian, Mr Simbolon may have opted for a trial under religious law because he would rather be flogged than risk a lengthy prison sentence under criminal proceedings.
Sharia courts: Legal status in the UK

Show all 3
Mr Simbolon was led onto a makeshift stage in bare feet in front of the baying crowd, who took pictures of his ordeal. He was checked by a doctor after being sent reeling following the tenth lash before he was declared fit for the flogging to continue.
He was one of ten people to be lashed in Aceh on the same day, including a Muslim woman found to have grown "too close" to her partner in the days leading up to their wedding.
She and her partner both received 20 lashes in front of the baying crowd.
Human Rights Watch this week condemned the government of Indonesia, accusing President Joko Wikodo of "failing to confront increasing intolerance that has led to discrimination and violence against the country's most vulnerable minorities".
"Jokowi's government is turning a blind eye to worsening harassment of religious and sexual minorities," said Phelim Kine, the group's deputy Asia director. "Officials are using the dangerously ambiguous blasphemy law to target certain religious groups, while the police are carrying out invasive raids against LGBT people."
Mayor of Banda Aceh Aminullah Usman defended the use of corporal punishment, saying: "This is our government's commitment to enforcing Islamic law.
"If there is a violation, (people should) immediately report it to the Sharia police and we will carry out a punishment like today's caning."
Aceh is the only province in Indonesia, the world's most populous Muslim-majority country, which implements Sharia law.
Last year, two gay men who admitted having sex were flogged in the province, with each receiving 100 lashes.
Homosexuality is not illegal in the rest of Indonesia, which mainly follows a criminal code inherited from former colonial ruler the Netherlands, but religious minorities face discriminatory laws and regulations as well as harassment, intimidation, and violence from Islamist militants.
In early 2017, the Ministry of Religious Affairs drafted a bill to further entrench the country's blasphemy law as well as discriminatory government decrees, including one that prevents religious minorities from obtaining permits to build place of worship.
In May 2017, a Jakarta court sentenced former Jakarta Governor Basuki Tjahaja Purnama, a Christian, to a two-year prison sentence for blasphemy against Islam.
Register for free to continue reading
Registration is a free and easy way to support our truly independent journalism
By registering, you will also enjoy limited access to Premium articles, exclusive newsletters, commenting, and virtual events with our leading journalists
Already have an account? sign in
Join our new commenting forum
Join thought-provoking conversations, follow other Independent readers and see their replies