Indonesia under pressure to control forest fires cloaking the country and its neighbours in smoke
Forests deliberately set alight for agriculture have caused pollution beyond state's borders, which has now reached dangerous levels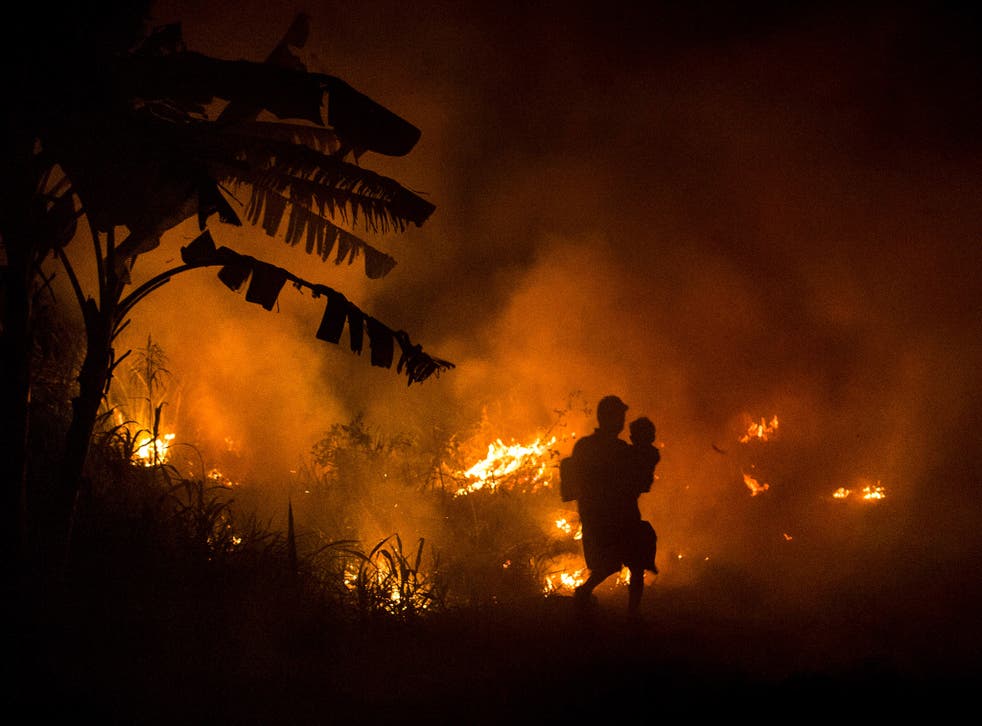 Pressure is mounting on Indonesia to control forest fires that continue to cloak the country and its South-east Asian neighbours in a choking haze. US Space agency Nasa is warning that the smog could be one of the worst on record. Despite Indonesian government efforts to contain the fires, which are deliberately started by companies using "slash and burn" techniques to clear land for agriculture, this year's haze has been exacerbated by unusually dry conditions. Once started, fires can spread many miles from their source and are fuelled by peat-rich soils. According to the Global Fire Emissions Database, this year's burn has produced 600m tons of greenhouse gases – equivalent to what industrialised Germany produces in carbon dioxide annually.
The extent of the haze is now polluting relations between Jakarta and its neighbours, who are also suffering.
In the past month, pollution readings in Singapore have hit levels considered dangerous. Throughout the region, schools have been periodically closed, flights grounded and the elderly issued with pollution masks as smog levels spike. In Pekanbaru, in Sumatra's Riau province, one of the worst-hit areas, a makeshift clinic for new-born babies was set up in an air-conditioned room in the mayor's office. Malaysia evacuated 173 of its citizens from the region last month. The conditions have prompted protests outside Indonesia's embassy in Kuala Lumpur.
Nasa satellite evidence revealed particle levels similar to the peak of the last major haze event in 2006. "If the forecasts for a longer dry season hold, this suggests 2015 will rank among the most severe on record," said Dr Robert Field at Nasa's Goddard Institute for Space Studies.
Indonesia has repeatedly faced calls from its neighbours to control the fires. This year, 20,000 troops have been deployed to Sumatra and the country's Kalimantan territory on Borneo, using water-bombing and even chemically-induced rainfall to help control the fires.
Wildlife has also come under threat, with orang-utan sanctuaries reporting a rise in the number of rescued animals, left stranded and without food by fires.
Dr Karmele Llano Sanchez, veterinary director at International Animal Rescue's sanctuary in Kalimantan, Indonesia, said the fires were also making it easier for hunters to find and trap infant orang-utans for the illegal pet trade.
Campaigners' hopes for a legal crackdown on the fires in Indonesia have been raised by the government's successful case last month against palm oil company PT Kallista Alam, which was forced to pay $25.6m (£17.5m) in compensation for illegal burning.
Join our new commenting forum
Join thought-provoking conversations, follow other Independent readers and see their replies