Indonesian President cancels Australia visit after violent blasphemy protest in Jakarta
The protest was triggered by accusations that Jakarta's Christian governor had insulted Islam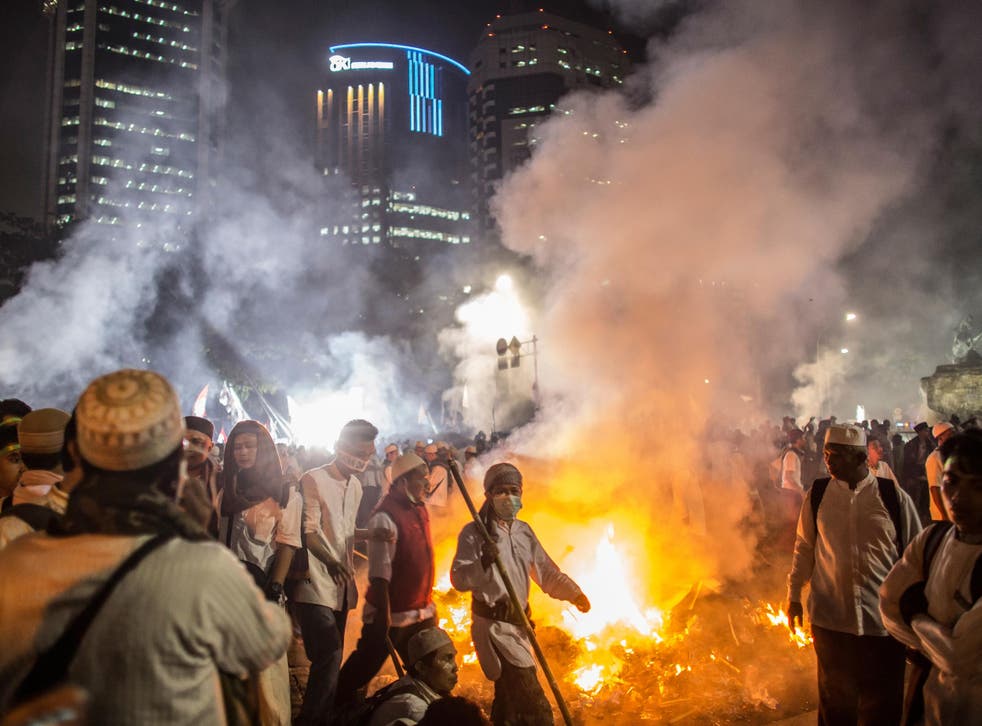 The Indonesian President has cancelled a visit to Australia after violence broke out at a mass protest in Jakarta against a Christian governor accused of insulting Islam.
Around 50,000 people descended on the Indonesian capital on Friday to protest against comments made by governor Basuki Tjahaja Purnama - known by his nickname Ahok.
The protest was initially peaceful but deadly clashes erupted after demonstrators broke through police barricades and security barriers in an attempt to enter the presidential palace before they were stopped by officers firing tear gas, police said.
Vehicles were set alight and bottles and rocks were hurled at officers, police added.
Police spokesman Boy Rafli Amar said one elderly man died of an asthma attack during the protest, although some local media suggested it may have been brought on by tear gas.
More than 160 protesters were hurt, including four who were hospitalised - reportedly from the impact of tear gas - and more than 90 police and soldiers were injured, Mr Amar added.
President Joko Widodo was scheduled to travel to Australia on Saturday, visiting the country from 6 to 8 November, but the trip was postponed as a "current development has required the president to stay in Indonesia," the Foreign Affairs Ministry said.
Australia's Prime Minister Malcolm Turnbull responded in a statement: "We were sorry we would not be able to welcome him to Australia tomorrow but entirely understood the need for him to remain in Indonesia at this time." The trip would have marked Mr Widodo's first official bilateral visit to Australia.
The protest was triggered after a video posted online allegedly filmed Mr Purnama criticising opponents who used references from the Quran to attack him.
Mr Purnama is ethnic Chinese and minority Christian. It is estimated that ethnic Chinese make up around one per cent of Indonesia's Muslim majority population of 250 million people.
The verse of the Quran he purportedly attacked is interpreted by some as a prohibition against Muslims living under the leadership of a non-Muslim.
Mr Purnama apologised for the remarks, but his opponents, particularly The Islamic Defenders Front - a vigilante group wanting to impose Sharia Law - have bolstered support calling for his arrest and incarceration under Indonesia's blasphemy laws.
Addressing the nation on Friday evening, Mr Widodo blamed "political actors" for taking advantage of the rally, saying his predecessor Susilo Bambang Yudhoyono had backed plans for the protest.
Police said they are still investigating who was behind the violence and whether any political elements were involved in the unrest.
They added that ten people were arrested for allegedly provoking riots near the presidential palace and 15 others for vandalism in northern Jakarta.
Additional reporting by agencies
Register for free to continue reading
Registration is a free and easy way to support our truly independent journalism
By registering, you will also enjoy limited access to Premium articles, exclusive newsletters, commenting, and virtual events with our leading journalists
Already have an account? sign in
Register for free to continue reading
Registration is a free and easy way to support our truly independent journalism
By registering, you will also enjoy limited access to Premium articles, exclusive newsletters, commenting, and virtual events with our leading journalists
Already have an account? sign in
Join our new commenting forum
Join thought-provoking conversations, follow other Independent readers and see their replies