Interpol chief missing: Meng Hongwei's wife placed under protection after 'bizarre' disappearance in China
President of international police agency disappeared after travelling from France to China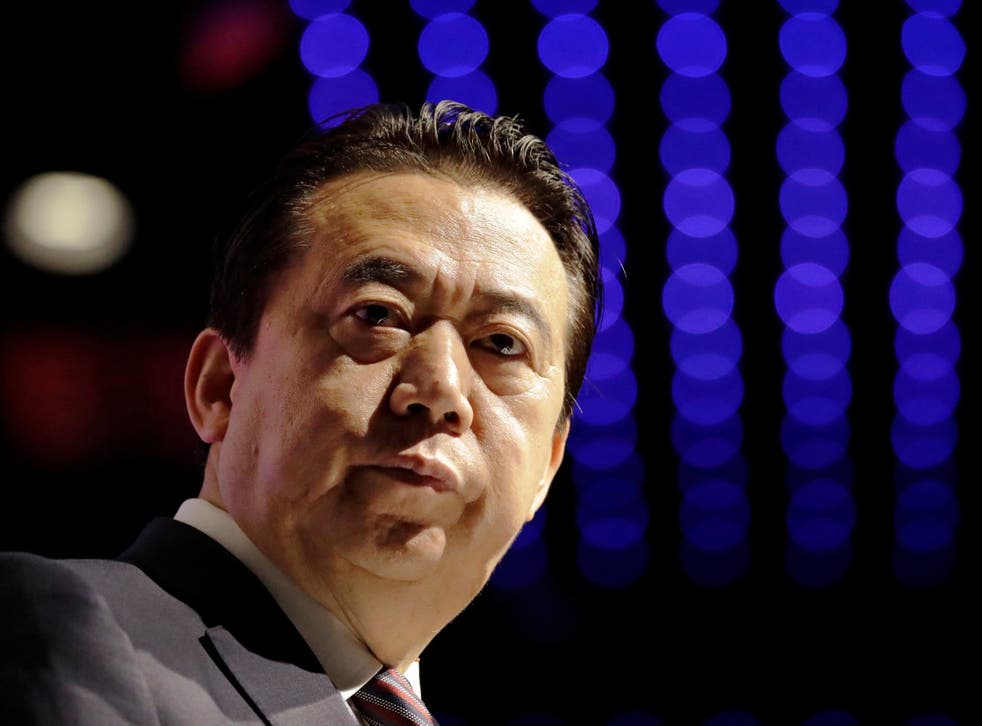 French police investigating the "worrying" disappearance of Interpol chief Meng Hongwei have placed his wife under special protection after she received threats.
Mr Meng's wife reported her husband missing on Friday, having not heard from him since 25 September when he travelled from France to his native China.
The French interior ministry said she was receiving protection in Lyon – where the couple lived and Interpol is based – after threats were made by phone and on social media.
A source familiar with the investigation told Reuters the working assumption was that Mr Meng, 64, had antagonised Chinese authorities and had been detained as a result.
Hong Kong's South China Morning Post has quoted an unnamed source saying Mr Meng had been "taken away" for questioning as soon as he landed in China.
"France is puzzled about the situation of Interpol's president and concerned about the threats made to his wife," the interior ministry stated. "Exchanges with Chinese authorities continue."
As well as occupying the top job at Interpol, Mr Meng is also a vice minister for public safety in China. China's Ministry of Public Security has not commented on Mr Meng's disappearance.
There have been several cases in recent years of senior Chinese officials vanishing without explanation, only for the government to announce they have been put under investigation for suspected corruption.
The Chinese film star Fan Bingbing, who was not heard from for over three months, broke her silence earlier this week after tax authorities in Beijing ordered her to pay taxes and penalties totalling £100m.
Interpol, an organisation usually focused on finding people who are missing or wanted, said it was aware of reports about Meng's "alleged disappearance" but said it was "a matter for the relevant authorities in both France and China".
World news in pictures

Show all 50
Roderic Broadhurst, a professor of criminology at Australian National University, said Mr Meng's disappearance would be "pretty disconcerting" for people in international bodies that work with China, and could damage China's efforts to develop cooperative ties with other countries.
"It is bizarre," Mr Broadhurst said, adding that China was likely to "brush off" any political damage.
"It's a price that might have to be paid, but I guess they would see that as a cost worth bearing," he added.
When the Chinese official was named Interpol's president in November 2016, human rights groups expressed concern that Beijing might try to leverage his position to pursue dissidents abroad.
Beijing has in the past pressed countries to arrest and deport to China citizens it has accused of crimes ranging from corruption to terrorism.
Additional reporting by agencies
Register for free to continue reading
Registration is a free and easy way to support our truly independent journalism
By registering, you will also enjoy limited access to Premium articles, exclusive newsletters, commenting, and virtual events with our leading journalists
Already have an account? sign in
Register for free to continue reading
Registration is a free and easy way to support our truly independent journalism
By registering, you will also enjoy limited access to Premium articles, exclusive newsletters, commenting, and virtual events with our leading journalists
Already have an account? sign in
Join our new commenting forum
Join thought-provoking conversations, follow other Independent readers and see their replies