Is Afghanistan going to be Obama's Iraq?
The US could find itself isolated as the conflict goes on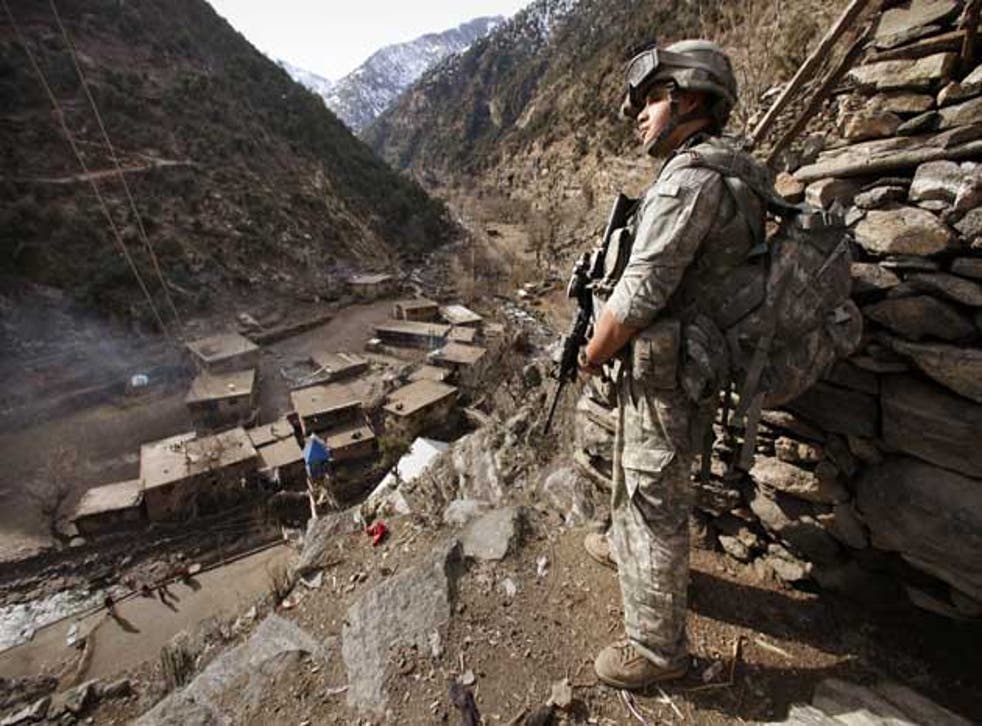 President Barack Obama is facing warnings that the US risks repeating some of its errors in Iraq as the new administration turns its focus to Afghanistan, where Nato forces are engaged in a conflict which has already lasted longer than the Second World War.
Having received a briefing on his first day in office from General David Petraeus, the top US commander in the region, Mr Obama is preparing to meet his military chiefs to decide on the size and shape of the Afghanistan reinforcements he promised during his election campaign. The chairman of the joint chiefs of staff, Admiral Michael Mullen, said just before Christmas that up to 30,000 more troops could be sent by summer, nearly doubling the size of the US force in the country. Britain, the next largest contributor in the 41-nation international force, has fewer than 9,000 troops in Afghanistan, which means American dominance of the campaign against the Taliban is set to increase.
"There are fears that this could become a US war rather than a Nato one," said Christopher Langton, senior fellow for conflict at the International Institute of Strategic Studies (IISS) in London. "With other Nato members already planning to scale back, the US could find itself isolated. Rather than being an international operation, it would become another 'coalition of the willing', as in Iraq – though with the crucial difference that the Afghan mission has had a United Nations mandate throughout."
Paul Smyth, head of the operational studies programme at London's Royal United Services Institute (Rusi), pointed out that several Nato countries, including Canada, Germany and France, had significantly increased their troop commitments in percentage terms during 2008. But in the past week the French Defence Minister, Hervé Morin, said considering further reinforcements was "out of the question for now". And Jan Peter Balkenende, Prime Minister of the Netherlands, another important contributor of troops, indicated that it would reduce its force by the end of next year.
Mr Smyth said the international coalition in Afghanistan was wider and more committed than that in Iraq, but in some ways faced a tougher task. Although improved security in Iraq would benefit the Afghan mission, Iraqi insurgents had never had as much of a "safe haven" across the border in Iran as the Taliban enjoyed in the lawless frontier areas of Pakistan. "The scale is entirely different," Mr Smyth said.
Emphasising that the Obama administration was not simply planning a military "surge", one American official said: "We have to come up with fresh, innovative ideas on counter-insurgency, counter-narcotics, governance, development." But many of the proposals are already mired in controversy and confusion, particularly the plan to form local militias on the pattern of Iraq, where Gen Petraeus armed Sunni groups against the al-Qa'ida-linked insurgency.
In Afghanistan, where warlords were enlisted to overthrow the Taliban and still control large parts of the country, it is feared that creating yet more private armies would simply worsen chronic lawlessness. Two years ago, a similar scheme to form an "auxiliary" police force had to be shelved. As soon as they were issued a uniform and a weapon, many recruits began preying on local people. A pilot scheme in Wardak province, south of Kabul, has become bogged down in arguments over who will control the militias, who will pay them and how they should be armed. William Wood, the US ambassador, is adamant that Washington will provide training and uniforms, but not arms. The Interior Ministry suggested that the men might be issued with repaired "old and broken guns", while Mohammed Masoom Stanekazi, vice-chairman of the country's official disarmament organisation, has argued that the militias should provide their own weapons.
"None of this," said Robert Emerson, a security analyst who is producing an academic paper on the Petraeus campaign in Iraq, "suggests fighting units to take on insurgents, like the Anbar Awakening in Iraq, but armed men who have the scope to get up to mischief if they get authority."
Combating Afghanistan's drugs trade, which supplies 93 per cent of the world's heroin, is another likely source of discord, both with President Hamid Karzai's government and among Nato members. Under American pressure, Nato recently decided to play a much more direct role in counter-narcotics operations. But reservations among some of the 26 Nato countries contributing troops led to the insertion of a caveat allowing dissenting nations to opt out of operations.
Britain has supported the initiative, but military commanders and diplomats fear many of the Nato contributors will steer clear of drugs operations, just as they have avoided frontline action. The already stretched British force could have to carry out more than its share of counter-narcotics missions.
But the arrival of American reinforcements in southern Afghanistan is likely to mean that, as in Iraq, the British will play a more subordinate role. Since they arrived three years ago in Helmand, the country's largest province and main heroin producer, British troops have never been deployed in sufficient numbers to gain control of more than a small central area around the provincial capital, Lashkar Gah. Now the main British base, Camp Bastion, is preparing to receive an influx of US troops.
Command of Afghanistan's southern military region used to rotate among Britain, Canada and the Netherlands. But with the arrival of some 20,000 US troops, doubling the present international deployment, an American major-general will take over a tighter command structure. US officers regard the current situation as a stalemate, with Nato forces until now having been too thinly spread to do more than hold their ground. They expect that to change once the reinforcements are in place.
Mr Langton of the IISS said some British officers welcomed a more unified command structure, in which they would work more closely with American commanders, but it could appear to the public at home that the British force had not succeeded in its mission. This he blamed on the Ministry of Defence, which he said had made no effort to explain what British troops were doing in Afghanistan, "when in fact this is a positive development which could have a dramatic effect on the counter-insurgency campaign".
Rusi's Mr Smyth, who is preparing a study of the Taliban's progress in 2008, said its greatest success had been in "creating the impression it did well". Despite a high rate of attacks, he said it was not "a homogenous, unified group whose ability to cause violence extends across the country".
Register for free to continue reading
Registration is a free and easy way to support our truly independent journalism
By registering, you will also enjoy limited access to Premium articles, exclusive newsletters, commenting, and virtual events with our leading journalists
Already have an account? sign in
Register for free to continue reading
Registration is a free and easy way to support our truly independent journalism
By registering, you will also enjoy limited access to Premium articles, exclusive newsletters, commenting, and virtual events with our leading journalists
Already have an account? sign in
Join our new commenting forum
Join thought-provoking conversations, follow other Independent readers and see their replies