Islam Karimov: The Uzbek dictator who has locked up his pop diva daughter
A student in Britain has called on his grandfather to free his mother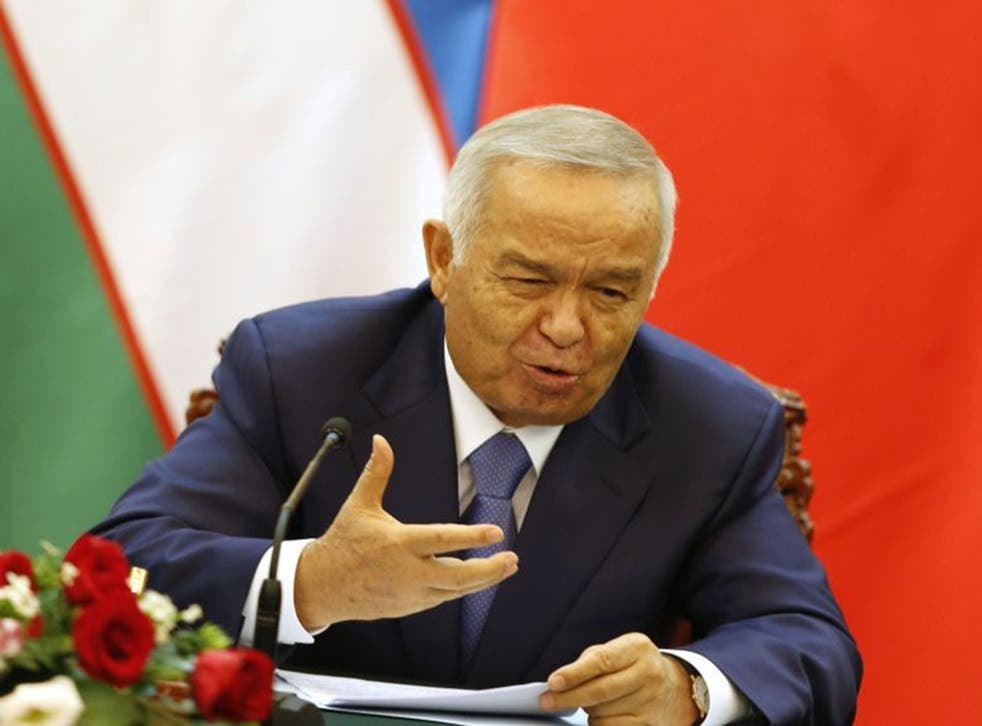 Under her showbiz alias of GooGoosha, she once sang with Julio Iglesias and Gérard Depardieu. But, of late, pop diva, fashion designer and autocrat's daughter Gulnara Karimova has maintained an uncharacteristic silence that highlights a bitter schism at the heart of one of the world's most repressive regimes.
An apparent feud within the ruling family of Uzbekistan took a new twist last Thursday when the son of Ms Karimova, who is the eldest daughter of the central Asian state's authoritarian president, Islam Karimov, made a public appeal to his grandfather to release his mother.
Little has been heard of Ms Karimova, 42, since February this year after she took to Twitter in spectacular fashion to attack members of her own family, as well as senior members of the Uzbek regime. She is widely believed to be under house arrest with her teenage daughter in the country's capital, Tashkent, and this summer complained in a smuggled recording that the pair were being treated "worse than dogs" and needed medical treatment.
The Shakespearean drama has been variously blamed on a clash between Ms Karimova and the head of the Uzbek intelligence services, Rustam Inoyatov – late last year Ms Karimova suggested via social media that he was trying to seize power – and a dispute with her own mother and sister, which is strongly denied by them.
Others have argued that Mr Karimov, who, at 76, has ruled his country with a rod of iron for close to 25 years, has put his daughter out of reach because her business dealings, together with legal problems in Europe, had made her a liability.
Now Islam Karimov Jnr, Ms Karimova's son, has entered the dynastic fray by taking the unusual step of making a direct and public appeal to the grandfather after whom he is named to end his mother's detention.
In an interview with the BBC World Service, whose reporters have been banned from Uzbekistan, Mr Karimov, a university student in Britain, said he was taking a "big risk" by speaking out about his mother, but he had no guarantee that she was well.
Addressing his grandfather, who presides over a regime with one of the worst human rights records in the world, Mr Karimov said: "You know deep inside that we would never go against you and I really hope you will fix the situation and release my mum and sister. You can prove to us that you are still the same grandfather we knew all our lives."
Speaking in London, where a public relations agency has been engaged to help push Ms Karimova's case, Mr Karimov rejected the idea that his grandfather was behind the detention. He said: "It is illogical for him to destroy my mother, because then he will just undermine his own self because of the reputation he would have in Uzbekistan. How can a person rule a country if he can't rule his own family?"
While such protests may yet elicit a positive response from the presidential palace in Tashkent, they would be unlikely to find much sympathy elsewhere in Uzbekistan, in the event that they evaded the country's internet censorship controls.
In an American diplomatic cable published by WikiLeaks, Ms Karimova was described as "the single most hated person in the country" in 2005, and was perceived as using her father's power to gain financial advantage. There were further suggestions that she was manoeuvring to emerge as her father's successor. He has yet to announce whether he will stand for re-election as president next year.
Certainly by 2010, Ms Karimova, who is also a Harvard graduate, had acquired an impressive array of business holdings, from mining to telecoms to fashion. However, her conglomerate was abruptly shut down that year. Around the same time, she was pursuing a career as a pop star.
This March, the Swiss authorities announced that they had extended a two-year investigation into alleged money laundering to include Ms Karimova and had searched a £12m villa belonging to her in Geneva, where she had been Uzbekistan's United Nations representative until 2011. She has previously denied the allegations of business impropriety against her.
Human Rights Watch, the humanitarian organisation, earlier this year released a swingeing report on Uzbekistan's repressive government, putting forward evidence that political prisoners were routinely subjected to torture and arbitrarily had their sentences extended.
In one case, it reported an opposition politician whose jail term had been extended for infractions that included "incorrectly peeling carrots" in the prison kitchen.
Human Rights Watch did not include Ms Karimova on its list of political detainees.
Register for free to continue reading
Registration is a free and easy way to support our truly independent journalism
By registering, you will also enjoy limited access to Premium articles, exclusive newsletters, commenting, and virtual events with our leading journalists
Already have an account? sign in
Register for free to continue reading
Registration is a free and easy way to support our truly independent journalism
By registering, you will also enjoy limited access to Premium articles, exclusive newsletters, commenting, and virtual events with our leading journalists
Already have an account? sign in
Join our new commenting forum
Join thought-provoking conversations, follow other Independent readers and see their replies