Islamists jailed for chopping of teacher's hand 'because exam paper insulted Prophet Mohamed'
A teacher in Kerala, India said the passage did not refer to the Prophet and was using the name of a film director also called Muhammed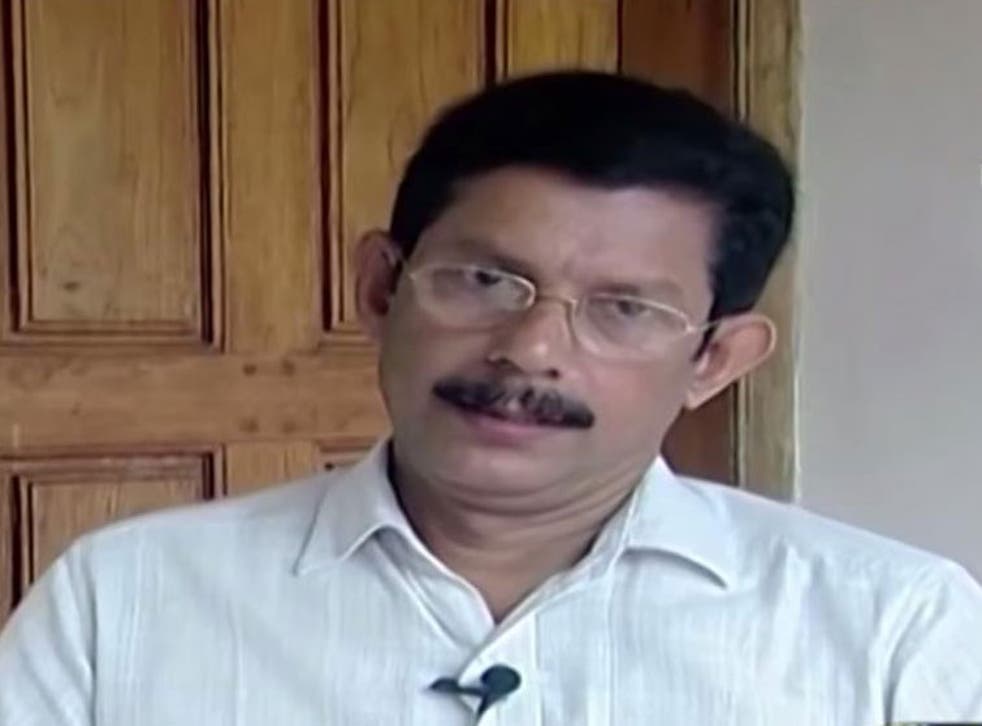 A group of Islamists who cut off a teacher's hand in revenge for "blasphemy" against the Prophet Mohamed have been jailed in India.
The 13 men, all members of radical group the Popular Front of India, were handed sentences of between three and eight years at a National Investigative Agency court, NDTV reported.
They had been found guilty of involvement in the attack on TJ Joseph, a professor at Newman College in the town of Thodupuzha, Kerala.
He was on his way home from a Catholic church service in July 2010 with his mother and sister when their car was stopped.
"As the car was locked from inside, they broke the glass and pulled me out," he told NDTV. "The attackers injured me all over and severed my right hand."
He was taken to hospital, where doctors managed to re-attach the hand in several rounds of surgery.
The gang claimed to be seeking retribution for alleged insults against the Prophet Mohamed in an exam paper Mr Joseph had set four months before.
As part of a test for his Bachelor of Commerce students at the Christian college, he had given them a passage from a film screenplay in Malayalam language for them to correctly punctuate.
Reportedly taken from a state languages book citing the 1999 film Garshom, it featured an imaginary conversation between a character called Muhammed and God, who called him a "son of a b****" and a "dog", according to one translation.
Mr Joseph said he named the character after film director P. T. Kunju Muhammed and did not realise the people would associate the common name with the Muslim Prophet.
But a local newspaper did a story on the question paper, sparking controversy , protests and allegations of blasphemy in the community.
Police arrested the professor for "outraging religious feelings", although he was later acquitted of all charges, and Newman College suspended him from work.
Death threats started almost immediately and Mr Joseph said he escaped three attempted attacks before his hand was hacked off.
He was not invited back to work until November 2013 and his wife killed herself months later, after seeking treatment for stress and depression.
The 13 men jailed in relation to the attack were handed a fine of Rs. 8 lakh (£8,130) by judge P Sasidharan, which will be given to Mr Joseph as compensation.
Register for free to continue reading
Registration is a free and easy way to support our truly independent journalism
By registering, you will also enjoy limited access to Premium articles, exclusive newsletters, commenting, and virtual events with our leading journalists
Already have an account? sign in
Register for free to continue reading
Registration is a free and easy way to support our truly independent journalism
By registering, you will also enjoy limited access to Premium articles, exclusive newsletters, commenting, and virtual events with our leading journalists
Already have an account? sign in
Join our new commenting forum
Join thought-provoking conversations, follow other Independent readers and see their replies