Massive haul of illegal ivory found in Hong Kong
Around 7.2 tonnes of elephant tusks were found hidden in a container full of fish
Caroline Mortimer
Thursday 06 July 2017 18:44 Comments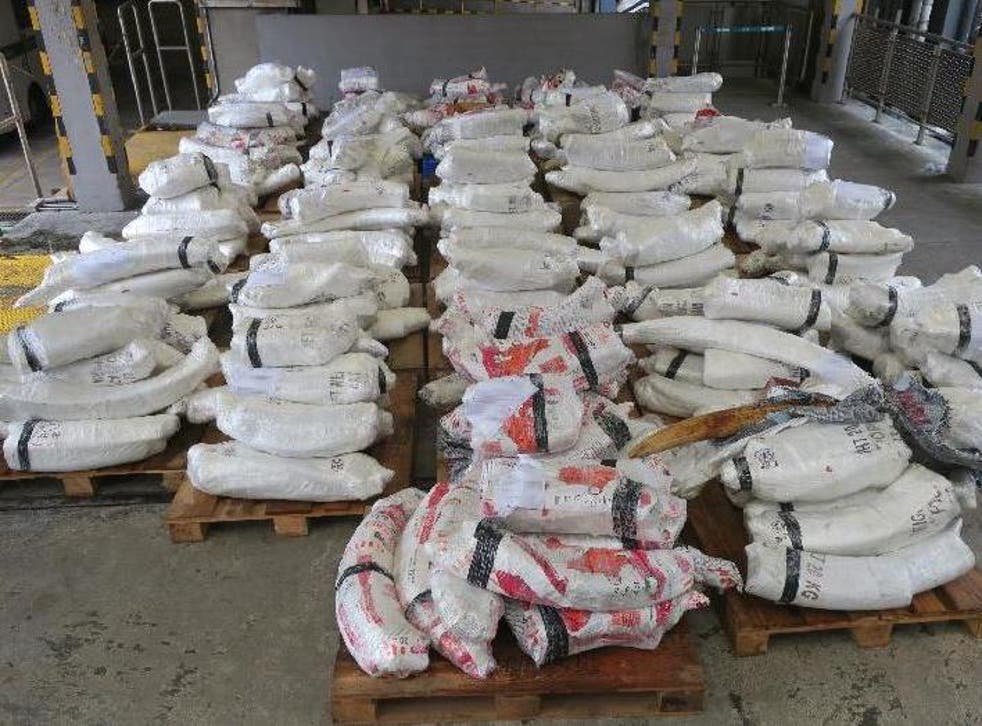 A "possible record" amount of ivory has been seized by customs officials in Hong Kong from a Malaysian shipping container.
Around 7.2 tonnes of elephant tusks were found buried under frozen fish in a 40ft container by officials at the Kwai Chung Customhouse Cargo Examination Compound.
The Hong Kong regional government said it has subsequently arrested a man and two women in connection with the find.
Under Hong Kong law, anyone found guilty of importing or exporting ivory and other banned goods faces a maximum fine of HK$2m (£200,000) and seven years in prison.
Heather Sohl from the World Wildlife Federation hailed the find saying it was "a stark reminder of the scale of the illegal wildlife trade".
She said: "Hundreds of elephants will have been killed for these tusks and unfortunately this is just the tip of the iceberg: a staggering 20,000 African elephants are estimated to be poached each year."
The charity is calling the Hong Kong regional government to increase the maximum sentence for wildlife crime to 10 years in prison as it is the "largest city market" for ivory.
Although China, as a large developing economy, has fuelled much of the trade for ivory it has cracked down on the practice in recent years.
At the end of last year, it announced it would ban the domestic ivory trade which fuels poaching and international smuggling.
India elephants with knitted jumpers

Show all 9
Since then, the price of ivory has dropped dramatically from US$1322 (£1,020) per kg of raw ivory in 2015 to US$660 (£509) per kg of raw ivory in February 2017, according to research by the Wildlife Justice Commission.
Despite this, there has not yet been a subsequent fall in poaching and many fear growing demand from Vietnam may make up some of the shortfall.
Although ivory carving is not as revered in the country as it is in China, demand for the intricately, handcrafted statues and figures has increased, The Guardian reported.
In 1990, China was one of the signatories to the global ban on the international trade of ivory but the domestic trade remained legacy – supposedly to allow for the trading in antiques.
Register for free to continue reading
Registration is a free and easy way to support our truly independent journalism
By registering, you will also enjoy limited access to Premium articles, exclusive newsletters, commenting, and virtual events with our leading journalists
Already have an account? sign in
Join our new commenting forum
Join thought-provoking conversations, follow other Independent readers and see their replies