Japan earthquake death toll rises to 16 as fears grow for dozens missing
Bullet train services to resume later today, just one day after Hokkaido island was hit by a massive 6.7 magnitude quake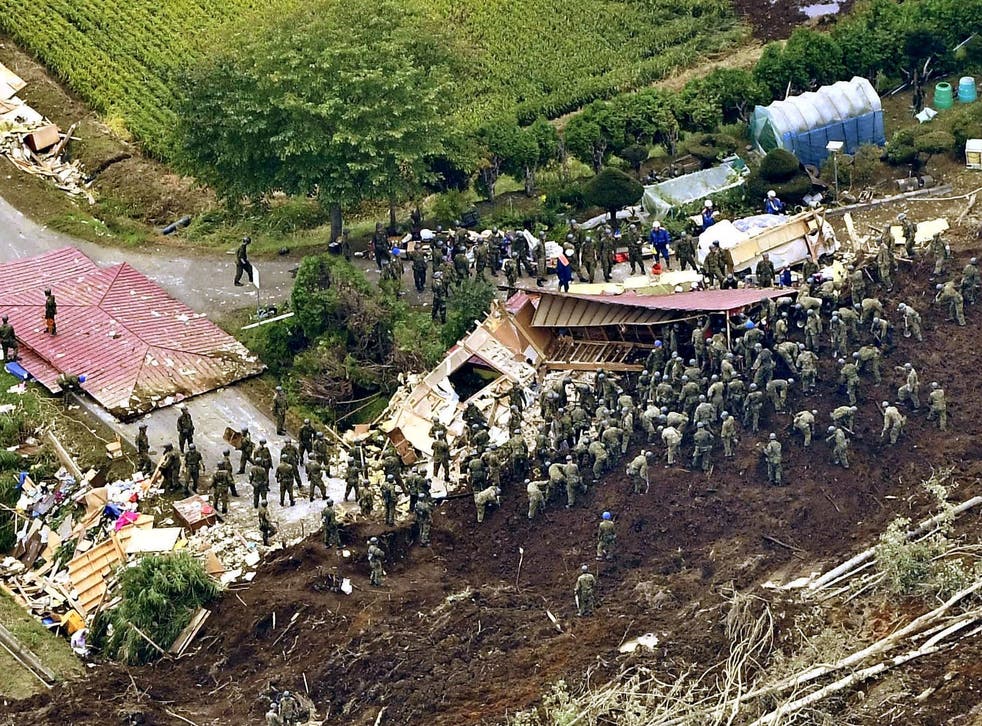 Japan said it mobilised 22,000 rescue workers to search through the night for survivors of a powerful earthquake on its northern island of Hokkaido, as the death toll rose to 16 and 26 others were listed as missing.
The 6.7 magnitude quake caused scores of hillsides to collapse in landslides, devastating a small town of around 4,600 people nearest the epicentre. All 26 missing are from the Atsuma area, where many homes were either buried or swept away.
Aerial footage of the scene on Friday showed soldiers in fatigues and orange-clad rescuers searching amid huge mounds of earth, using dogs and shovels to pick through the debris for survivors.
With rain forecast for Friday afternoon and into Saturday, prime minister Shinzo Abe urged people to be wary of the potential for further landslides, as well as aftershocks. "We will devote all our energy to saving lives," he said.
Some residents interviewed by national broadcaster NHK described waking up to find their relatives and next door neighbours gone.
"The entire thing just collapsed," said one. "It's unbelievable."
Hokkaido is relatively sparsely populated compared to the rest of Japan, but disruptions were widespread. Some 1.6 million of the island's more than 5 million residents remained without power on Friday afternoon, after the quake led to an island-wide blackout.
Nearly 5,000 people spent the night in evacuation centres where food was distributed in the morning.
"It was an anxious night with several aftershocks, but we took encouragement from being together and now we're grateful for some food," one woman told NHK.
The regional government said the bullet train to the provincial capital, Sapporo, was due to reopen later in the day.
An international football friendly between Japan and Chile, scheduled for Friday in Sapporo, has been cancelled.
In Sapporo itself, home to almost 2 million people, there were few casualties but signs of damage were widespread. In some parts of the city, houses were slanted and roads crumbled or sunken. A mudslide left several cars half buried, and the ground subsided, leaving drainpipes and manhole covers protruding in some places.
Flights restarted at the city's regional airport around midday, after hundreds were cancelled on Thursday and thousands of travellers were left stranded. Hokkaido is a popular tourist destination, for its hilly landscapes and seafood.
But the economy, trade and industry minister Hiroshige Seko said it would take at least a week to fully restore power to all communities due to damage at a thermal power plant at Tomato-Atsuma, which supplies half of Hokkaido's electricity.
"We're trying to do it faster, but it will likely take a week," Mr Seko said. He urged residents to conserve power.
The quake was the second disaster to hit Japan this week alone after Typhoon Jebi ripped through Osaka on Tuesday, and comes after a summer when the country has been battered by deadly storms, flooding and a record heatwave.
Kansai International Airport remained shut on Friday, carriers said, although some domestic services operated by Japan Airlines and Peach Aviation have resumed.
Additional reporting by agencies
Register for free to continue reading
Registration is a free and easy way to support our truly independent journalism
By registering, you will also enjoy limited access to Premium articles, exclusive newsletters, commenting, and virtual events with our leading journalists
Already have an account? sign in
Register for free to continue reading
Registration is a free and easy way to support our truly independent journalism
By registering, you will also enjoy limited access to Premium articles, exclusive newsletters, commenting, and virtual events with our leading journalists
Already have an account? sign in
Join our new commenting forum
Join thought-provoking conversations, follow other Independent readers and see their replies