Japan earthquake: Houses buried in landslide after magnitude-6.7 tremor shakes northern island of Hokkaido
People trapped in rubble, local police report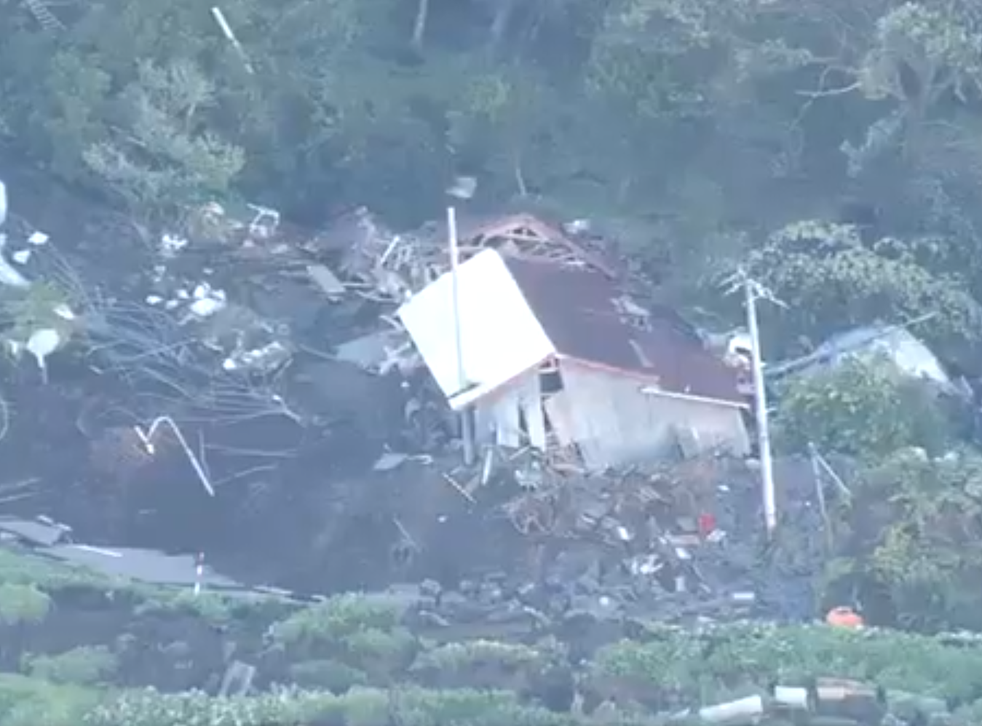 A powerful earthquake has hit Japan's northern island of Hokkaido, causing a landslide that has engulfed houses.
Several people were reported injured and trapped in the rubble, while power in several areas was cut off, but there were no early reports of deaths.
The quake, which struck just after 3am on Thursday, had a magnitude of 6.7, the Japan Meteorological Agency said.
The US Geological Survey earlier said it struck some 112 km southeast of Sapporo, a major metropolitan area of 1.9 million people.
An aftershock measuring 5.3 rocked the area a short while later.
Prime Minister Shinzo Abe, arriving at his office before 6 am, told reporters his government had set up a command centre to coordinate relief and rescue efforts.
Chief Cabinet Secretary Yoshihide Suga said Mr Abe instructed officials to find out the extent of damage and help those affected.
The Japan Meteorological Agency said the quake may have caused a small sea level change in coastal areas, but no tsunami was expected.
Japan is recovering from the worst typhoon to hit the country in 25 years, which struck the western part of the country on Tuesday, killing at least 11 and causing major damage to the region's main airport.
Japan, which is situated on the "Ring of Fire" arc of volcanoes and oceanic trenches that partly encircles the Pacific Basin, accounts for about 20 per cent of the world's earthquakes of magnitude 6 or greater.
Typhoon Jebi: Extremely strong winds and heavy rain hit Japan

Show all 20
On March 11, 2011, a 9.0 magnitude earthquake, the most powerful ever recorded in Japan, struck under the ocean off the coast of the northern city of Sendai. The quake set off a series of massive tsunami that devastated a wide swathe of the Pacific coastline and killed nearly 20,000.
Saturday marked the 95th anniversary of the Great Kanto earthquake, which had a magnitude of 7.9 and killed more than 140,000 people in the Tokyo area. Seismologists have said another such quake could strike the city at any time.
Reuters contributed to this report
Register for free to continue reading
Registration is a free and easy way to support our truly independent journalism
By registering, you will also enjoy limited access to Premium articles, exclusive newsletters, commenting, and virtual events with our leading journalists
Already have an account? sign in
Register for free to continue reading
Registration is a free and easy way to support our truly independent journalism
By registering, you will also enjoy limited access to Premium articles, exclusive newsletters, commenting, and virtual events with our leading journalists
Already have an account? sign in
Join our new commenting forum
Join thought-provoking conversations, follow other Independent readers and see their replies