Hunters deployed to kill radioactive wild boars as residents return to homes in Fukushima nuclear disaster zone
Residents returning home as authorities declare evacuated areas safe six years after earthquake
Lizzie Dearden
Saturday 11 March 2017 14:14 Comments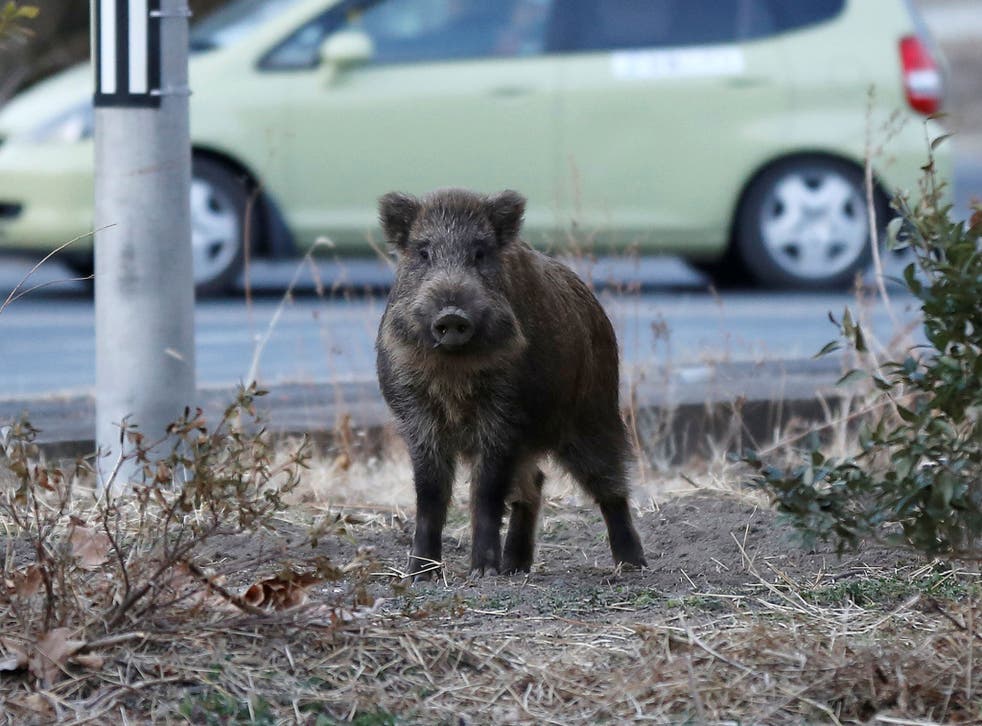 Hunters have been called in to kill radioactive wild boars that have taken over towns evacuated during the Fukushima nuclear disaster before their residents return.
Six years after Japan's devastating earthquake and tsunami triggered a nuclear meltdown at the Fukushima Daiichi power plant, four evacuated towns have been declared safe.
But there is concern over a risk posed by new residents, hundreds of wild boars, who can attack people or cause potentially fatal car crashes.
The animals have been gorging themselves on plants contaminated with radioactive elements from the disaster site, prompting a government ban on eating them.
"After people left, their ecosystem changed," hunter Shoichi Sakamoto told the BBC.
"They began coming down from the mountains and now they're not going back.
"They found a place that's comfortable – there's plenty of food and no one will come after them. This is their new home now, and this is where they have children."
He leads a team of 13 hunters assigned to catch and kill the wild boars using air rifles, trapping them in cages by using rice flour as bait.
Japan: Residents gradually return after Fukushima nuclear disaster
Since last April, the squad has captured around 300 of the animals, and the hunters intend to keep working even after the evacuation orders are scrapped.
Hundreds more of the boars are believed to live near the towns of Tomioka and Namie, roaming the empty streets and deserted gardens to forage for food.
"It is not really clear now which is the master of the town, people or wild boars," said Namie's mayor, Tamotsu Baba. "If we don't get rid of them and turn this into a human-led town, the situation will get even wilder and uninhabitable."
At the end of March, Japan is set to lift evacuation orders for residential areas sitting just 2.5 miles from the Fukushima Daiichi nuclear plant, as well as three other towns.
A 15m tsunami caused by the magnitude nine earthquake that struck off the coast of Japan on 11 March 2011 disabled the station's power supply and coolers, causing all three nuclear reactors to go into meltdown.
Fukushima: Return to the disaster zone

Show all 5
More than 100,000 people were evacuated from their homes to escape radiation leaks from the nuclear accident but authorities have now declared some residential areas safe.
But more than half of Namie's former 21,500 residents have decided not to return, according to a government survey, citing concerns over radiation and the safety of the nuclear plant, which is being decommissioned.
There is widespread worry about the long-term health effects of the nuclear disaster but no deaths have been caused by the accident, no cases of radiation sickness have been recorded and a survey of Fukushima residents found cancer cases were not linked.
A team of doctors from Fukushima Medical University found 185 cases of malignant or suspected thyroid cancer in children but said the spike in numbers was caused by blanket screening.
The Tōhoku earthquake and tsunami killed more than 16,000 people in Japan, mostly by drowning, with thousands more still officially missing and hundreds of thousands in temporary housing.
It was the most powerful earthquake ever recorded in the country, generating waves up to 40m high that travelled miles in land, destroying everything in their path.
Additional reporting by Reuters
Register for free to continue reading
Registration is a free and easy way to support our truly independent journalism
By registering, you will also enjoy limited access to Premium articles, exclusive newsletters, commenting, and virtual events with our leading journalists
Already have an account? sign in
Join our new commenting forum
Join thought-provoking conversations, follow other Independent readers and see their replies