What does Shinzo Abe's election win mean for Japan?
After his convincing victory, the prime minister recommits himself to 'tackling' North Korea
Samuel Osborne
Tokyo
,
Mari Yamaguchi
Monday 23 October 2017 19:25 Comments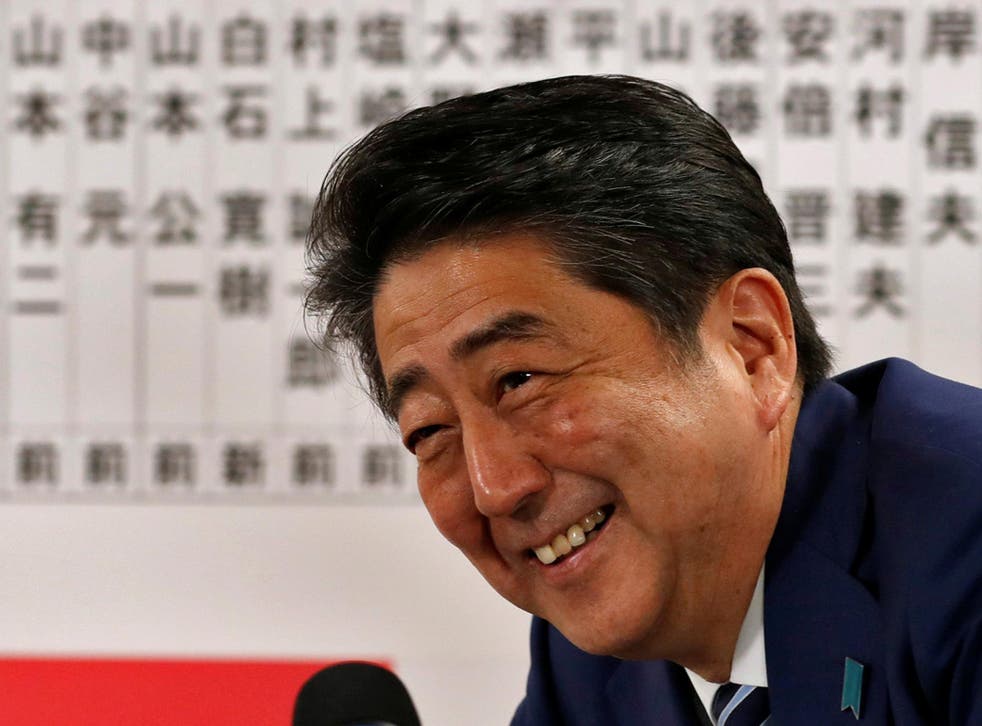 After his decisive election victory, Japan's Shinzo Abe pledged on Monday to tackle what he called the country's two national crises.
The first – North Korea's nuclear threat – overshadowed the election campaign and won support for Mr Abe from conservative Japanese who approved of his hard line on the Kim Jong-un regime..
Fresh from his victory, Mr Abe said he is committed to protecting the Japanese people's prosperity and peace under all circumstances, and specifically referred to individual Japanese citizens who are believed to have been abducted and held by North Korea.
"I will pursue decisive and strong diplomacy to tackle North Korea's missile, nuclear and abduction issues and put further pressure to get it to change its policy," he said.
The win shows Mr Abe has bounced back from the summer, when support ratings for his Cabinet plunged to 30 per cent amid accusations of government favouritism to people connected to him.
Sunday's vote appears to have handed his ruling Liberal Democratic Party a more than two-thirds majority of Parliament's 465 seats – enough for a working majority even without coalition partner the Komeito party – and boosting Mr Abe's chances of winning another three-year term as party leader next year.
With a so-called super-majority in both houses, he has a more or less free hand to push through divisive policies and legislation, not least his long-term goal of convincing a reluctant public to overturn Japan's post-war constitution committing it to pacifism.
But in the short-term, Mr Abe will use the victory to silence critics and continue with policies he has pursued since taking office in December 2012: a hard-line on North Korea; close ties with Washington, including more purchases of American missile interceptors; a push for nuclear energy and an "Abenomics" platform to address a growing pensions crisis.
"This was a gamble that seems to have paid off for Shinzo Abe," John Nilsson-Wright, senior lecturer in modern Japanese studies at Cambridge University told The Independent. "He anticipated the opposition would not have enough time to put together a credible alternative."
He added: "We saw at the beginning of the election lots of expectation that public opinion would shift against the government off the back of Abe's personal unpopularity, caused by two high-profile corruption scandals. But this has been an election that has been not so much for [the Liberal Democratic Party] as a vote against a divided opposition."
Mr Abe said he will have "deep discussion" on North Korean policies with US President Donald Trump during his planned visit to Japan on 5-7 November.
He described Japan's decreasing population and ageing as "the biggest challenge" for Abenomics, driving Japan's economic recovery from deflation. "The problem is progressing by the minute, and we cannot afford waiting around," he said.
He also promised a comprehensive package by the end of the year to deal with Japan's demographic challenges, including investments in education, productivity improvements and pension system reform.
Mr Abe's ultimate goal is to revise his country's post-war coalition, however, an issue which has polarised Japanese politics. His party and its nationalist supporters view the 1948 constitution as the legacy of Japan's defeat in the Second World War and an imposition of the victor's world order and values.
World news in pictures

Show all 50
The charter renounces the use of force in international conflicts and limits Japan's troops to self-defence, despite the fact Japan has a well-equipped modern military that works closely with the US.
Any change to Japan's constitution, which has never been amended, would require approval first by two-thirds of parliament, before a public referendum. Polls indicate the Japanese public remains opposed to amendment.
Additional reporting by AP
Register for free to continue reading
Registration is a free and easy way to support our truly independent journalism
By registering, you will also enjoy limited access to Premium articles, exclusive newsletters, commenting, and virtual events with our leading journalists
Already have an account? sign in
Join our new commenting forum
Join thought-provoking conversations, follow other Independent readers and see their replies