Japan's cabinet rocked by new claims of links to neo-Nazis who target the ethnic Korean population
Members of the far-right group, Zaitokukai, visit Korean communities in Japanese cities, screaming slogans such as 'cockroaches' and 'kill, kill Koreans'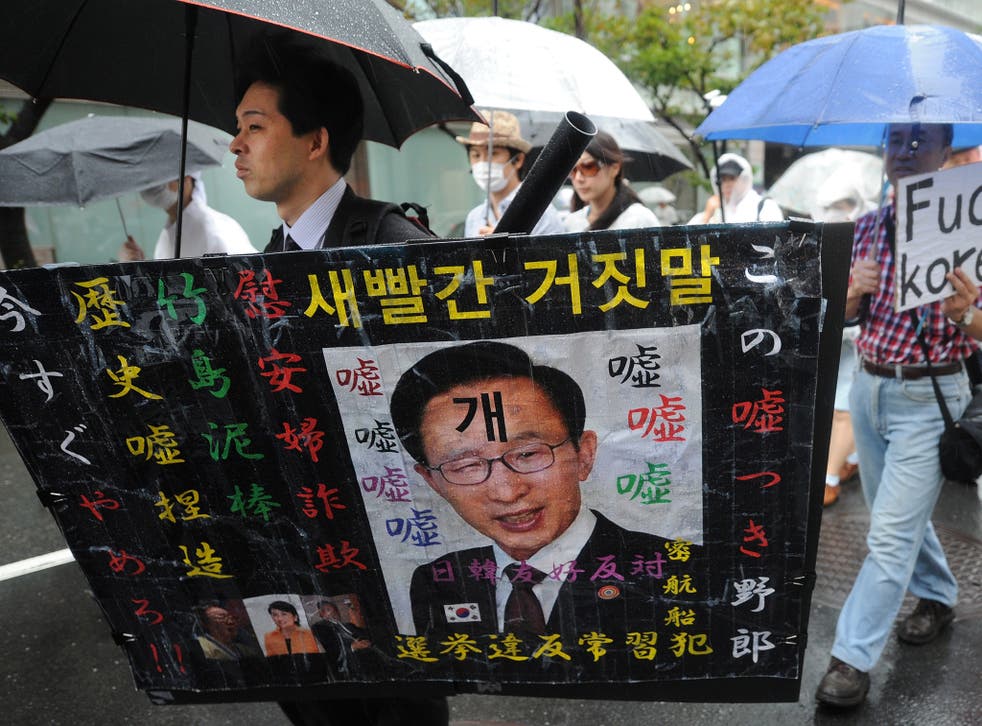 Japan's government is weathering accusations of links to far-right groups that promote racism and hate speech.
Several members of Prime Minister Shinzo Abe's cabinet, including the Police Minister, have been forced to deny their neo-Nazi links after photographs surfaced of them posing with far-right figures.
In the latest episode, Eriko Yamatani, head of the National Public Safety Commission, rejected claims that she had a 15-year association with the former leader of an ultra-right group that spouts crude racism against Koreans.
The group, Zaitokukai, wants Japan to expel its ethnic Korean population. It has 12,000 members, many of whom descend on Korean communities in Japanese cities, screaming slogans such as "cockroaches" and "kill, kill Koreans".
Police have mostly turned a blind eye to the group but in July, the high court in Osaka ordered Zaitokukai to stop its tirades against an elementary school in Kyoto with links to North Korea. The group was ordered to pay 12 million yen (£68,000) to the school in compensation.
This month, a magazine published a 2009 photo of Ms Yamatani posing with Shigeo Masuki, former leader of Zaitokukai. Mr Masuki says he has known Ms Yamatani for 15 years. But at the Tokyo Foreign Correspondents' Club, the Police Minister said she had "no memory" of where or how many times the two had met.
When invited to distance herself from the group, Ms Yamatani said it was "not appropriate" for her to comment on specific groups and opted instead to lecture journalists on Japanese values. "Japan has a long history of placing great value on the idea of harmony and respecting the rights of everyone," she said.
About 500,000 non-naturalised Koreans live in Japan, remnants of a larger community that peaked decades ago. They have long been subjected to racial abuse. In one infamous episode, thousands were lynched in a pogrom after the Great Kanto earthquake of 1923.
Two more of Mr Abe's new appointees have also been accused of neo-Nazi links. Sanae Takaichi, the Internal Affairs Minister, and Tomomi Inada, Policy Chief of the ruling Liberal Democrats, appeared in separate, undated photos with the leader of the National Socialist Japanese Workers Party, Kazunari Yamada.
In online videos, Mr Yamada can be seen in street demonstrations wearing a modified swastika. Ms Takaichi also appeared in a magazine advert endorsing a 1994 book titled Hitler's Election Strategy. Both ministers deny endorsing Nazi ideology.
Mr Abe's government has raised eyebrows with its far-right profile. Sixteen cabinet members belong to the League for Going to Worship Together at Yasukuni, a Tokyo shrine that honours leaders executed for war crimes. Sixteen support Nihon Kaigi, a nationalist think-tank that advocates a return to "traditional values" and rejects Japan's "apology diplomacy" for its wartime misdeeds.
Many belong to a parliamentary association that wants school history lessons to put a better gloss on Japan's militarist era. They deny many wartime atrocities. Most of the cabinet is also associated with the Shinto Political Alliance Diet Members Association, a right-wing lobby group that promotes traditional values.
In August, Mr Abe sparked controversy when he paid tribute to soldiers, including war criminals, who gave their lives for "the foundation of the fatherland". The tribute was sent to a temple housing a monument to 1,000 "martyrs" who fought in the Second World War. A spokesman said the Prime Minister acted in a "private capacity" when he sent the message.