Japan poised to send soldiers to fight abroad for the first time in 70 years
The Prime Minister, Shinzo Abe, wants his nation's armed forces to join in military activities overseas and defend allies under attack – principally the US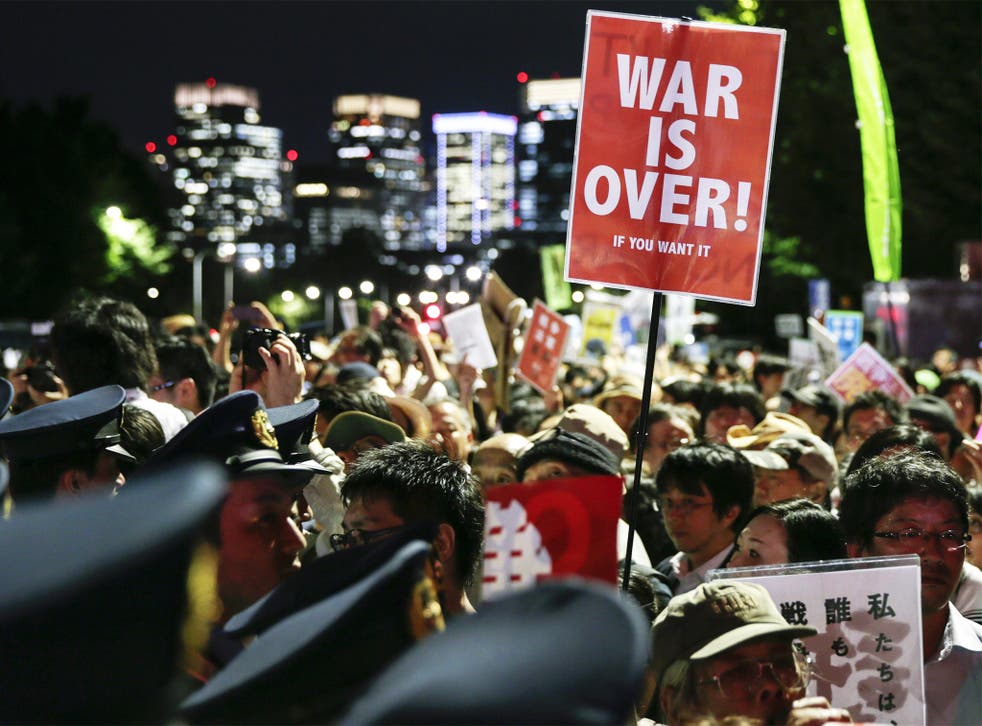 A parliamentary panel in Japan has approved controversial security legislation that critics say will dramatically change the nation's defence policy and weaken its pacifist constitution.
Angry opposition politicians shouted "shame" and held signs calling the bills "unforgivable" as the Special Committee for Peace and Security passed the bills. The coalition government's two-thirds majority in the lower house means they will almost certainly clear a full vote on Thursday.
The Prime Minister, Shinzo Abe, wants Japan's armed forces to join in military activities abroad and defend allies under attack – principally the US – a policy he has dubbed "proactive pacifism". One aim is to achieve "inter-operability" with US forces, to meet new guidelines adopted during a visit by Mr Abe to Washington in April. Currently, almost anything Japan's military wants to do has to receive temporary legislation.
But the attempt to legislate for collective defence has united most constitutional scholars against Mr Abe's government and triggered deep divisions in a country where pacifism sunk deep roots after the Second World War. More than 20,000 people demonstrated in central Tokyo on Tuesday. Campaigners are calling for 100,000 people to surround the Diet (parliament) to try to halt the bills and force Mr Abe's resignation.
Public backing for the government has dipped below 40 per cent for the first time since Mr Abe called a snap election last year, according to several polls. A survey by the state broadcaster NHK found only 18 per cent of people support the legislation. Conservatives in Mr Abe's Liberal Democratic Party (LDP) say the constitution, written in 1946 during the US occupation, has kept the country weak. They want to scrap Article 9, which "forever renounces war" as a sovereign right.
To rewrite the article they need a two-thirds majority in both houses, followed by a referendum – a hurdle that has defeated every previous government. Mr Abe's solution has been to ignore decades of legal consensus and read the constitution as he sees fit, says Yasuo Hasebe, a constitutional scholar. That sets Japan on a very dangerous road, he adds. "Any interpretation of any constitutional clause seems now up for grabs." In addition, he says, Mr Abe's security bills could make the country less secure by triggering a response by China.
Mr Abe reinterpreted the clause last July, triggering a backlash from most constitutional experts. An academic group campaigning against the legislation has collected the support of more than 9,000 scholars. The Prime Minister is attempting a "constitutional coup d'état", said Jeffrey Kingston, director of Asian Studies at Temple University, Japan.
"Knowing he can't revise the constitution because he doesn't have the numbers to do so, Mr Abe is gutting Article 9 constraints on the Japanese military."
Many ordinary Japanese are concerned, he added, that new defence guidelines with America, agreed this year, will drag Tokyo into a conflict – possibly with China – at US behest. Mr Abe needs political legitimacy if he is going to send Japanese troops into harm's way, so he is trading with his political rivals.
Register for free to continue reading
Registration is a free and easy way to support our truly independent journalism
By registering, you will also enjoy limited access to Premium articles, exclusive newsletters, commenting, and virtual events with our leading journalists
Already have an account? sign in
Register for free to continue reading
Registration is a free and easy way to support our truly independent journalism
By registering, you will also enjoy limited access to Premium articles, exclusive newsletters, commenting, and virtual events with our leading journalists
Already have an account? sign in
Join our new commenting forum
Join thought-provoking conversations, follow other Independent readers and see their replies