Japan lashes out at South Korea as worst relations in decades threaten North Korea peace talks
Shinzo Abe says Seoul's withdrawal from intelligence-sharing deal 'damages mutual trust' at time of threats to national security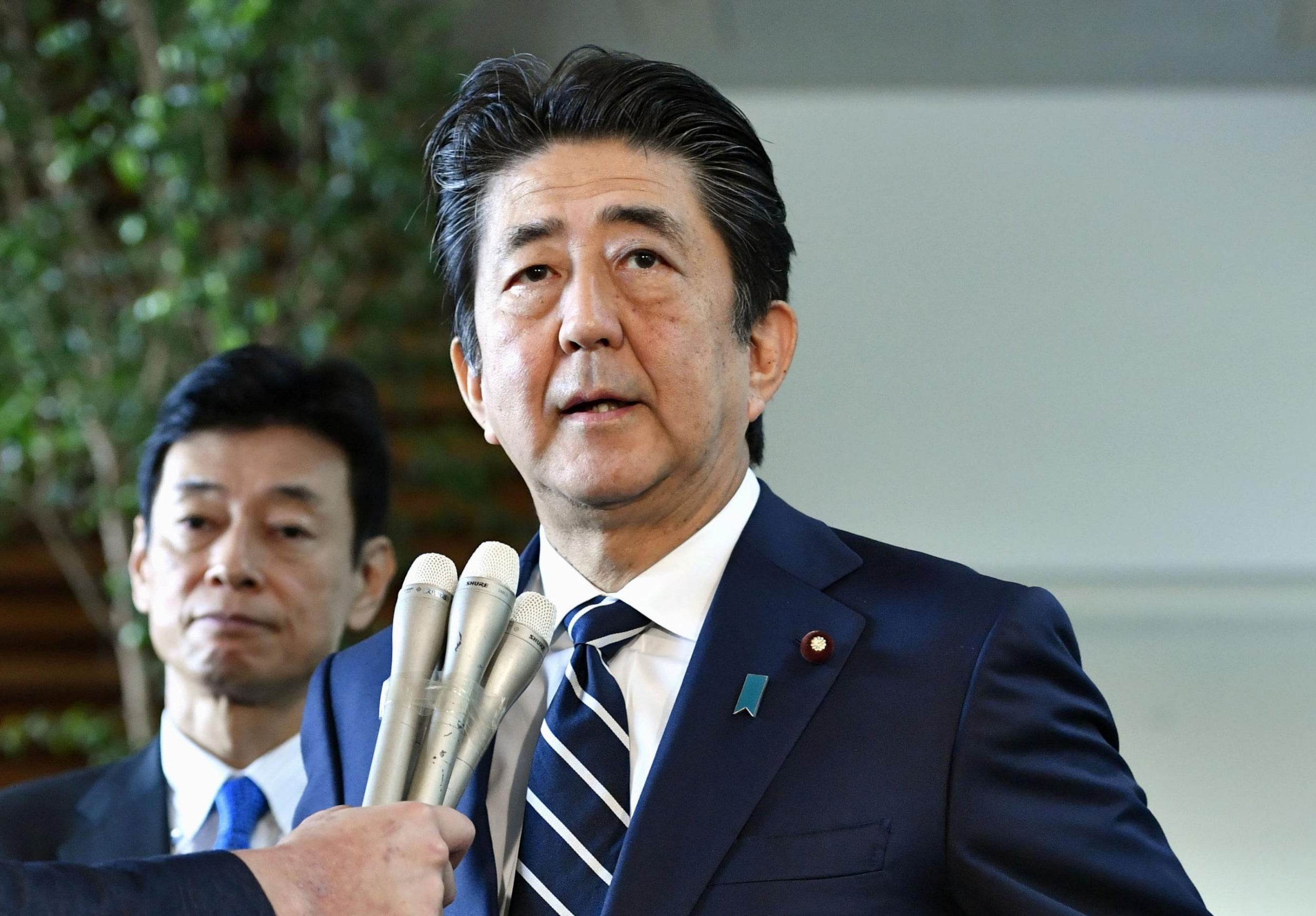 Japan and the US have expressed alarm after South Korea formally withdrew from an intelligence-sharing deal with Tokyo.
Analysts said the move could jeopardise efforts to track and curtail North Korea's nuclear weapons programme.
Senior officials exchanged angry statements on Friday amid what experts are calling the worst crisis in Japan-South Korea relations in decades, with prime minister Shinzo Abe saying the decision had "damaged mutual trust".
Seoul and Tokyo started sharing information "directly or indirectly" related to North Korean nuclear weapons and missile tests in 2016, a move which was welcomed by the US as offering a powerful united front against Pyongyang in the region.
But relations have since deteriorated rapidly, as what started as an argument over the historical legacy of Japan's pre-1945 colonisation of the Korean Peninsula descended into a modern-day trade war.
South Korea said it was terminating the General Security of Military Information Agreement (GSOMIA), which had been up for renewal on Saturday, because Japan had "weaponised" trade by withdrawing Seoul's status as a favoured trading partner.
Japan's defence minister, Takeshi Iwaya, said on Friday that South Korea was making a big mistake at a time when "North Korea's repeated missile tests threaten national security".
"We strongly urge them to make a wise decision," he told reporters.
Mr Abe, before leaving to join the G7 summit in France, said that Tokyo "will continue to closely coordinate with the US to ensure regional peace and prosperity, as well as Japan's security".
South Korea also said it would seek to compensate by improving cooperation with the US, and its deputy national security adviser Kim Hyun-chong said Seoul would revert back to an older system of sharing intelligence with both Japan and Washington through a three-way channel.
Nonetheless, the Pentagon expressed "strong concern and disappointment" over the collapse of the agreement.
Speaking to The Independent, Dr Leif-Eric Easley, a professor at Ewha University in Seoul, said the collapse of intelligence sharing through GSOMIA could result in "delayed preparation, analysis and responses vis-a-vis North Korean weapons tests".
"More generally, the decision erodes trust among governments that is important for coordination of security policies," he said. It damages the credibility of the US-Japan-South Korea alliance as a deterrent to North Korean military action, he added.
North Korea's pervasive leaders: the Kim portraits
Show all 16
North Korea could be expected to "exploit the differences" between the three allies, said Naoko Aoki, a Stanton nuclear security fellow at the Rand Corporation. Kim Jong-un has conducted a number of new nuclear tests in recent weeks and is expected to take a bullish position as he sets out his policy priorities at Pyongyang's next "supreme people's assembly" on 29 August.
It's a point of weakness that "benefits China and Russia as well", Ms Aoki said. China, which has previously criticised GSOMIA, said on Friday that it respected South Korea's "independent right of a sovereign state" to take the step.
"The relations between the two countries [Japan and South Korea] are at their worst point in years," Ms Aoki said. "But what is different and even more concerning is that the two countries are letting their political dispute spread into the two 'practical' areas that normally underpin bilateral ties: the military and economy."
The spat between Japan and South Korea dates back more than 100 years, to Japan's occupation and annexation of the Korean Peninsula in 1910.
Korea accuses Japan of a number of wartime atrocities, including the enslavement of Korean women – in their thousands – as so-called comfort women for military brothels.
A deal was signed in 1965 that saw Japan pledge some $800m in compensation in exchange for a commitment to "normalise" ties. But the issue never truly went away, and in 2017 the South Korean supreme court reopened old wounds when it ruled that individuals affected by the atrocities still had a right to reparations.
Meanwhile, South Korea elected liberal president Moon Jae-in in part on a pledge that his country would "never again lose" to Japan, and that the "comfort women" situation was not over.
Some Japanese companies were later sued in South Korea and had assets seized, at which point Tokyo took the decision to impose export controls on semiconductors vital for South Korea's electronics industry, and to downgrade Seoul's trade status.
"The situation is escalating, and it's hard to see how the spiralling conflict can be stopped," said Koichi Ishizaka, an expert on intercultural communication and a professor at Rikkyo University in Tokyo.
Mr Ishizaka said Mr Abe probably also feels like he can score domestic political points by taking a hard stance on South Korea, despite the close cultural ties between the two countries.
"Although cordial exchange between the people is working for a brighter future, politics has taken a step back and has not caught up with that," he said.
Join our commenting forum
Join thought-provoking conversations, follow other Independent readers and see their replies