Japan tells people to stock up on toilet paper in case of earthquake
The government says there will be a toilet paper shortage crisis for about a month if the area is hit by an imminent Tokai mega-quake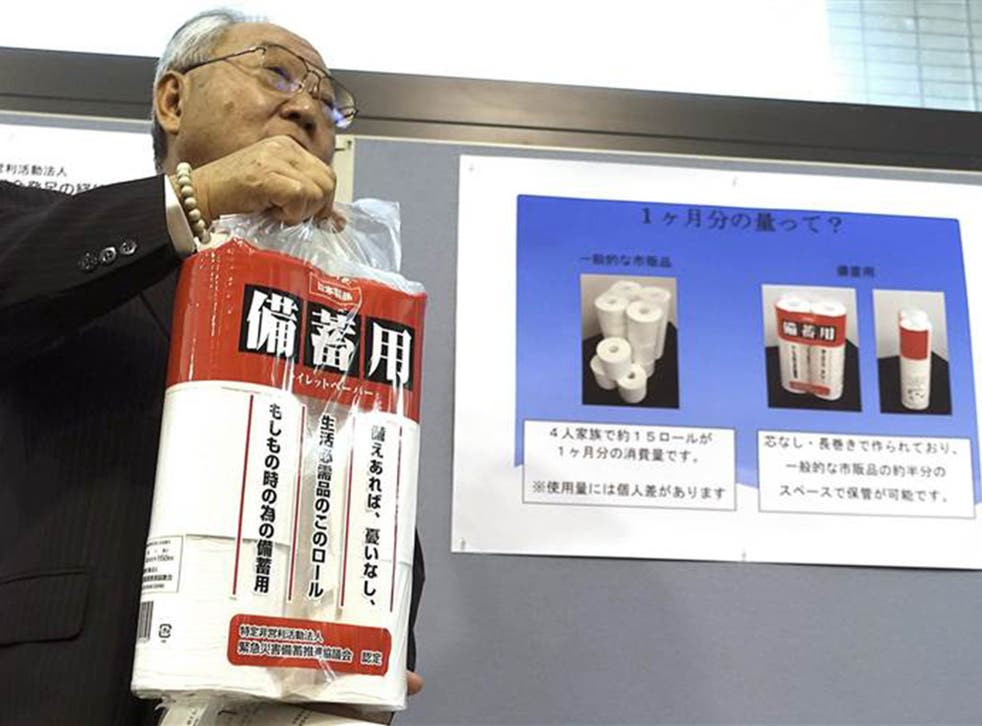 A public information campaign was launched yesterday to persuade people to stockpile toilet paper in case of emergency.
The government and paper companies kicked off "Let's stockpile toilet paper!" to mark Disaster Prevention Day, warning of a possible crisis because nearly half of the supply comes from one of Japan's most earthquake-prone areas. Officials said people think of food and water as emergency supplies, but forget toilet paper.
Forty-one per cent of the country's toilet paper supply comes from Shizuoka, in central Japan, one of the country's most earthquake-prone areas.
The government says there will be a toilet paper shortage crisis for about a month if the area is hit by an imminent Tokai mega-quake, a lesson learned from the deadly March 2011 disasters in northern Japan.
The aftermath of the Fukishima disaster

Show all 14
Lack of toilet paper could even cause further discomfort when people start using tissue paper, which is not water soluble and could clog up toilets.
Japan takes disaster preparedness serious, and even more so since three years ago, when about 19,000 people were killed in the tsunami-hit northern coast.
Hundreds of thousands of Japanese take part in an annual drill every September 1 - the anniversary of the 1923 Great Kanto Earthquake in Tokyo that killed more than 140,000 people. Led by the prime minister, the exercise also involves the military and civilians.
AP
Register for free to continue reading
Registration is a free and easy way to support our truly independent journalism
By registering, you will also enjoy limited access to Premium articles, exclusive newsletters, commenting, and virtual events with our leading journalists
Already have an account? sign in
Register for free to continue reading
Registration is a free and easy way to support our truly independent journalism
By registering, you will also enjoy limited access to Premium articles, exclusive newsletters, commenting, and virtual events with our leading journalists
Already have an account? sign in
Join our new commenting forum
Join thought-provoking conversations, follow other Independent readers and see their replies