Increasing number of Japanese women 'forced into porn', report claims
Human rights groups want better regulation of the porn industry and more laws to protect sex workers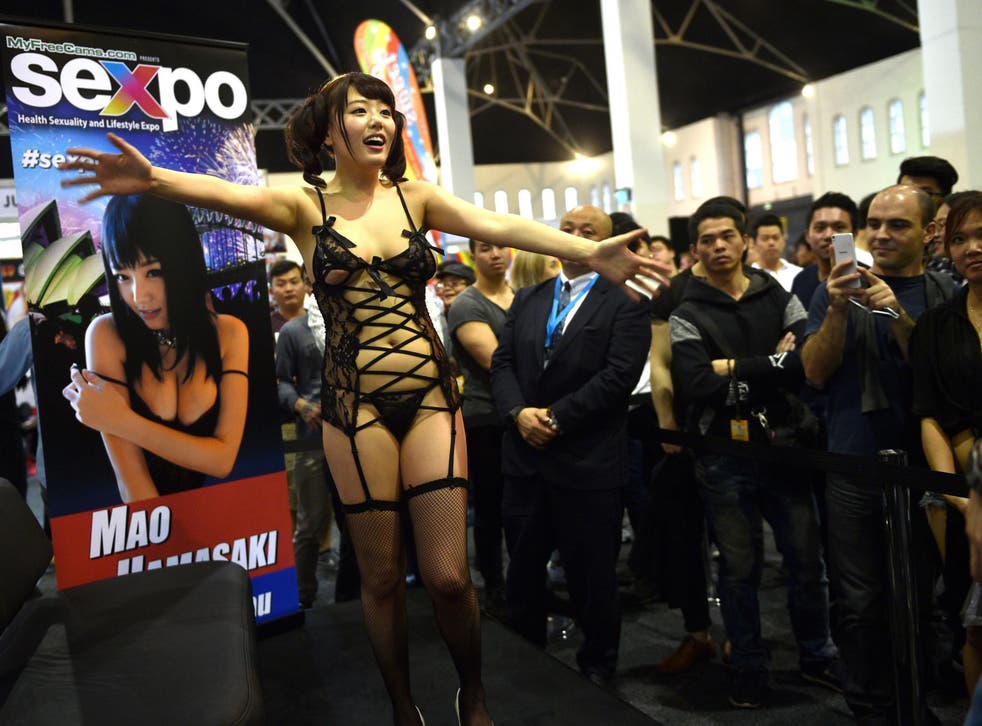 Young women in Japan are being routinely coerced into appearing in adult films a report has claimed— and the practice may be becoming more prevalent.
Scouts have allegedly approached women in the street and offered them opportunities in the entertainment industry, before tricking, bullying, or blackmailing them into appearing in porn videos against their will, research by Tokyo based organisation Human Rights Now (HRN) has said.
Women were allegedly told they were legally obligated to have sex on camera after signing contracts they did not fully understand with production companies who promised to make them famous models or actresses.
Many women have allegedly been forced to engage in repeated sex acts without contraception. Some were violently gang-raped on tape.
Some victims were told they would be charged for expenses they had already racked up at the behest of the production company, on plastic surgery, luxury accommodation, and gym membership.
The adult entertainment industry in Japan, which is estimated to produce around 20,000 videos and make the equivalent of over £3 billion a year through sales and subscription fees, is poorly regulated, HRN claimed There is not specific legislation in place to protect women from being coerced, tricked and groomed by agents.
"It is a grave human rights violation to take advantage of young women who are uninformed or in financial difficulties," HRN said. "To coerce them into performing unconsensual sexual acts in public display and to later circulate these pornographic videos on the internet."
They added women they interviewed who were forced to "perform" in violent videos had been left with mental health problems and physical injuries.
Aiki Segawa, who works for Lighthouse, a charity working to end human trafficking in Japan, told The ABC that in the past three years her organisation had seen an increase in the number of young women asking for help.
Ms Segawa said often the women she worked with weren't expecting to be asked to have sex on camera. "They weren't wanting to appear in pornography at all, but somehow they got into a situation where they couldn't get out of the filming of the pornography," she said.
HRN said because sex work is stigmatised in Japan, the industry is not properly regulated and women are not protected by the law.
"No relevant regulatory agency exists to regulate production companies and persons involved in the making of pornographic videos," the organisation said. "Unlawful practices in the pornographic film industry often slip through the legal net."
It is also very difficult for women to prove they were made to participate in videos against their will, they added.
One woman described in the HRN report killed herself after being allegedly being coerced into pornography.
The women, identified only as "D", is described as "a timid person who had trouble saying no".
"D" was reportedly scouted by an agent who worked for a production company. The scout and several colleagues allegedly cajoled "D" into appearing in a porn film. Afterwards, she "strongly regretted" taking part. However the company said she had to be in a second video because it was already scheduled to be filmed.
When the production company realised "D" was seriously intent on quitting, they allegedly made her appear in as many videos as possible in a short time, before her contract expired. "Within six months, D had appeared in numerous pornographic videos which were widely distributed in public," HRN reported.
"D" eventually left the agency and stopped appearing in videos, but she was ashamed by the continued sales of the videos she had made. She consulted a victim support organisation and decided to hire a lawyer to stop the distribution of her videos.
However, she committed suicide before actually contacting a lawyer.
In another case documented in the report, a woman was allegedly pulled off the street and violently raped on camera.
HRN report "F" was scouted on a street "by a guy in his thirties who told her that they were shooting a night show in which they dress up amateur models as a cosplayers". He asked if she was interested in being filmed and offered to pay her. She agreed to appear in the show straight away, because of the cash fee and because she was curious about the opportunity.
"F" was taken into a bus prepared by the TV crew and was asked to sign a document and present her ID. After "F" dressed up in a costume and people started filming, "F" was confused by a "change in the tone" of male staff whose questions "became more and more indecent". "F" was not sure what to do as filming had already begun. Several men started to touch her body and she became frozen with fear. Then several men raped her while the crew filmed the scene.
Recently, a porn-industry lobby association apologised for the coercive behaviour of some producers.
But Ms Segawa told ABC the association could not control the actions of lone operators.
"I think it's a good step forward, but it's not enough at all," she said.
In pictures: Sex workers protest in Paris

Show all 8
Lighthouse and Human Rights Now both said the industry needed to immediately introduce more regulation and stricter laws.
HRN also made a number of additional recommendations including public awareness raising and further research by government departments, and active efforts by police to prosecute production companies.
They called on the industry itself to "immediately stop coercing women to appear in pornographic videos against their will" and to "halt all filming of pornographic videos that violate their human rights by adversely affecting the women's mental and physical safety and health."
Register for free to continue reading
Registration is a free and easy way to support our truly independent journalism
By registering, you will also enjoy limited access to Premium articles, exclusive newsletters, commenting, and virtual events with our leading journalists
Already have an account? sign in
Register for free to continue reading
Registration is a free and easy way to support our truly independent journalism
By registering, you will also enjoy limited access to Premium articles, exclusive newsletters, commenting, and virtual events with our leading journalists
Already have an account? sign in
Join our new commenting forum
Join thought-provoking conversations, follow other Independent readers and see their replies