Japan outraged after Chinese paper publishes map with nuclear bomb mushroom clouds over Hiroshima and Nagasaki
Publication intensifies hostility between two countries after Chinese regional paper prints map next to the words 'Japan wants war again'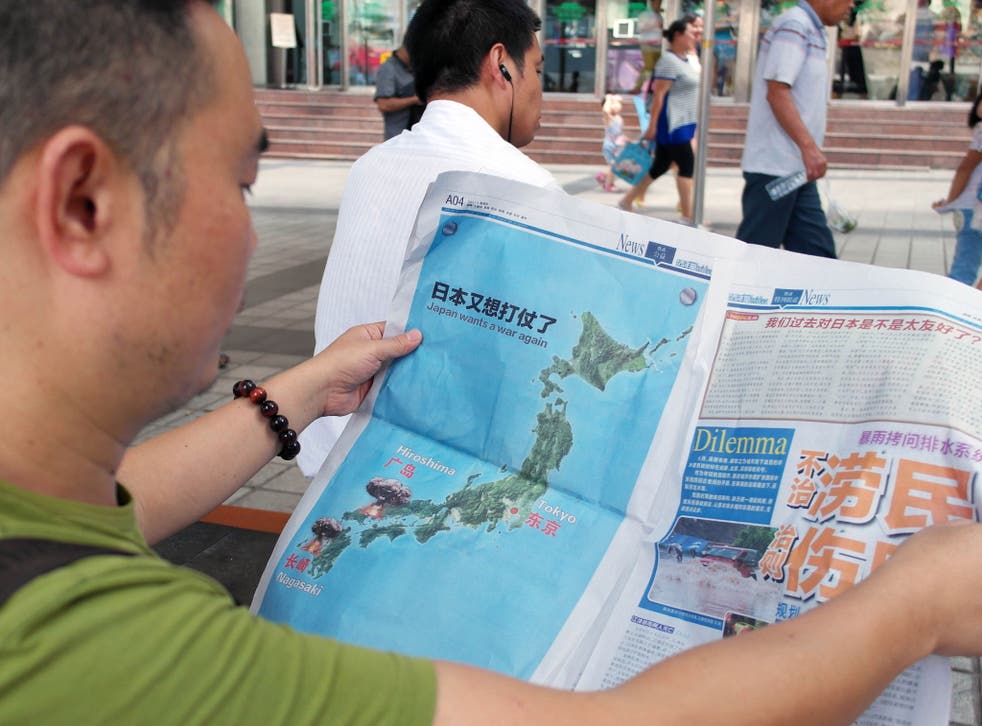 The Japanese government has vowed to take action after a regional Chinese newspaper printed a map of Japan with mushroom clouds over the cities of Hiroshima and Nagasaki next to the words "Japan wants war again".
In reaction to the publication, the Japanese foreign minister Fumio Kishida said that it would not be tolerated and he would be "lodging a stern protest".
On Tuesday, the weekly newspaper Chongqing Youth Daily in the south-western city of Chongqing printed the map.
The picture showed the two cities of Hiroshima and Nagasaki, which were both hit by nuclear bombs during the Second World War, with mushroom clouds hanging over them.
It ran alongside an article that said: "As the butcher of World War Two, the blood on Japan's hands has yet to dry."
The picture was then reproduced for the Communist Party-backed website The Global Times, and circulated to millions.
Now, officials from the Japanese government have reacted, with the foreign minister saying he will take action.
He said: "As the foreign minister of the only country that has suffered an atomic bomb attack, and being a politician from Hiroshima, I cannot tolerate this.
"Prime Minister [Shinzo] Abe has clearly said it would be absolutely impossible for Japan to wage war again. There is no shift in the path of Japan as a pacifist country."
The publication of the image is likely to intensify the diplomatic hostility between the two Asian powerhouses.
Many Chinese people believes Japan has yet to atone for the atrocities it committed in China before and during the Second World War, most notably the Nanking Massacre of 1937.
However, the Chinese feel that a number of right-wing politicians in Japan still glorify their role in the war and Chinese officials have also been upset by the Japanese prime minister's decision to visit shrines commemorating high-ranking Japanese officials that were convicted of war crimes and executed after the war.
On Monday, at a ceremony marking the blowing up of the Marco Polo bridge which sparked the Sino-Japanese War in 1937, the Chinese president, Xi Jinping, publicly criticised those Japanese right-wing politicians that, according to Mr Xi, have "beautified the history of aggression".
In the unusually large commemorations in China, Mr Xi said: "Unfortunately, nearly 70 years after the victory of the Chinese war of resistance against Japanese aggression and the anti-Fascist war, there is still a minority group of people who ignore historical facts, who ignore the tens of thousands of lives lost in the war, who go against the tide of history and deny and even beautify the history of aggression and harm international mutual trust and create regional tension."
Join our new commenting forum
Join thought-provoking conversations, follow other Independent readers and see their replies