Japanese politicians brawl in parliament... in debate about pacifism
MPs fought over proposed legislation to allow Japanese troops to fight overseas for the first time in 70 years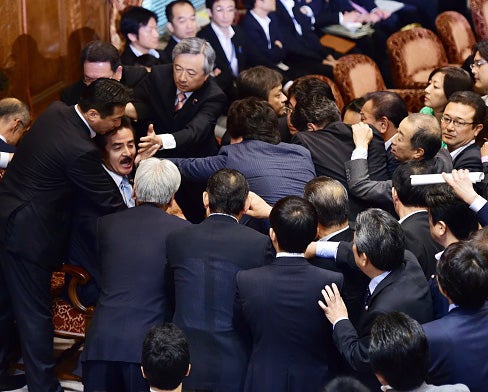 A brawl broke out in Japan's usually sedate parliament - during a heated debate about ending the country's pacifist security policy.
In footage shot by Agence France Presse, members of Japan's opposition and ruling coalition are seen tussling over the bill papers and pushing and shoving each other around the committee chairman's desk.
The row was over a proposed security bill that would see Japanese soldiers deployed overseas for the first time since the end of the Second World War.
The controversial new law, which has seen an estimated 13,000 people gather outside the Japanese Diet building in Tokyo in protest, is a reinterpretation of Article 9 of the Japanese constitution.
The constitution, which was adopted in 1947, says the country must not use war as a means to resolve international disputes.
But under the planned changes, Japanese troops will now be able to enter into conflicts to aid their allies, such as the United States, even if there is no risk to any Japanese citizen.
The bills are scheduled to be agreed upon by the upper house and could become law later this week after clearing the lower house with a two-thirds majority.
They are the latest in a series of moves by Prime Minister Shinzo Abe to renegotiate Japan's place on the world stage, particularly in light of perceived territorial encroachment in the region from Japan's old rival China.
Mr Abe has downplayed wartime atrocities committed by the Japanese, angering both South Korea and China, and paid a visit to the Yasukuni shrine in Tokyo which honours dead soldiers - including more than 1,000 notorious war criminals.
But opinion polls show the proposed bills are unpopular and could be damaging to Mr Abe's previously high popularity.
At the memorial to mark the 70th anniversary of the atomic bomb dropping on Nagasak
The bombing of Nagasaki
Show all 5
Join our commenting forum
Join thought-provoking conversations, follow other Independent readers and see their replies