Japanese pop idols AKB48 injured in fan attack with saw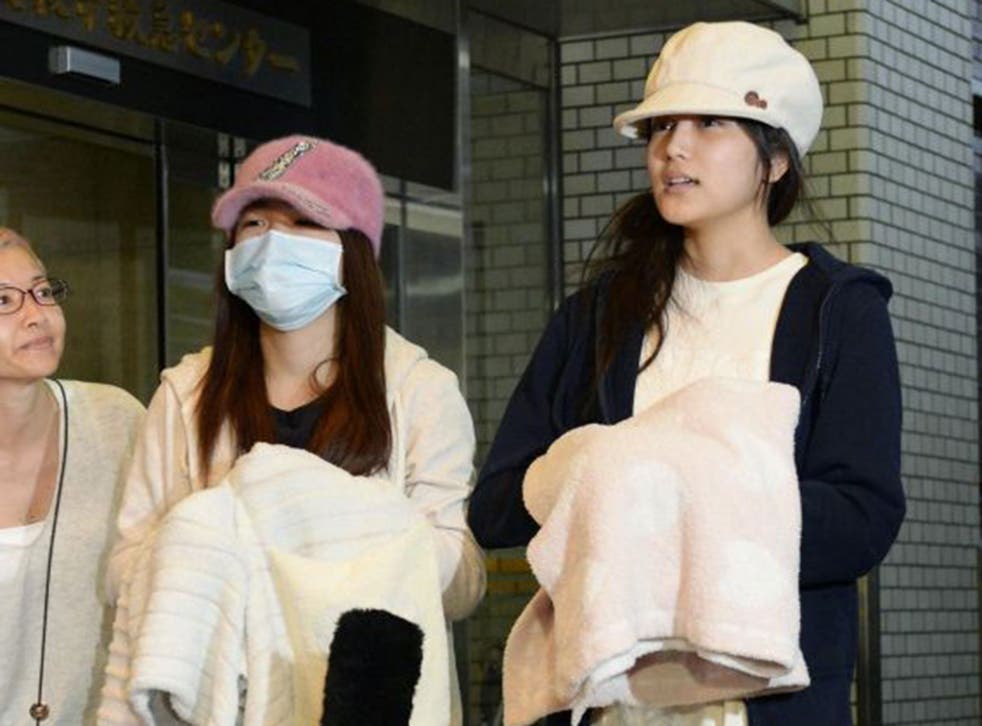 Japan's leading female pop group AKB48 cancelled fan events today after a man attacked two members and a staffer with a saw, shocking the nation and raising questions about security.
The two group members, Anna Iriyama, 18, and Rina Kawaei, 19, suffered hand and head injuries, and the male worker who tried to stop the attack on Sunday at a fan event in northern Japan had cuts on his hand. All three had left hospital tonight. The women, wearing hats and covering their hands with white towels, appeared in front of reporters outside the hospital where they were treated to thank fans for their concern.
"We've caused you worry, but we are returning to Tokyo now," Ms Kawaei said. "Thank you very much."
The attack on the group, whose members are dubbed "idols you can meet" because of their fan events, has rattled people in a nation known for public safety. The news topped TV entertainment shows and even the two national newspapers Yomiuri and Mainichi.
On Sunday, the group gave a mini-concert for hundreds of fans in Takizawa city, which was followed by a handshaking event, in which fans who buy special CDs can shake hands and chat briefly with their favourite member.
As soon as the event started, a man took a foldable saw from his jacket and approached the two singers, who were standing at the entrance of one of several tents set up inside a gymnasium.
Police arrested Satoru Umeta, a 24-year-old unemployed man, on suspicion of attempted murder. Takahiro Fujibayashi, a police spokesman in Iwate prefecture, said Mr Umeta told officers he was not an AKB48 fan and just wanted to commit random murder.
Mr Fujibayashi said there were no full security checks of belongings and that the suspect might have hidden the saw inside a bag he had at the time of his arrest. Hiroshi Yuasa, the manager of AKB48, said he believed the band's security measures were appropriate but would review them. Dozens of AKB48 handshaking events are held every year. Bouncers – called "peelers" in Japan – are assigned to remove fans who linger, but no major attacks have been reported before.
AKB48 are an "idol girl" group named after the Akihabara (Akiba for short) area of Tokyo where they were formed, with an original roster of 48 members. The group has since expanded to 140 members whose ages range from their early teens to mid-20s.
The idea of AKB48's producer, Yasushi Akimoto, was to create a band that, unlike a regular pop group that gives occasional concerts and is mostly seen on television, would have its own theatre and perform daily. AKB48 are one of the top-earning musical acts in Japan, with sales of more than $226 million (£134 million) in 2012.
AP
Register for free to continue reading
Registration is a free and easy way to support our truly independent journalism
By registering, you will also enjoy limited access to Premium articles, exclusive newsletters, commenting, and virtual events with our leading journalists
Already have an account? sign in
Register for free to continue reading
Registration is a free and easy way to support our truly independent journalism
By registering, you will also enjoy limited access to Premium articles, exclusive newsletters, commenting, and virtual events with our leading journalists
Already have an account? sign in
Join our new commenting forum
Join thought-provoking conversations, follow other Independent readers and see their replies