John Sopko: After taking down the Mafia, Obama's Special Inspector is bringing justice to Afghanistan
For every dollar spent in Afghanistan, at least 29 cents disappears in fraud or wastage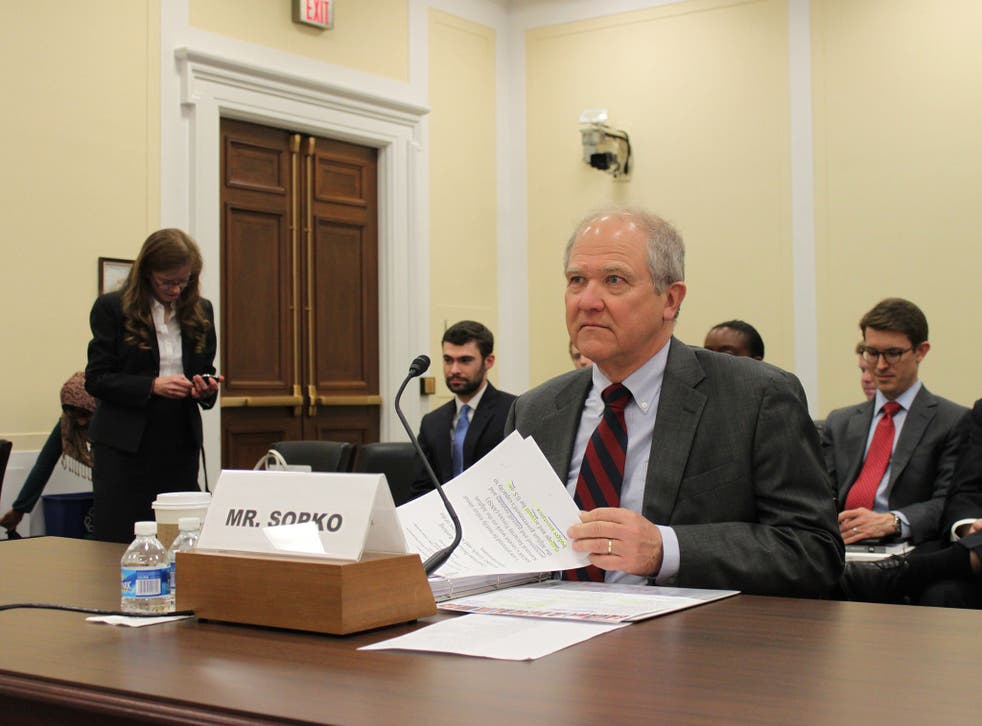 To say that former mafia prosecutor John Sopko has a lot of enemies would be an understatement.
Not content with having smashed an organised crime ring in Cleveland in the 1980s, he now leads the US government's drive to fix the fraud and waste of the fortune it spends in Afghanistan.
Some $113 billion has already been spent by the US government on reconstruction in Afghanistan in the past 13 years. That's more than the £103bn it spent on helping to rebuild Europe after the Second World War.
For every dollar spent in Afghanistan, at least 29 cents disappears in fraud or wastage, based on figures from the US Commission on War Time Contracting. And even that is a conservative estimate, it said in its final report in 2011.
In a bid to stem the losses, President Barack Obama appointed Mr Sopko the Special Inspector for Afghanistan Reconstruction (Sigar) in 2012.
Since then, Sigar investigations have resulted in savings of more than $946 million, and more than 100 arrests and criminal charges.
In a rare interview, Mr Sopko, told The Independent how dealing with corruption in Afghanistan compares to dealing with the mafia: "It's different and it's harder. When I was with the organised crime section, Department of Justice, you're dealing with a legitimate legal system…you don't have that in Afghanistan...and the joke is Afghanistan has the best justice system that money can buy."
War artists in Afghanistan

Show all 6
He adds: "We have worked with some very honest and very brave Afghan policemen and prosecutors and judges but many of them are no longer there, they have either fled or been intimidated or been bought off or killed so it's extremely difficult."
Some of the examples of waste and fraud exposed by Mr Sopko's agency in recent months include millions spent on importing rare goats in a bid to boost the cashmere industry, only for the animals to vanish; and a petrol station which should have cost a few hundred thousand dollars to build which ended up costing $43m.
One frustration is a widespread attitude of 'well what do you expect, it's Afghanistan,' according to Mr Sopko.
Many problems stem from the way the US government does business, and the biggest problem is that individuals are never held accountable for their mistakes, he claims.
Pressed on the proportion of money wasted in Afghanistan, he remarks: "Too much has been wasted and it's in the billions but I can't really say beyond that."
Mr Sopko adds: "I would imagine if they are stealing from us they are probably stealing from you guys too."
The task of investigating and auditing US-funded projects in Afghanistan has become increasingly dangerous, with the security situation having worsened in recent years, he comments: "I was there in February but I did not get out of the military bases. It's not like the old days when we travelled around, and I would meet governors, visit poppy fields, and visit police. And I remember when I first started driving in Masur in an unprotected, unarmoured car with just myself and a couple of agents and we were driving around the city, and the same thing in Herat. Kandahar was always a little dicey but we got around a bit. You can't do that anymore."
Asked whether he has faced intimidation, he jokes: "I've had threats from US government officials...I was getting briefed by some of our security guys in the embassy and they were telling me 'Here's your trip and you're going to be able to go here, here and here but you're not going to be able to go to these places' and I said 'I'll do whatever you guys say because you're the experts on security but do people really want to kill me?' And the guy, with this total deadpan voice, said 'do you mean inside the embassy or outside the embassy?' Then he broke up and laughed."
Security is the biggest challenge facing Afghanistan, he claims. "Corruption is right up there with security and narcotics is right there with corruption and security and it's like a three legged stool of issues."
Asked if Afghanistan is a narco criminal state, Mr Sopko replies: "I can't say, I don't really know, I just know it's a serious threat – the narcotics traffickers are a serious threat to the government."
Despite everything, the former prosecutor turned government watchdog is hopeful for the future. "I am the eternal optimist, that's just my attitude...When I think of Afghanistan, I think it will get better but it's not going to be easy and it's not going to be fast."
John Sopko: profile
After graduating from Case Western University School of Law in Ohio, John Sopko worked as a state prosecutor before joining the Department of Justice's organised crime strike force in Cleveland. In 1982, he was lead attorney in the successful prosecution of the entire leadership of the US city's mafia syndicate which was headed by James 'Jack White' Licavoli.
Mr Sopko went on to serve as an investigator and counsel for various US congressional committees, examining issues ranging from biological terrorism and cybersecurity to health insurance.
Prior to his appointment as Special Inspector General for Afghanistan Reconstruction, he was partner in Akin Gump Strauss Hauer & Feld LLP, an international law firm based in Washington DC.
Register for free to continue reading
Registration is a free and easy way to support our truly independent journalism
By registering, you will also enjoy limited access to Premium articles, exclusive newsletters, commenting, and virtual events with our leading journalists
Already have an account? sign in
Register for free to continue reading
Registration is a free and easy way to support our truly independent journalism
By registering, you will also enjoy limited access to Premium articles, exclusive newsletters, commenting, and virtual events with our leading journalists
Already have an account? sign in
Join our new commenting forum
Join thought-provoking conversations, follow other Independent readers and see their replies