Kabul ambulance bombing: Death toll rises to 103 with another 235 wounded
Attacker drove emergency vehicle filled with explosives and bypassed security checkpoint by saying he was transferring patient to hospital
Sunday 28 January 2018 11:10 GMT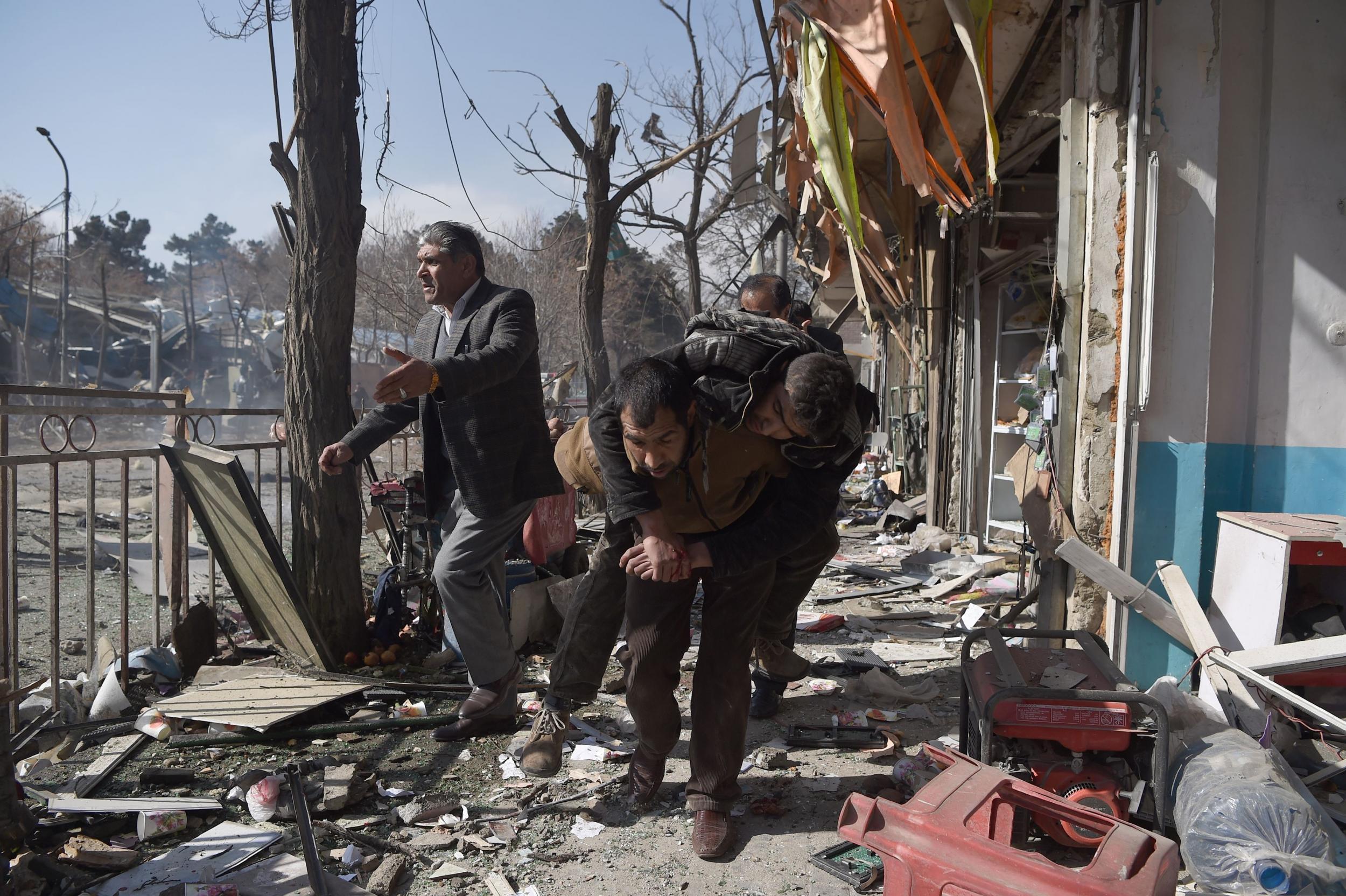 Afghanistan's interior minister says at least 103 people were killed in a suicide bombing carried out by the Taliban in Kabul on Saturday, updating an earlier toll.
Wais Ahmad Barmak said Sunday that another 235 people were wounded in the attack. Barmak said police were among those killed and wounded.
The attacker drove an ambulance filled with explosives and was able to race through a security checkpoint by saying he was transferring a patient to a hospital. The explosion damaged and destroyed dozens of shops and vehicles.
Afghanistan has endured a month of relentless attacks claimed by the Taliban and a rival Isis affiliate, capped by Saturday's assault.
The usually quiet winter fighting season has been shattered by the brutality and frequency of the attacks, including a late December Isis assault on a Shiite Muslim cultural centre in the capital that killed more than 40 people.
The attacks brutally underscore the weaknesses of Afghan security forces more than 16 years after the US-led invasion toppled the Taliban and raise questions about President Donald Trump's strategy for winning America's longest war.
Who is doing this and what do they want?
The Taliban have been waging an insurgency since they were driven from power by US and Afghan forces after the 11 September attacks. In recent years they have seized districts across the country and carried out near-daily attacks, mainly targeting security forces and the US-backed government.
The Isis affiliate emerged in 2014, as the US and Nato were winding down their combat mission and has clashed with both Afghan forces and the Taliban. The group consists largely of Uzbek militants driven out of Pakistan and disillusioned former Taliban fighters. They bear particular animosity toward Afghanistan's Shiite minority, which they view as apostates deserving of death.
Both groups want to overthrow the Afghan government and drive out foreign forces, but the Taliban have a more narrow focus on Afghanistan. They have met with Afghan officials in the past and say they are open to direct peace talks with the United States, an offer Washington has refused. The more radical group, Isis, views Afghanistan as a province in a worldwide Islamic caliphate headquartered in Syria and Iraq.
Both groups hope their attacks will "delegitimise" the government and "create a distance" between the authorities and the people they rule, says Andrew Wilder, Asia Programs vice president at the US Institute of Peace.
Why is it so hard to stop?
Afghanistan's special forces have distinguished themselves with high-profile raids, some carried out alongside their US counterparts. But other units, including many of those charged with securing areas after the insurgents have been driven out, are notoriously corrupt and incompetent.
This is in part a legacy of the 2001 invasion, when US-led forces quickly cobbled together an Afghan army and police force from an array of ethnic and tribal militias, many of which had fought each other in the 1990s. Today the different units have widely varying loyalties and abilities.
Training is often hurried, with many fighters rushed to the front lines after less than two months. Hundreds of soldiers and police have gone home on leave and never returned, with many still getting paid because they are falsely registered.
To make matters worse, the Taliban have become adept at infiltrating the ranks of Afghan forces, allowing them to carry out so-called insider attacks and to further pry open the gaps in security.
"These groups stage these attacks because they can," said Michael Kugelman, deputy director of the US-based Wilson Center's Asia Program. "Security measures are often lax in Afghan cities, Afghan intelligence gathering capacities are poor, and the terrorists are clever."
Wilder says another factor is the redeployment of US intelligence, reconnaissance and surveillance assets from Afghanistan to the war against Isis in Iraq and Syria. Recent victories against the extremists in those two countries could allow those assets to be brought back.
World news in pictures
Show all 50
Can the west do more?
The war in Afghanistan has bedevilled three US presidents, none of whom were able to find a way to stabilise the country and bring American troops home.
In August, Trump announced a new strategy, based on sending more troops and ramping up pressure on the Taliban to force them into peace talks with the government. His speech gave Afghan forces a temporary morale boost, but little has changed on the ground.
Analysts say the government must convince Afghans that it can protect them and provide some semblance of good governance. One major obstacle is the tense power-sharing arrangement that emerged after the disputed 2014 elections between President Ashraf Ghani and his erstwhile rival, chief executive Abdullah Abdullah.
Wilder fears a repeat next year. "Disastrous presidential elections scheduled for 2019 that don't result in a legitimate executive branch of government would be a major victory for the Taliban," he says.
What about Pakistan?
The Afghan government and the US have long accused Pakistan of turning a blind eye or even openly supporting militants that operate along the two countries' porous border, charges denied by Islamabad, which has levelled similar accusations against Kabul.
Pakistan has held on-again, off-again talks with the Taliban for years, and officials met with the insurgents in Qatar earlier this month. Pakistan has defended those efforts as an attempt to restart the peace process and says its control over the Taliban has been overstated.
Trump has repeatedly accused Pakistan of harbouring militants who attack US and Afghan forces, and announced the suspension of up to $2bn (£1m) in military aid earlier this month after lashing out on Twitter.
It's unclear whether the mounting pressure will have any impact on the violence.
Pakistan has long chafed under what it portrays as US meddling and bias in favour of India, its regional rival. It has historically close ties with China and is currently partnering with Beijing to build new regional transport links. China has an interest in regional stability, but appears reluctant to press Pakistan too hard, and Pakistan has said it views Beijing as a more reliable ally than Washington.
Further complicating matters, Russia is believed to be providing covert aid to the Taliban in their fight against Isis. And Iran has recruited Afghan Shiites to fight in Syria alongside President Bashar Assad's forces, aggravating sectarian tensions across the region.
AP