Kabul hotel attack latest: Taliban claims responsibility for Intercontinental siege as Afghanistan government says all gunmen killed
Security forces clearing building 'room by room', says interior ministry
Jon Sharman
Sunday 21 January 2018 10:04 Comments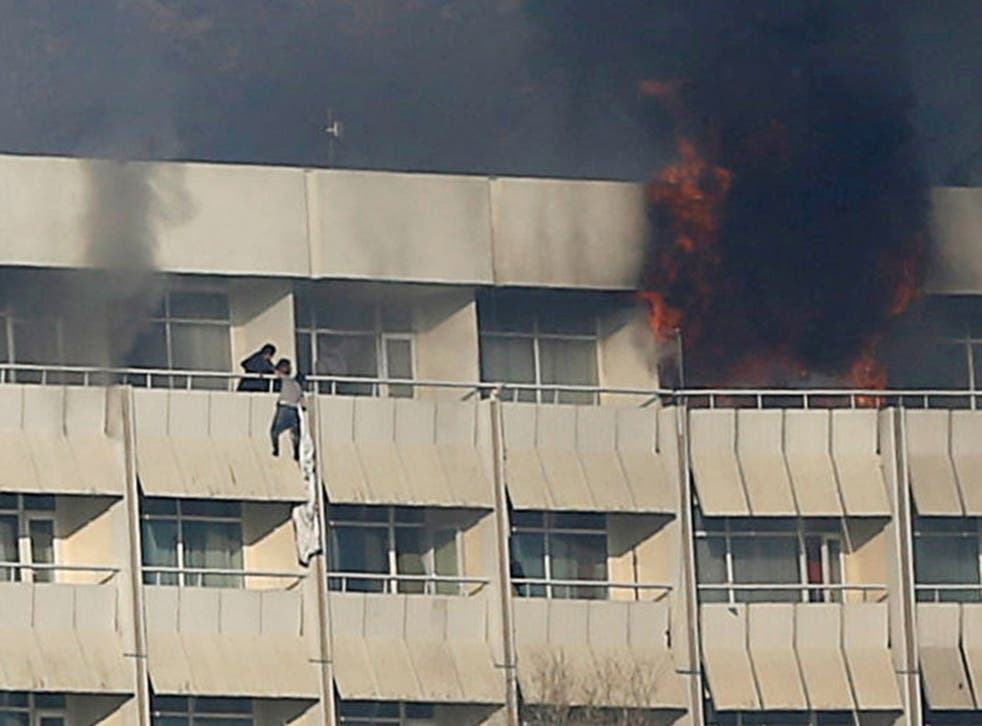 The Taliban has claimed responsibility for the Kabul Intercontinental Hotel attack that left at least five people, including a foreign national, dead.
The Afghan government said the 12-hour siege had ended with all attackers killed. Two were killed on Saturday night and a third on Sunday morning.
The group stormed the hotel at about 9pm on Saturday, took hostages and battled security forces overnight.
As day broke on Sunday, thick clouds of black smoke could be seen pouring from the building. Several armoured US military vehicles with heavy machine guns could be seen close to the hotel along with Afghan police units.
The raid came just days after a US embassy warning of possible attacks on hotels in Kabul.
The gunmen killed at least five people including a foreigner, while six other people were reported wounded. More than 150 people, of whom 41 were foriegn nationals, were rescued according to Interior Ministry spokesman Najib Danish.
Security forces were moving "room by room" to check there were no more attackers, he added.
An unconfirmed report by TOLO News early on Sunday morning had suggested the assault was not over, and that two further attackers were still inside the heavily-fortified building.
Hotel manager Ahmad Haris Nayab, who escaped unhurt, said the gunmen had entered the main part of the hotel through a kitchen before going through the hotel.
According to one witness, who did not want to be named, the attackers took hotel staff and guests hostage.
Television footage showed people trying to escape through windows on the upper storeys.
The Intercontinental Hotel, an imposing 1960s structure set on a hilltop and heavily protected like most public buildings in Kabul, was previously attacked by Taliban fighters in 2011.
It is one of two main luxury hotels in the city and had been due to host an information technology conference on Sunday. More than 100 IT managers and engineers were on site when the attack took place, Ahmad Waheed, an official at the telecommunications ministry, said.
World news in pictures

Show all 50
Neighbouring Pakistan condemned the "brutal terrorist attack" and called for greater cooperation against militants. Afghanistan and Pakistan routinely accuse each other of failing to combat extremists along their long and porous border.
The property is not part of the InterContinental chain of worldwide hotels.
Afghan forces have struggled to combat the Taliban since the US and Nato formally concluded their combat mission at the end of 2014. They have also had to contend with a growing Isis affiliate that has carried out a number of massive attacks in recent years.
In the western Farah province, a roadside bomb killed a deputy provincial police chief and wounded four other police early Sunday, according to General Mahruf Folad, the provincial police chief.
In the northern Balkh province, insurgents burst into a home where several members of a local pro-government militia were gathered late on Saturday, leading them outside and killing 18 of them, said General Abdul Razeq Qaderi, the deputy provincial police chief.
Among those killed was a tribal leader who served as the local police commander, he said. The Taliban claimed both attacks.
Additional reporting by agencies
Register for free to continue reading
Registration is a free and easy way to support our truly independent journalism
By registering, you will also enjoy limited access to Premium articles, exclusive newsletters, commenting, and virtual events with our leading journalists
Already have an account? sign in
Join our new commenting forum
Join thought-provoking conversations, follow other Independent readers and see their replies