Kabul mosque attack: Isis claims responsibility after suicide bomb and gun battle kills 'at least 30' in Afghan capital
Gunmen took over portion of the mosque with separate prayer areas for men and women
Tom Batchelor
Friday 25 August 2017 14:09 Comments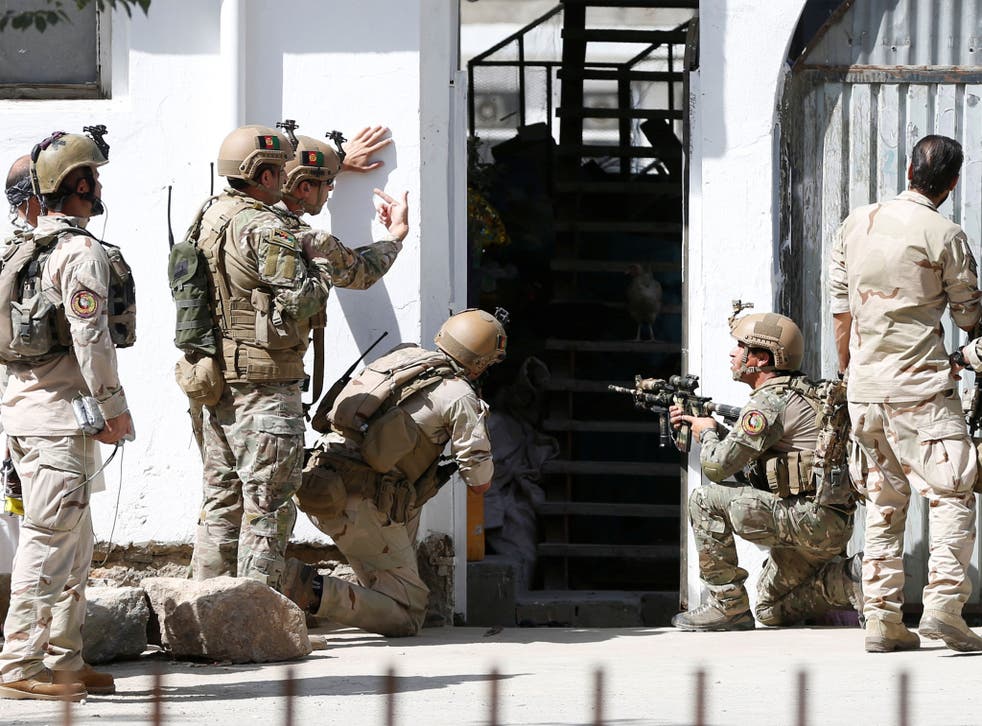 Isis has claimed responsibility for an attack on a mosque in Kabul that left at least 30 dead.
The group's propaganda agency, Amaq, released a statement shortly after the attack saying its fighters were behind the killings.
Gunmen stormed the Shia mosque, attacking worshippers gathered for Friday prayers.
A cleric who was leading the service was among those killed, police said.
The Amaq statement referred to an "inghimasi" attack, where assailants use weapons to inflict the maximum number of casualties, only detonating their suicide vests when they have run out of ammunition.
As the attack unfolded, police encircled the mosque but initially avoided advancing inside to prevent further casualties, police official Mohammed Jamil said.
Later, officers attempted to enter the mosque but withdrew after one of the attackers set off an explosion.
By Friday evening police said they had secured the mosque, and all three attackers were dead.
Witnesses said the assailants threw grenades, and police officials said a suicide bomber had detonated himself at the gate, Reuters reported.
A second suicide bomber detonated among a group of women in the mosque, an official said.
Security sources put the overall toll at 30 people killed and "dozens" wounded.
Kabul suicide bombing kills at least 24 and leaves 40 injured
Mir Hussain Nasiri, a member of Afghanistan's Shia clerical council, said the gunmen had taken over the portion of the mosque with separate prayer areas for men and women.
He said the mosque could accommodate up to 1,000 people. Access to the second floor, where the women pray, was blocked by attackers. He said that meant they gunmen were holding women who were there as hostages.
Witnesses in the area said sporadic shooting inside the mosque continued throughout the day.
There have been several attacks against Shia Muslim mosques in Afghanistan in recent weeks.
Last month, 32 people were killed when gunmen stormed a mosque in western Herat province.
Isis also claimed responsibility for that attack and vowed to carry out more attacks against Afghanistan's minority Shia, which the Sunni extremists consider to be heretics.
Additional reporting AP
Register for free to continue reading
Registration is a free and easy way to support our truly independent journalism
By registering, you will also enjoy limited access to Premium articles, exclusive newsletters, commenting, and virtual events with our leading journalists
Already have an account? sign in
Join our new commenting forum
Join thought-provoking conversations, follow other Independent readers and see their replies