Kanhaiya Kumar: Arrest of student leader in Delhi sparks campus protests across India
The 28-year-old was detained under a colonial-era sedition law for shouting 'anti-national' slogans at a university rally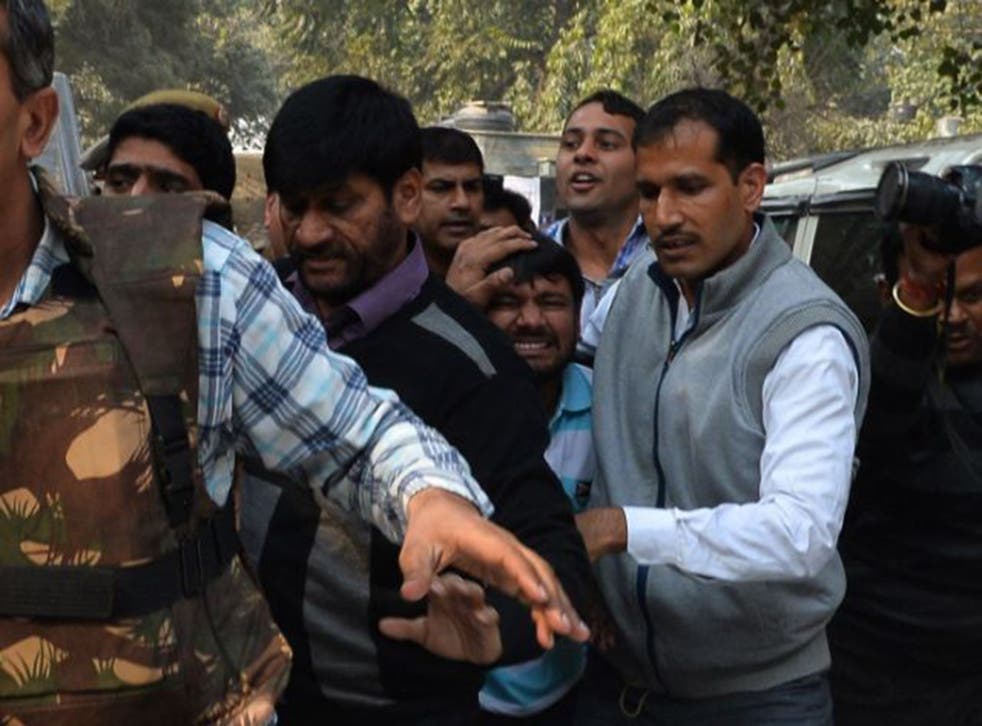 Awanish Kumar waves an Indian flag in the midst of a massive crowd assembled on one of Delhi's wide boulevards. "We will not go along and let the state crush our voices," says the 30-year-old, one of thousands who have taken to the streets across India in recent days to protest at the arrest of a student union leader.
The man who now finds himself at the centre of a political storm is Kanhaiya Kumar (no relation of Awanish). The 28-year-old student leader was detained under a colonial-era sedition law for shouting slogans at a university rally that authorities claimed were "anti-national".
His arrest elevated him into a hate figure for some and a symbolic victim of injustice for others, pitching India into an increasingly polarised debate about patriotism, freedom of expression and the autonomy of universities under the country's Hindu-nationalist government.
As tensions boiled over, a court hearing for Mr Kumar in the capital descended into chaos last week when he was physically attacked inside the building by a group of lawyers. Outside, journalists were pelted with stones.
In the days since, thousands have attended demonstrations against what they see as the latest example of a government crackdown on dissent and the attempted control of educational establishments.
Awanish Kumar, a neurobiology PhD student, was one of those jolted into action. "We are against this type of state-sponsored oppression of students and delegitimising an institution of higher learning – that is a shameful thing," he said, clutching a 10ft bamboo flagpole. "If our institutions are in danger, then the country is in the wrong hands."
The controversy began at an event earlier this month at Delhi's prestigious Jawaharlal Nehru University (JNU), organised to mark the anniversary of the execution of a man convicted of a deadly attack on the Indian parliament in 2001. Mohammad Afzal Guru, who was hanged in 2013, always maintained his innocence. Many believe he did not receive a fair trial, especially in his native Kashmir – a region divided between India and its bitter rival Pakistan but claimed by both and which has a history of separatist violence.
Police were called to the JNU campus after a complaint from a student group aligned with the ruling Bharatiya Janata Party (BJP), who objected to the chanting of slogans that reportedly expressed support for Guru, Pakistan and a Kashmir free from Indian rule.
Officers are still searching for other students they believe were involved, but Kanhaiya Kumar was detained on charges of sedition, which carries a maximum penalty of life imprisonment.
"If anyone shouts anti-India slogans and challenges [the] nation's sovereignty and integrity while living in India, they will not be tolerated or spared," Home Minister Rajnath Singh wrote on Twitter, confirming that he had asked Delhi police to take "strong action against the anti-India elements" at JNU.
What Mr Kumar actually said at the rally is disputed. His supporters deny he made inflammatory remarks. Various videos and texts are circulating that purport to be the accurate account of his speech, triggering a row over which versions could have been doctored.
Critics have also questioned why the matter was not left to the university to investigate internally. They claim that the government of the Prime Minister, Narendra Modi, is using the antiquated sedition law to silence opponents and that it meets any criticism of its policies with the charge of being "anti-national".
World news in pictures

Show all 50
"The government might be doing something unconstitutional and I can protest – the government is not equivalent to the nation. There is an attempt … to block voices of dissent," said JNU student Rajdeep Konar at the Delhi march demanding Mr Kumar's release.
Police say they are confident they have enough evidence in their case against Mr Kumar, and rival student groups at the university have staged their own protests denouncing him. The BJP has also rejected criticism of his arrest.
"The students did not raise just one anti-India slogan on the JNU campus but many such slogans. The constitution guarantees freedom of speech, but such freedom does not mean people can support secession," a party spokesman, MJ Akbar, told local media.
Some BJP parliamentarians and their supporters have called for JNU, with its strong tradition of left-wing student activism, to be closed down, while others want its public subsidy withdrawn.
But there has been an outpouring of support from staff and students at universities across India, as well as from intellectuals worldwide, demanding the protection of spaces where any opinion can be formed, aired and challenged.
"If the state is coming to your university campus … to decide how you talk, what you discuss, what you think, and want to control that, that's a very dangerous trend," said Dr Sreerekha Sathi, a lecturer in Women's Studies at Delhi's Jamia Millia Islamia University, demonstrating in the capital in solidarity with colleagues at JNU.
"Any education institution should remain an autonomous democratic space," she added.
This is not the first time that discontent has erupted on Indian campuses in recent months. In January, Hyderabad University was paralysed by protests against caste discrimination triggered by the suicide of a student who had been suspended after being branded "anti-national".
And in the southern city of Pune last summer, students at India's top film school boycotted classes for months and went on hunger strike in protest at the appointment of a Hindu nationalist and government ally as the academy's chairman.
Now, amid the latest protests, the government has ordered that more than 40 major universities – including JNU – must fly the nation's tricolour flag on huge masts in prominent positions, to try to instil a sense of national pride.
But there is little sign of the anger abating while Kanhaiya Kumar remains in custody. His bail hearing is expected to go ahead tomorrow.
"Kanhaiya is our leader and our representative" said the flag-waving Awanish Kumar in Delhi, making clear that support for Kanhaiya Kumar would continue. "We are on the street. We will fight."
Join our new commenting forum
Join thought-provoking conversations, follow other Independent readers and see their replies