Karzai fights back as storm grows over rape laws
Jailed student Sayed Pervez Kambaksh defiant as Afghan government forced to answer critics over women's rights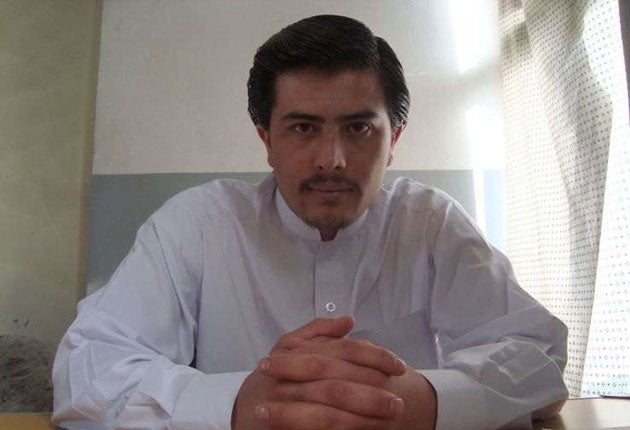 As Afghanistan's president grappled with some serious damage limitation yesterday over an incoming law that legalises rape, a student jailed for trying to improve women's rights issued a defiant message of hope: that one day both sexes might be equal in his country.
Sayed Pervez Kambaksh, who was accused of blasphemy and sentenced to death for questioning Islam's treatment of women, said he dreams of an Afghanistan where women are free to live as "human beings".
"I want an Afghanistan where the mothers of this country and the daughters of this country have the same rights that you and I have as men," he said in an interview inside the Walayat prison where he has languished since June. "They should have the right to education. They should have the right to work in any organisation they want, and they should have the right to live as human beings in this society."
Justice Minister Sarwar Danesh was yesterday dispatched to meet female MPs as part of a snap review ordered by President Hamid Karzai. However, MP Sabrina Saqeb, who attended the meeting, said officials had tried to impose a media blackout and refused to give a timeline for their review, prompting fears it will be buried and forgotten until after the presidential elections in August.
The law eliminates the need for sexual consent between husband and wife, tacitly approves child marriage and restricts a woman's right to leave the family home. Some Nato countries have threatened to withdraw troops and withhold aid unless the law is repealed.
Last night it emerged that the United Nations was quietly seeking emergency funds from donors to provide bodyguards, cars and safe houses to protect MPs who had dared to speak out against the legislation. Wenny Kusuma, the head of the UN Development Fund for Women in Afghanistan, said a number of activists had already received death threats. "There's no other country in the world where working for women's rights puts you at a higher risk of death," she said.
Analysts believe Mr Karzai signed the legislation to win support from Afghanistan's minority Shia leaders, but instead he scored a spectacular own goal as talk of its draconian clauses dominated Nato's 60th anniversary summit in Strasbourg, alienating his already-weary Western backers.
Prime Minister Gordon Brown said the issue had been raised in no uncertain terms with Mr Karzai. "I made it absolutely clear to the president that we could not tolerate that situation. [Karzai] responded by saying this law would not be enacted in the way it has been presented," he told Sky News.
Afghan women who campaigned against the legislation said they would keep up the pressure. MP Shinkai Karokhail, who described the law as "worse than the Taliban", said: "I get around 12 calls a day threatening me, but I don't even listen. I don't care. I have been branded a bad Muslim. I have been accused of being against Shias. It's not true. I am a woman and an MP."
Sabrina Saqeb, who at 28 is Afghanistan's youngest MP, added: "Politics in Afghanistan is very risky. Especially if you are a woman talking about women's rights, human rights or anything to do with Islam."
Mr Kambaksh knows just how dangerous it can be, after being locked up for downloading an essay on women's rights from the internet. He was originally sentenced to death in a closed court without a lawyer, but his punishment was commuted to 20 years on appeal after the only prosecution witness withdrew his testimony. That sentence was upheld in February by Afghanistan's Supreme Court, which met in secret and refused to hear his defence.
Speaking from inside prison, for the first time since the legal process was exhausted, he made a personal appeal to president Karzai to pardon him.
"I am a son of this land and I should have the right to live here freely," he said. "Everyone knows I have done nothing wrong. I am asking president Karzai to review my case. He is the president. The constitution gives him the right to pardon me. He is the only one who can save me."
Join our commenting forum
Join thought-provoking conversations, follow other Independent readers and see their replies