Kashmir attack: India says Pakistan had 'direct hand' in blast that killed 44 people
Dimplomatic tensions escalate between New Delhi and Islamabad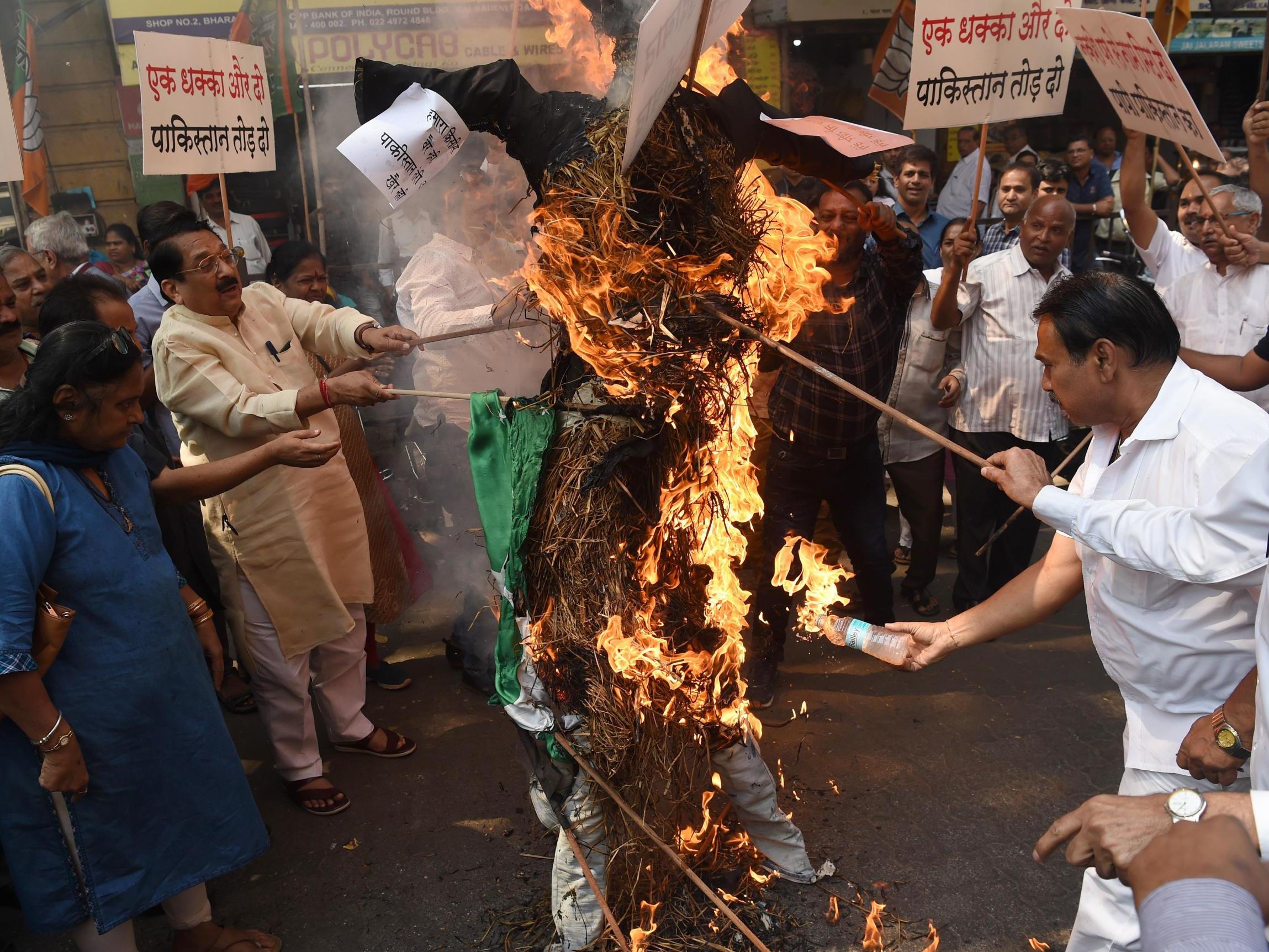 India has accused Pakistan of having a "direct hand" in the suicide bombing of a paramilitary convoy in Kashmir which killed at least 44 soldiers and left dozens more seriously injured.
Tensions between New Delhi and Islamabad have risen sharply since the attack earlier this week, when a Kashmiri militant rammed a vehicle laden with explosives into the paramilitary convoy. It was the worst attack against Indian government forces since Kashmir's military insurgency began in 1989.
The Indian government has now said that it would take diplomatic steps "to ensure the complete isolation" of Pakistan from the international community.
It said it had "incontrovertible evidence" that its neighbour had "a direct hand in this gruesome terrorist incident." Indian prime minister Narendra Modi has also threatened "a jaw breaking reply".
Pakistan for its part, has rejected the allegations and condemned the attack.
Fire on the streets as Indians react to the Pulwama bombing attack
Show all 13
Tehmina Janjua, the country's foreign secretary, said that the claims were part of India's "known rhetoric and tactics" to divert international attention from human rights violations allegedly carried out by troops in Indian administered Kashmir.
Jaish-e-Mohammad (JEM), a militant group based in Pakistan, has claimed responsibility for the latest bombing, which is thought to have been carried out by Adil Ahmed Dar, a Kashmiri militant.
A clip of him spread online in the aftermath of the blast. In the footage he is dressed in combat clothes, surrounded by guns and grenades and claims responsibility for the attack. He also called for India to be driven out of the region.
India has demanded that Pakistan takes action against the militant group.
Thousands of mourners across India attended funerals for some of the soldiers who were killed as a round-the-clock curfew remained in force in part of the restive region.
TV stations showed coffins wrapped in Indian flags being carried by thousands of people across their hometowns.
Kashmir is divided between India and Pakistan but has long been a disputed territory claimed fully by both countries.
Support free-thinking journalism and attend Independent events
In recent years, younger Kashmiris have openly supported rebels advocating to break away from India.
Anti-Pakistan protests were held in Indian cities, including Mumbai, in the aftermath of the attack.
The countries have twice gone to war over Kashmir since their independence from Britain in 1947.
In 2001, an attack on its parliament building prompted New Delhi to mobilise the military along the border with Pakistan in a standoff that lasted a year.
Additional reporting by agencies
Join our commenting forum
Join thought-provoking conversations, follow other Independent readers and see their replies