Kashmir latest: Supplies run low as blockade goes on for ninth day amid information warfare
Pakistan accuses India of curtailing Kashmiri Muslims' religious freedoms, with no end in sight for blockade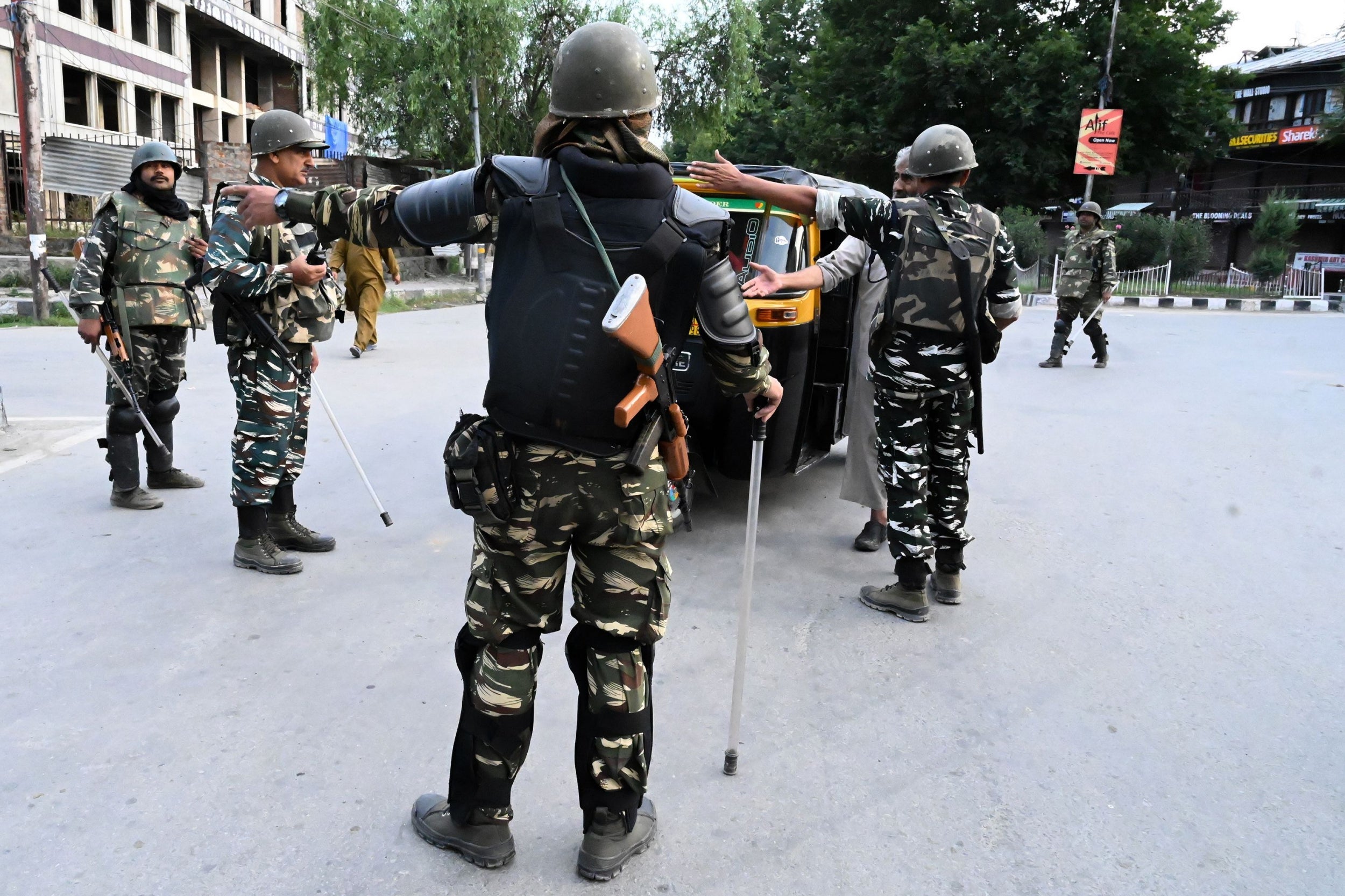 Kashmir's tight security and communications lockdown remained in place for a ninth day on Tuesday, as reports emerged of daily essentials running low.
Restrictions on almost all movement in the Indian-administered section of the disputed Himalayan region were strictly enforced, after a brief relaxation for prayers to mark Monday's Eid al-Adha ended up with anti-India protests spilling out from mosques into the street.
With internet and phone lines still cut off since the decision on 5 August to strip Kashmir of its special constitutional status and the right to make its own laws, the valley has become the setting for all-out information warfare.
The Indian government has insisted that the region is slowly returning to normality, and has been sharing videos and pictures from the valley's main city Srinagar purporting to show busy market stalls and lines of traffic.
But footage and accounts trickling out from independent journalists paint a different picture, one where the world's most highly-militarised (and newly reinforced) region is a maze of barbed wire and blockades with armed soldiers.
Javaid Ahmed, a resident, told the Associated Press he saw soldiers stopping vehicles in the centre of Srinagar, causing a traffic jam just as a military surveillance drone flew over.
He said he later saw the footage of the scene broadcast on Indian TV channels. "That footage was used to say Kashmir was normal," Ahmed said.
Residents described how a constantly shifting system of roadblocks and barbed wire gates made it a challenge to leave the home for anything, even simple groceries. The network of barbed passageways was unprecedented, said Zameer Ahmed. "This is so vast, so expansive. The entire Srinagar city has been knitted in razor wire to seek our silence and obedience."
Pictures sent to journalists by government officials also purported to show Muslims taking part in Eid prayers across Jammu and Kashmir, the wider state that is to be split up into two less autonomous union territories. Some parts of the state are distinctly more pro-India than the Kashmir valley itself and have generally welcomed the 5 August announcement.
When pressed on whether the pictures were really from Srinagar, as claimed, an official said it was "safe to say they are from Jammu and Kashmir" until precise locations could be confirmed.
Grenade attack injures at least 18 in Kashmir: in pictures
Show all 10
In a statement, Pakistan's foreign minister said that the closure of mosques had curtailed the religious freedoms of Kashmiri Muslims on one of the most significant days in the religious calendar.
"Restrictions and curtailment of this fundamental religious freedom of millions of Kashmiri Muslims constitutes a serious violation of applicable international human rights law, to which India is a party," the statement said.
There seems to be little prospect of the lockdown being lifted any time soon, and certainly not before India marks its Independence Day on Thursday.
Hearing a petition on the matter, India's Supreme Court declined the opportunity to immediately order the curfew or communications blackout be lifted on Tuesday, saying that there was too great a risk of violent unrest to do so.
Prominent activist Tehseen Poonawala had asked the court to challenge the detention of several prominent Kashmiri politicians and to end the various "restrictions" on everyday life in the valley. As a minimum, he said, hospitals and schools should be reopened.
Justice Arun Mishra said the government wanted to bring Kashmir back to normal as soon as possible.
"The situation is such that nobody knows what is going on. We should give them time to restore normality. Nobody can take 1 per cent of chance," Justice Mishra said.
"Who will be responsible if something really bad happens tomorrow?" he added. The court is expected to rule on the petition in a few days.
India's main opposition Congress party, though currently without a leader, has been at the forefront of criticism of the government's decision to revoke Article 370, the special constitutional status that let Kashmir have its own set of rules. It allowed the region to maintain its Muslim-majority status by banning outsiders from buying Kashmiri property.
The party's general secretary Priyanka Gandhi Vadra said on Tuesday that the decision was "unconstitutional" and "against all principles of democracy".
That's a reference to the fact that the government was able to bypass a rule saying a state's assembly must consent to any central decision affecting that state's status. The decision on Article 370 was passed unilaterally, because Jammu and Kashmir is currently under direct – "President's rule", following the collapse of local government.
Rahul Gandhi, who was Congress president until he resigned two months ago, said that he and other senior opposition figures would "accept" an invitation from the Jammu and Kashmir governor to visit and assess the situation in the state.
The current governor Satya Pal Malik had called some Congress MPs "idiots" for their criticisms of the government over Kashmir and said he "has invited Rahul Gandhi to come here. I will send you a plane, to observe (the situation) and then speak up."
Mr Gandhi said they would take up the "gracious invitation". "We won't need an aircraft but please ensure us the freedom to travel and meet the people, mainstream leaders and our soldiers stationed over there," he tweeted.
Additional reporting by agencies
Join our commenting forum
Join thought-provoking conversations, follow other Independent readers and see their replies