Kashmir at breaking point one year after losing statehood: 'It is very hard to go on'
In 12 months of lockdown upon shutdown, Kashmiris say their economy has frozen and they are still denied basic rights to justice, freedom of speech and access to the internet
Fahad Shah
Srinagar
,
Adam Withnall
Wednesday 05 August 2020 06:35 Comments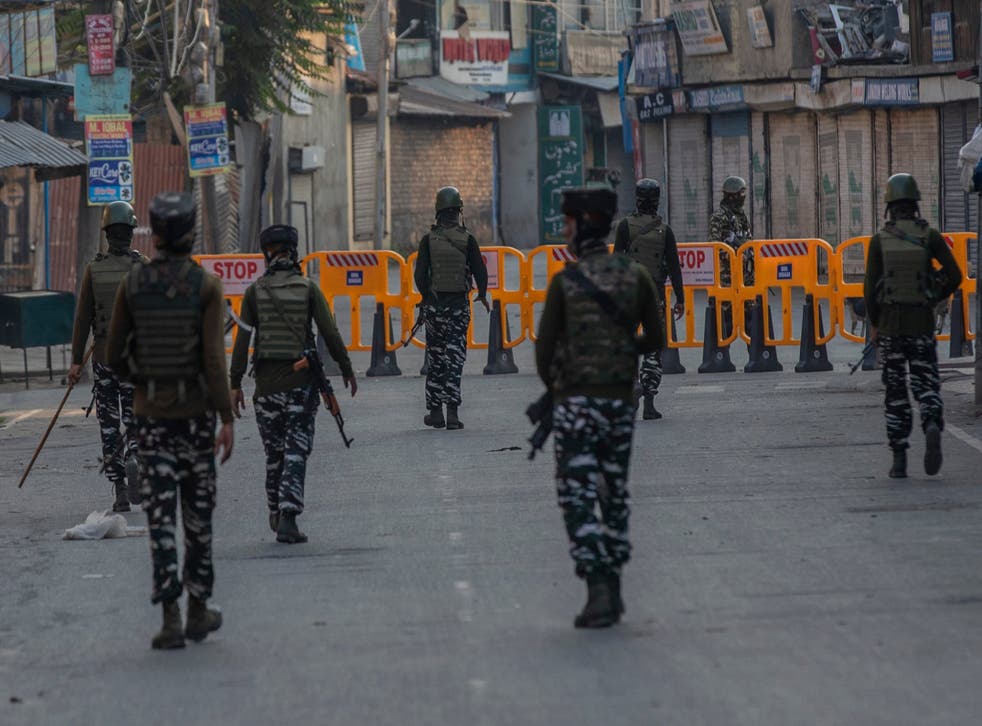 Indian soldiers stepped up their patrols and imposed a tough new curfew in Kashmir on Wednesday as the region marked the one year anniversary since its special constitutional autonomy was unilaterally stripped away by the government in Delhi.
The move that downgraded Jammu and Kashmir state into two federally-controlled territories was accompanied by a huge build-up of military forces, mass detentions, a complete lockdown on movement and a shutdown of the internet that, in Muslim-majority areas, partly continues to this day.
The authorities fear that separatist groups plan to mark the anniversary as a "black day" with violent protests, a district magistrate said earlier this week in a public order that warned of a risk to life and property.
India and Pakistan both administer a portion of the Kashmir region and claim it in its entirety, in a dispute that dates back to the partition of India after the end of British rule. Many Kashmiris would prefer the region be granted independence from both countries, but there is no clear opinion polling on where the majority view lies.
India said it revoked Jammu and Kashmir's special status and removed protections on settlement from the rest of India in order to foster greater investment in the region and bring its people equality with the rest of the country.
But many ethnic Kashmiris see the move as an attempt to use settlers to engineer a demographic change in India's only Muslim-majority region. And they have been left feeling disenfranchised by a move in which they were not consulted, and which was accompanied by the house arrest of the leaders of all the major local political parties.
Speaking to The Independent, residents of Kashmir described how a year of crackdown followed by pandemic lockdown has frozen their economy and denied them basic rights to justice, freedom of speech, access to education and the internet.
It is not known exactly how many people were arrested in Kashmir just before and in the aftermath of 5 August 2019, mostly because they were detained under the controversial Public Safety Act (PSA) which allows suspects to be held without charge or any due process for up to two years.
While court records suggest 662 petitions challenging PSA detentions were filed in 2019, Habeel Iqbal, a 34-year-old human rights lawyer from South Kashmir's Shopian district, said he believes detentions over the last year number in the thousands.
Many have stopped approaching the courts to challenge them, he said, because their faith in the judicial system has "almost [completely] vanished". "For people here the local police officer is more powerful than a court," Mr Iqbal said. "The courts have been used by the executive to put a cloak of legality on their arbitrary, excessive and illegal actions."
While foreign journalists have not been permitted to enter Kashmir for more than 12 months, local reporters say they face intimidation and pressure from the security forces.
Mr Iqbal said the stifling of freedom of expression extended to lawyers as well, something he experienced first hand after criticising the detention of the president of Kashmir's Bar Association. "I was called for questioning by the police and also told to delete my comments [on social media]. I felt harassed," he said.
The president of Kashmir's Chamber of Commerce said this week that the shutdown of the internet and the subsequent pandemic lockdown had cost the region's economy an estimated Rs400bn (£4bn). While some internet services were restored in January, faster 4G mobile networks remain blocked and business leaders say 2G services are too slow for most commercial enterprises to operate on.
Anam Khan, a young Kashmiri businesswoman who returned to the region to acquire the Books and Bricks cafe in Srinagar just two months before the August 2019 crackdown, said bricks-and-mortar businesses have ground to a halt as well.
Even when movement restrictions eased a little in October, the cafe "struggled to keep afloat through the winter months", she said. Then, just as business started to pick up in February, "the pandemic broke".
"For a young entrepreneur who invested in her dream and in a city she loved, I feel crushed every single day. For a Kashmiri, our loss is not just monetary, it is emotional as well."
Ms Khan said she had been receiving mental health treatment after the uncertainty and emotional strain reached a threshold "beyond what I could have handled". "It is very hard to go on with each day when you feel torn on the inside, but what options do I have?"
The lack of internet access has hurt all aspects of Kashmiri society, but students have been particularly badly affected, according to Aabid Mustaq, a 21-year-old fourth-year law student at Kashmir University.
Being unable to access online resources has impacted "the whole process of researching for our studies", he said. "I have found myself stagnant as I can't access real-time new judgments. If the internet is barred, that ultimately directly jeopardises our whole degree."
Monitoring groups say that India has become the world's leading country in internet shutdowns, with the majority taking place in Kashmir.
Anuradha Bhasin, the editor of the region's largest English-language daily newspaper, the Kashmir Times, told a panel discussion marking the anniversary that the internet ban had "pushed a certain population behind an iron wall".
"This was for first time in my career in the last 30 years that I could not hear [from] anybody," she said. "The lockdown of the internet has pushed information into a black hole, it has completely frozen the media, it froze education and impacted every sphere of life, and it continues to do so.
"The world is talking about work-from-home culture, talking about online. These kind of things do not work in this place. I think that very notion of equality, on the basis of which the people of Jammu and Kashmir were deprived of their special status, has been violated."
Register for free to continue reading
Registration is a free and easy way to support our truly independent journalism
By registering, you will also enjoy limited access to Premium articles, exclusive newsletters, commenting, and virtual events with our leading journalists
Already have an account? sign in
Join our new commenting forum
Join thought-provoking conversations, follow other Independent readers and see their replies