Pakistan accuses US of 'murdering hopes of peace' following death of Taliban leader Hakimullah Mehsud in drone strike
Country's security forces placed on high alert after the Taliban vows to carry out a series of revenge attacks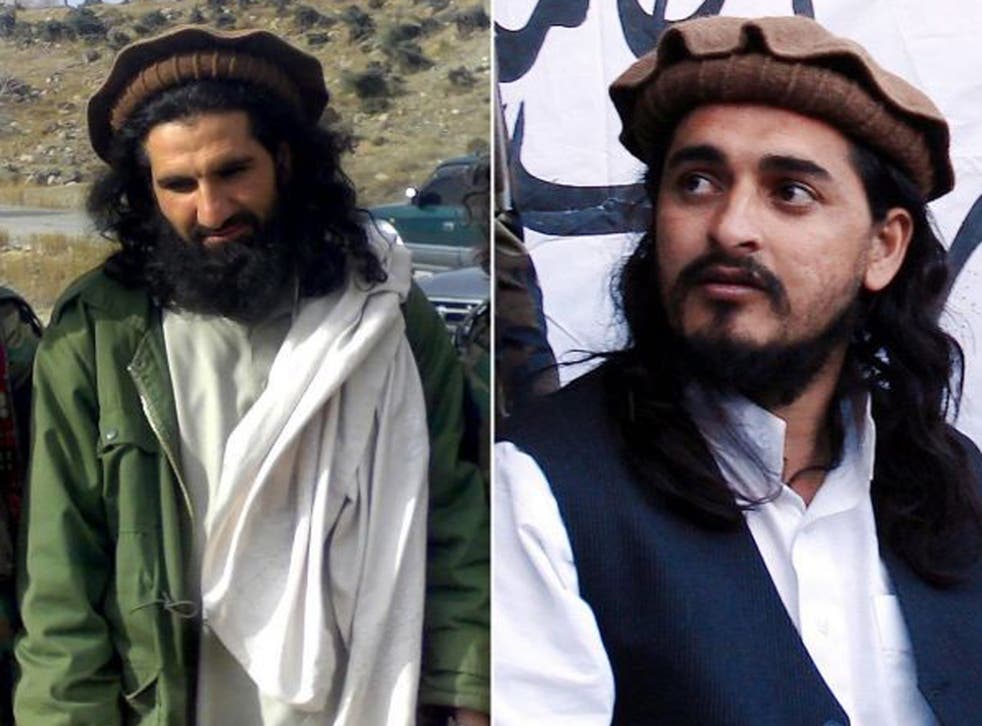 Pakistan has accused the US of "murdering the hopes of peace" after the leader of the Taliban was killed by a CIA drone strike on the eve of a meeting between militants and representatives of the government.
The country's security forces were placed on high alert after the Taliban vowed to carry out a series of revenge attacks after Hakimullah Mehsud was killed at a compound at Dande Derpa Khel in North Waziristan. The body of the 34-year-old was hastily buried and various Taliban groups reportedly met on today in order to select a new leader.
Reports said that Mr Mehsud had returned to his compound in the remote tribal areas after meeting other militants at a nearby mosque when four missiles struck on Friday morning. Five or six other suspected militants were killed in the strike, including his uncle, cousin and personal bodyguard.
Pakistan's prime minister, Nawaz Sharif, was elected earlier this year having said he wanted to start talks with the Taliban as a means to end militant violence and publicly urged the US to end drone strikes. On Thursday, while in London, he said initial contact had been made and on Saturday several Muslim clerics, acting as intermediaries, were to have met with Taliban fighters on behalf of the government.
Instead, on a series of government ministers denounced the US attack that killed the Taliban leader. Interior minister Chaudhry Nisar said the government believed the US was responsible for the "murder of peace in this area". He claimed the entire relationship between Washington and Islamabad would now be reviewed.
"The government of Pakistan does not see this strike as a strike on an individual, but on the peace process," he said. "Americans said they support our efforts at peace. Is this support?"
Tariq Azim, a spokesman for Mr Sharif, told the Independent on Sunday that the government hoped the talks process would continue once the Taliban agreed upon a new leader. However he said: "This has put the talks in jeopardy, no doubt."
Asked if he believed the CIA strike had been intentionally timed, he replied: "There is a strong feeling in Pakistan that every time there is a process of talks something like this happens...This has been extremely unhelpful."
The fatal attack on Mr Mehsud, who took charge of the Taliban in 2009 after the previous two leaders were also killed in drone strikes, has created an intensely difficult situation for Mr Sharif. Last month, in a visit to Washington, he repeated his request for an end to the drone strikes.
At the same there, there is a wide agreement that Pakistan's military and intelligence agencies cooperate with the US on at least some of the strikes and may even provide targeting information. Inside of Pakistan there is a sizeable constituency opposed to Mr Sharif's policy of negotiating with the Taliban.
The Taliban leader was on a US most-wanted list, with a $5m reward offered for his capture or killing. He was believed to have been behind a suicide attack on a CIA base in Afghanistan and a failed car bombing in New York's Times Square.
After Mr Mehsud took over as the Pakistani Taliban's leader, he tried to internationalise the group's focus. He increased coordination with al-Qai'da and domestic Pakistani militants, such as Lashkar-e-Jhangvi, and funded the group's many attacks by raising money through extortion, kidnapping and bank robbery.
Inside Pakistan, he was responsible for attacks that killed many hundreds of police, soldiers and ordinary citizens. Mr Mehsud was widely reported to have been killed in 2010, only for him to later emerge alive.
The strike on his compound, reportedly involving four missiles, has also highlighted the strategic thinking of the US as it prepares to sharply reduce its presence in neighbouring Afghanistan next year.
While the US has said it supports talks with the Afghan Taliban, fighters responsible for attacks on US and other Nato troops inside Afghanistan, it reportedly objects to Mr Sharif's proposal of talking to the Pakistan Taliban, whose attacks have largely been confined to targets inside Pakistan.
Christine Fair, a South Asia expert at Washington DC's Georgetown University, claimed there was little prospect of the proposed talks achieving anything.
"The Taliban killed 40,000 people. What lunatic thought there would be peace talks," she said. "The American taxpayer is again taking out Pakistan's terrorist garbage."
In addition to the uncertainty on the status of talks with the Taliban, there is now also intense concern about the prospect of more violence. A Taliban spokesman, Azam Tariq, told the Reuters news agency the country could expect a series of revenge attacks
"Every drop of Hakimullah's blood will turn into a suicide bomber," he said. "America and their friends shouldn't be happy because we will take revenge for our martyr's blood."
Dr Hasan-Askari Rizvi, a political and strategic analyst, said the killing Mr Mehsud complicated the situation for Pakistan in two respects. Firstly, the Pakistan government which is officially opposed to drone strikes, could not be seen to welcome the killing of Mr Mehsud, even though he responsible for numerous attacks against the state.
In terms of the peace process, it was not unclear whether the new Taliban leader would be open to talks in the same way as Mr Mehsud said he was. "There is now a lot of fear in Pakistan that there will be more bombs and suicide attacks in the coming days," he said. "This is especially so in the city of Peshawar."
Cricketer turned politician Imran Khan has been one of the most vocal critics of the US drone strikes. His party runs the government in northwest Khyber Pakhtunkhwa province and has threatened to block trucks carrying supplies to Nato troops in Afghanistan unless the attacks stop.
Shah Farman, a government spokesman, told reporters that provincial legislators would pass a resolution on Monday to cut the Nato lines. A major route passes through the Khyber Pass.
A flurry of reports suggested the Taliban would not decide a replacement for Mr Mehsud for several days. Among those named as possible successors were his deputy, Khan Said, who is also known as Sajna.
Mr Said is believed to have masterminded an attack on a jail in northwest Pakistan that freed nearly 400 prisoners in 2012 and a big attack on a Pakistani naval base. But apparently not all the splintered factions of the Taliban support the choice of Mr Said, pushing instead for more talks.
Join our new commenting forum
Join thought-provoking conversations, follow other Independent readers and see their replies