Kim Jong-un arrives for China visit as second Trump-North Korea summit appears likely
Tuesday is also Kim Jong-un's birthday, and North Korean media say he is in China with his wife at invitation of Xi Jinping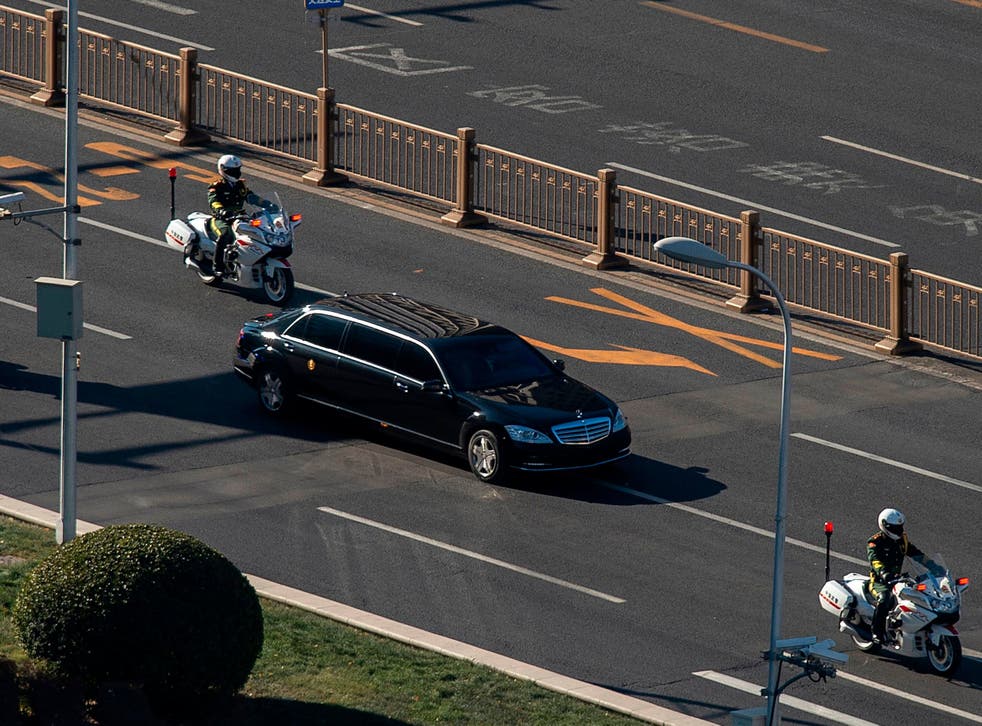 North Korea's Kim Jong-un has arrived in Beijing for the start of a four-day visit which is being seen as likely preparations for a second summit with the US's Donald Trump.
Mr Kim's trip was announced by both sides at short notice. He arrived in Beijing in the same armoured train he has used for previous visits, along tracks lined with police and paramilitary troops.
Shortly afterwards, a long motorcade left Beijing train station accompanied by motorcycle outriders. He is expected to stay at the highly secure Diaoyutai State Guesthouse in the capital's west.
During the four-day visit, Mr Kim is expected to meet with China's president Xi Jinping. North Korean media said the trip was at Mr Xi's invitation and that Mr Kim would be accompanied by his wife, Ri Sol-ju. Tuesday also happened to be Mr Kim's birthday.
The trip marked a further break with past practice in that it was announced in advance of Kim's arrival, a possible sign of growing confidence on the part of North Korea and China.
China's foreign ministry spokesman said Beijing was supporting all efforts towards a peaceful solution on the Korean peninsula, but would not comment on China's possible role as an intermediary between the US and North Korea.
"We always believe that, as key parties to the Korean peninsula issue, it's important for the two sides to maintain contact and we always support their dialogue to achieve positive outcomes," Lu Kang told a daily briefing.
South Korean presidential spokesman Kim Eui-kyeom said Seoul hoped the trip would act as a "stepping stone" for a second Trump-Kim summit.
Talks on denuclearisation have stalled since the US and North Korean leaders first met in Singapore in June last year, and Mr Trump has offered assurances that another summit will allow him and Mr Kim to make a grand deal to settle the nuclear standoff and change a relationship marked by decades of animosity and mistrust.
However, outside analysts are highly sceptical that the North will easily abandon a nuclear arsenal constructed in the face of deep poverty and likely seen by Mr Kim as his only guarantee of regime survival.
North Korea's pervasive leaders: the Kim portraits

Show all 16
Instead, the north may be seeking to gauge China's attitude towards sanctions ahead of the talks, including what it would have to concede in order to win Beijing's support at the UN.
Mr Kim has held off on additional nuclear weapons and missile tests for more than a year, possibly in response to China's displeasure, while carrying out its new diplomatic offensive.
"The two leaders will further communicate over the issue of sanctions to further refine their previously general and vague attitudes," said Xiaohe Cheng, professor at Renmin University's School of International Studies in Beijing.
"It is impossible to see the cancellation of all sanctions, but what kind of sanctions can be cancelled and what are China and North Korea's views on that will be discussed."
Support free-thinking journalism and attend Independent events
Mr Kim's arrival in Beijing coincides with US-China trade talks in Beijing that seek to end the trade dispute between the world's two largest economies ahead of a March deadline.
Asked whether China was linking the two issues in an interview Monday with CNBC, US secretary of state Mike Pompeo said, "The Chinese have been very clear to us that these are separate issues.
"China has actually been a good partner in our efforts to reduce the risk to the world from North Korea's nuclear capability. I expect they will continue to do so."
Additional reporting by agencies
Join our new commenting forum
Join thought-provoking conversations, follow other Independent readers and see their replies